Until recently, having an event photo booth rental just meant one more thing for event planners and organizers to manage and stay on top of.
Luckily, that's no longer the case.
Thanks to the technology that powers the Simple Booth platform, photo booths are easier than ever to activate and manage at events of any size. We make photo booths more enjoyable for participants and yield higher gains for the event producers.
Now you can produce the most epic event of your career using the Simple Booth HALO® platform along with the following best practices.
1. Start with the right photo booth for your event
Not all types of photo booths are created equal. Some are built piece-by-piece, requiring you to choose the camera, software, and a laundry-list of other components. For most busy professionals, we recommend going with a standalone solution rather than a DIY build. The reasons why are plentiful. A high-quality, professional photo booth looks sleek, boasts a high build quality and requires little to no hands-on management once it's set up at the event.
In fact, we consistently get positive client feedback on our Simple Booth HALO® solution because it's so easy to use. Event participants can easily navigate the Simple Booth platform by themselves, meaning event managers don't need to worry about stationing an employee at the booth.
This aspect alone frees up so much time and resources for event planners — it's a total game-changer.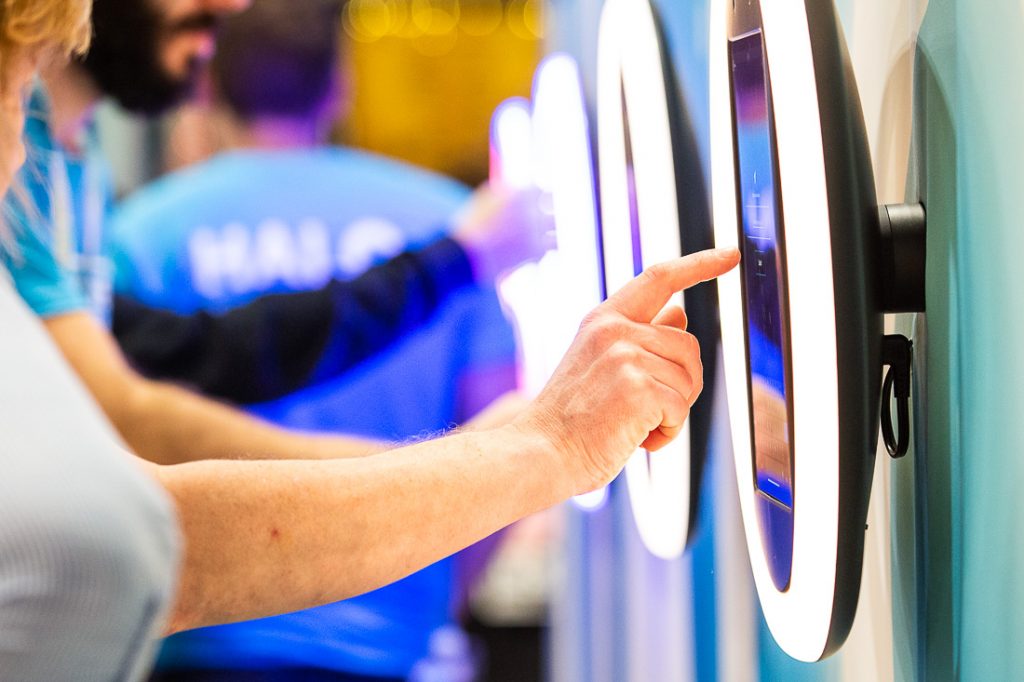 But, we do recommend you spend a little of those time savings on taking advantage of some of the customization options Simple Booth offers. We'll get to those in just a moment.
What to look for in a photo booth
Ease of operation is a major player in choosing the right photo booth setup for events, but there are some other factors you should be looking at as well.
Ideally, event photo booths should hit the following marks:
be compact and easy to transport from one event to the next
looks great in the event setting and inherently inspires people to interact with it
features customization options like themes, overlays, logos, and chroma-key
social media sharing so participants can quickly share images to social media
custom event hashtags
produces quality photos
ability to collect consumer data such as email, phone number, name, or custom data fields
offers advanced analytics and metrics
In some instances, you may also require a photo booth with printing capabilities. We're going to list this as an optional requirement, but strongly suggest purchasing a photo booth that at least offers this capability.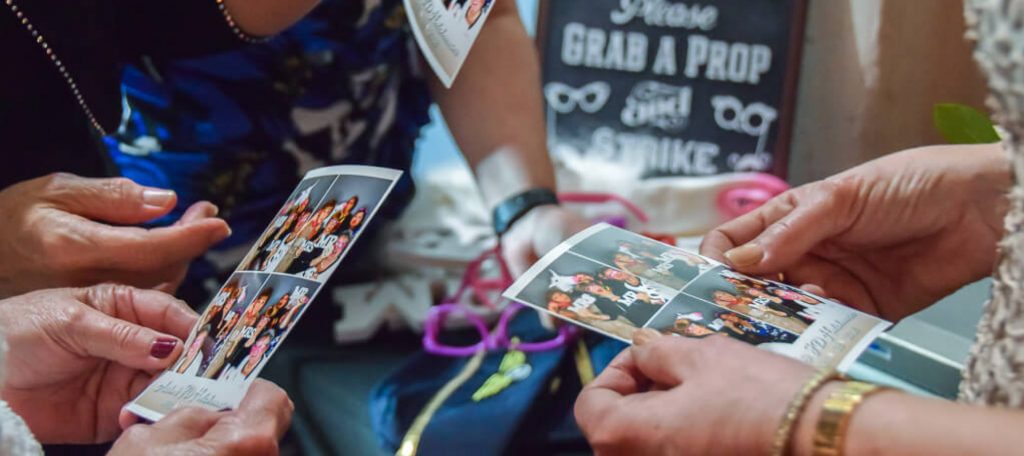 If you'd like to learn more about printing with Simple Booth, check our buyer's guide to photo booth printers.
2. Location, location, location!
The placement of your photo booth at events is key. The photo booth needs to be easily seen and accessed. If people don't see the photo booth, they can't be expected to use it.
Find out where in the event venue the photo booth will have the highest amount of visibility. Depending on the type of event you're hosting, this could be near the open bar, restrooms, the entrance or exit, the stage, perhaps a lounge area, or even next to a dance floor.

Once you've determined the high visibility locations in your venue, look for a nearby area to set up your photo booth activation. It needs to be close, but shouldn't be in the way.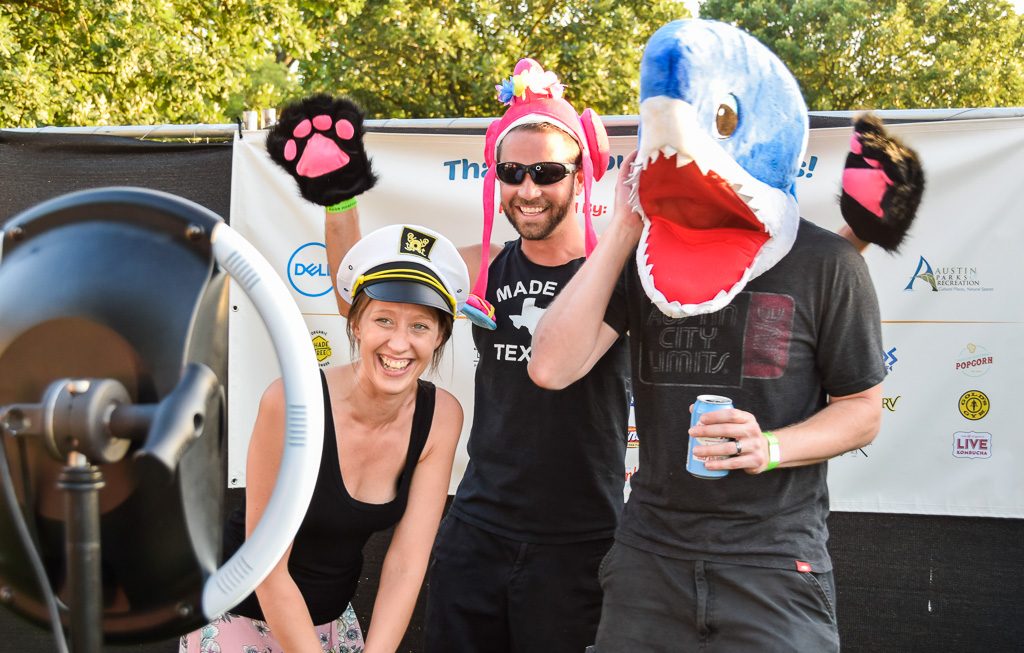 Aim to place your photo booth about 5-10 feet away from one of the busiest areas in the event venue. This is especially true for entranceways or exits and areas with tables or booths. Photo booths are people magnets and have the potential to have groups of people clamoring around in front of the camera.
Keeping the photo booth close by, but not quite in the middle of the action will prevent congestion in high foot traffic areas without hindering photo booth engagement.
If you are forced to place the photo booth in a less than desirable location such as a hallway or corridor at the event, make an occasional announcement over the PA system inviting people to visit the photo booth.
Pro-tip: Use the Live Feed feature on the Simple Booth platform to draw in more participants to your photo booth.
Learn More About Live Feed
You may also want to have signage around the photo booth that invites participants to engage with it.
FURTHER READING: 15 Examples of Experiential Marketing in Action
3. Capture data & analyze metrics to bolster marketing
Gone are the days where event photo booths are simply an offering provided to delight event guests. Simple Booth has helped revolutionize the role photo booths play in marketing strategies.
Unlike traditional photo booths, the Simple Booth platform allows users to set up custom data capture options. That data is used to build, implement, and grow marketing programs. 
FURTHER READING: The New Simple Booth Dashboard – More Metrics, Delightful Design
Capture participant data
For starters, the Simple Booth platform lets you customize what data is collected from participants. The most typical options are the participant's name and email address.
There are pre-programmed options inside the Simple Booth dashboard for the most popular options. They include:
first name
last name
phone number
date of birth
email address
postal code
However, with Simple Booth, you also have the option to add custom fields. This is useful to ask participants questions such as, "Did you enjoy the event?" or to add an opt-in asking them for permission to use their data for marketing purposes.
You can collect as many data types as you'd like. Including the option to mix-and-match the options from the list above with your own custom fields as well. That being said, we suggest keeping it to a minimum to avoid participant frustration.
We find collecting only one or two data capture types keeps participants engaged. It also prevents the frustration of having to type too much of their personal information.
Analyze user metrics & analytics
Additionally, Simple Booth also provides a rich variety of metrics you used to improve your events and marketing. You should absolutely be taking advantage of this!
"Our engagement was phenomenal with the GIF booth sharing during and post-event. The ability to brand the photos and share directly to social was invaluable."
Samy Richards, Match Marketing Production Coordinator
For example, using the Simple Booth platform at an event, you can monitor:
custom hashtag tracking on Instagram
Facebook share intent
Instagram share intent
Twitter share intent
total share button clicks
Twitter referred views
Facebook referred views
total referred views
Combined, event planners can use data analytics to track engagement on images taken at their events. This allows them to see where their participants are most active on social media, plus get a glimpse at participant demographics.
When properly analyzed, these metrics are used to improve the quality of future events, boost digital marketing strategies, as well as calculate the return on investment.
These are just a few ways Simple Booth allows its users to capture valuable consumer data and use it to improve their marketing efforts. Learn more about this incredibly valuable marketing tool, including step-by-step directions, in this blog post.
4. Delight event participants with digital photo booth props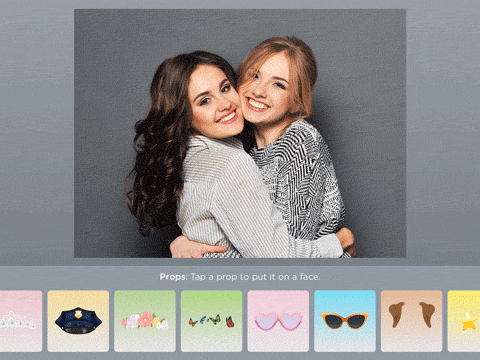 Props are part of what makes event photo booths so much fun for participants. The problem is, prop tables are a hassle to keep organized. Not to mention the work that goes into finding the perfect props and transporting them between events and photo booth activations really adds up.
It's an endless battle and, let's be real, event planners and organizers rarely have the time for it.
The good news is, Simple Booth makes props even more enjoyable for participants while eliminating the work of prop management for event planners.
Get familiar with digital photo booth props
That's right, Simple Booth's digital photo booth props are here to save the day.
We love them. Simple Booth clients love them. And event participants just can't get enough of them.
The Simple Booth platform features 14 different themed prop packs. Each pack has a variety of props related to the theme. There are packs for all sorts of occasions from holiday-specific props to "Classic Booth" props featuring a tried and true selection of hats, mustaches, hairstyles, and more.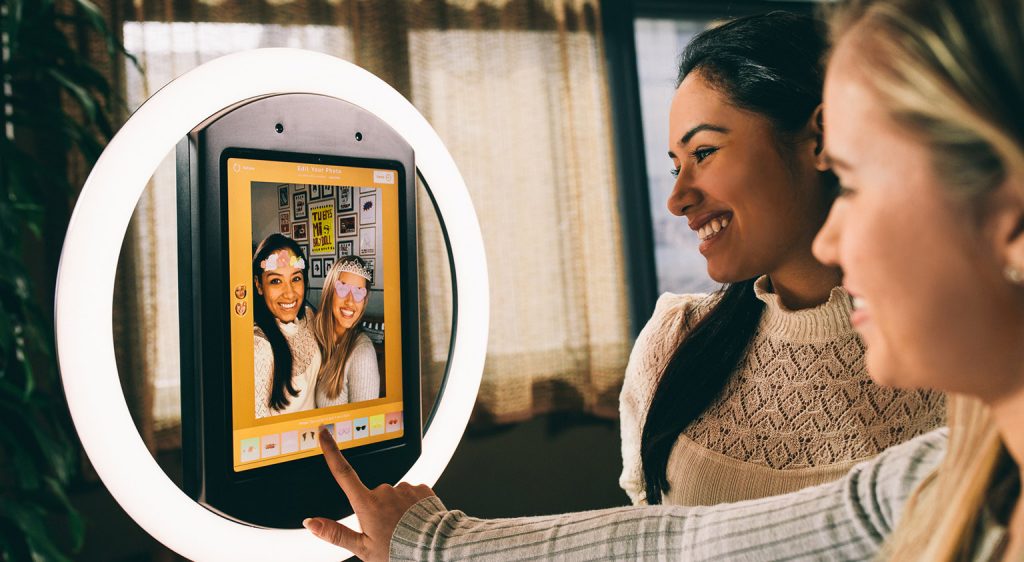 If you want more options than the pre-loaded prop packs, Simple Booth platform users have the ability to add their own custom props.
Event planners select which digital props they'd like to offer participants inside the Simple Booth dashboard. Participants choose from those props once they've taken their photo.
Once participants have made their selection, Simple Booth automatically places them in the perfect position. For example, Simple Booth uses facial recognition technology to ensure hats go on heads, glasses go on eyes, beards go on chins, and so on.
FURTHER READING: Introducing Digital Photo Booth Props
We do recommend you limit the number of digital prop options to 3-4 choices. You don't want to overwhelm people with options. It slows down the entire process and could potentially create a long queue of participants waiting to use the photo booth.
5. Customize event photo booth themes, overlays, logos, layouts, and more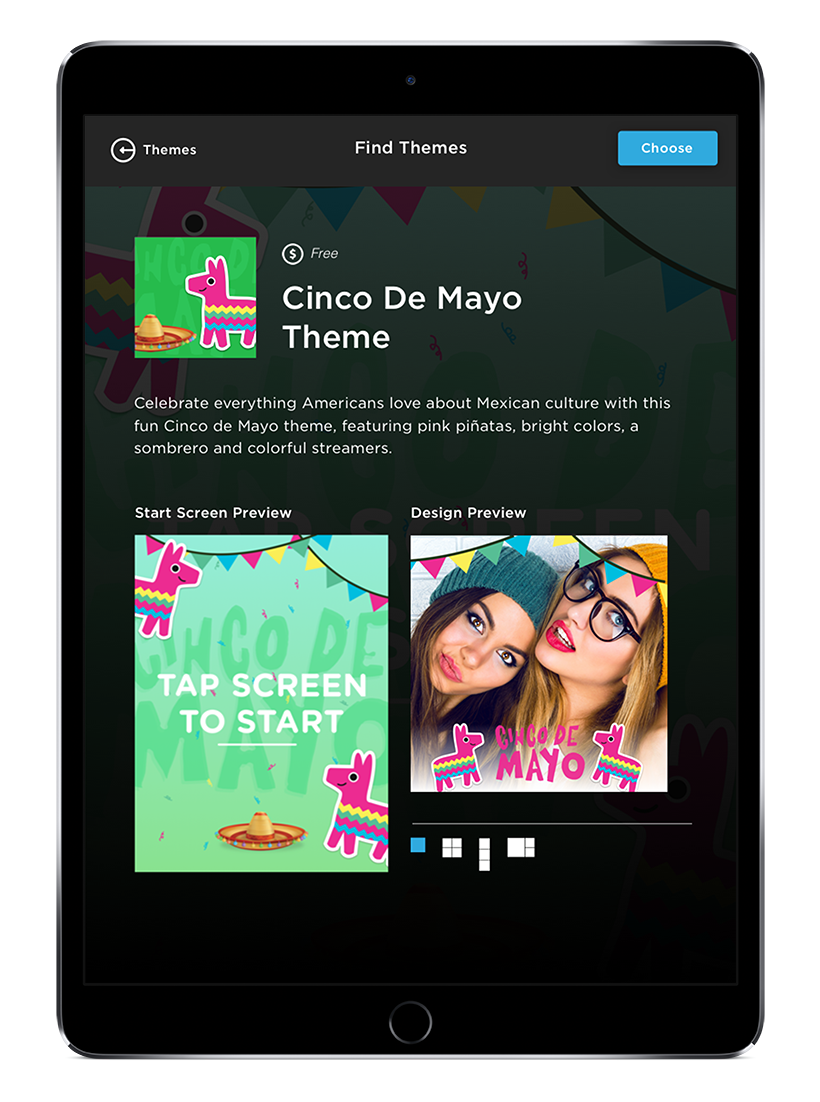 The more people who engage with the photo booth at your event, the more opportunities you have to grow your email marketing list, foster brand advocacy and get your company's name out there.
Customizing your event photo booth is a surefire way to increase participants (and, if you're using Simple Booth, level up your marketing game!).
Simple Booth features customization options in an expansive way, with different subscription levels offering different customization options. However, every subscription level allows for custom logos, start screens, edit screens, and overlays to be added.
More advanced subscription models also allow for live feeds with varying amounts of live feed ads. Additionally, some subscription levels include custom gallery logos and chroma-key (green screen) capabilities.
Whichever subscription level you go with, make use of all it's offerings. Each feature is designed to fully incorporate custom branding into the event photo booth experience.
The more effort you put into customization, the more benefits you will gain from your branding.
6. Set up a real-time display
If you've ever been to an event or venue with a photo booth live feed, you already know it's a powerful feature. Event participants love seeing their images on the big screen in real-time.
If you're not familiar with a live feed, you (and your event participants) are in for a treat. With a live feed, images taken with Simple Booth are arranged in a photo strip and displayed on a large display, such as television displays or projection screens for all to see.
It may sound complicated, but Simple Booth makes it easy for a live feed to be set up on the fly at any event. Or, set up a dedicated URL to share ahead of time with an audio/visual team before the event.
Simple Booth allows for branded slides to be incorporated into the photo cycles. As you know, this is great for displaying branded ads or messaging for your company or client to event participants.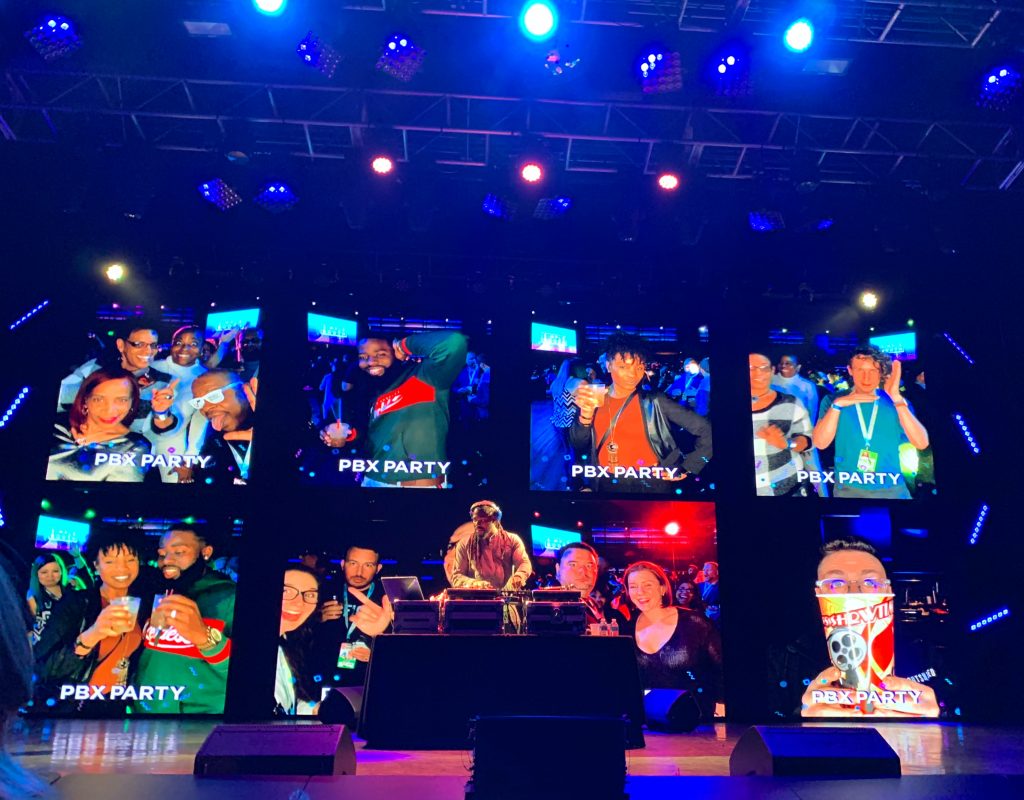 Plus, you're not limited to self-branding…
If your event is looking to add new revenue streams, Simple Booth's live feed also allows you to use the branded slides for event sponsors or to display paid advertising from other companies, brands, or individuals.
Yet another way Simple Booth helps to ramp up your events ROI.
FURTHER READING: Event Sponsorship Tips for Small Businesses
Simple Booth makes the best photo booths for events
As any smart business person will tell you, it pays dividends to use the right equipment for the job.
And as a photo booth company that makes photo booths from the ground up, we're confident Simple Booth is the right equipment, whether you need it for your booth business or just a one-time event.
Just ask Pernod Ricard, an international alcoholic beverage dealer who uses the Simple Booth HALO platform at a number of their events.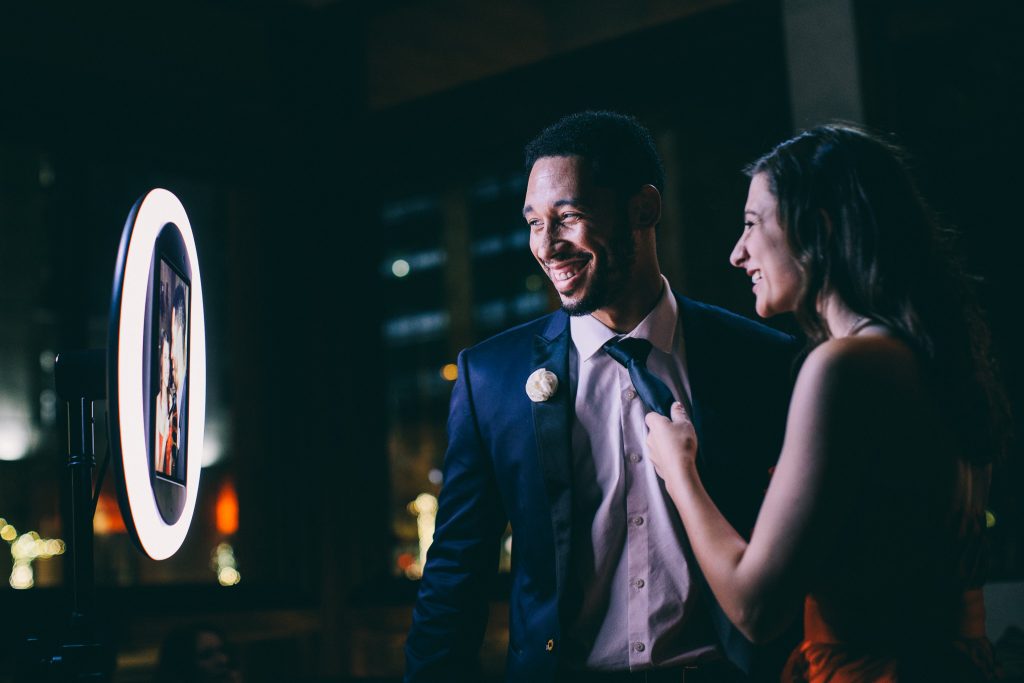 One of Pernod Ricard's initial goals using Simple Booth was to grow their email marketing program. By activating a Simple Booth at their branded events, they are continuously smashing those email marketing goals and reaping added benefits.
Thanks to the Simple Booth HALO platform, Pernod Ricard saw a BIG jump in their conversion rates right off the bat.
In fact, their conversion rate skyrocketed to more than 90% after signing up thousands of new consumers at events in which they activated Simple Booth HALO.
Now, thanks to Simple Booth's extensive customization features, Pernod Ricard is able to age-gate their consumer data collection by filtering out any person under the age of 21.
This crucial feature allows them to abide by heavily regulated rules regarding the sales and marketing of alcohol to minors. Plus, it ensures the consumer data they collect has the highest potential to convert.
Ready to learn more? Let's discuss how Simple Booth HALO® can make a difference at your events.