In the first step toward true augmented reality photo booths we're launching digital photo booth props in Simple Booth apps! Imagine: no more messy props tables at your event–just fun, interactive digital props.
Here's how it works.
Simple Booth intelligently detects all the faces in your photos and then prompts you to drag and drop your favorite props.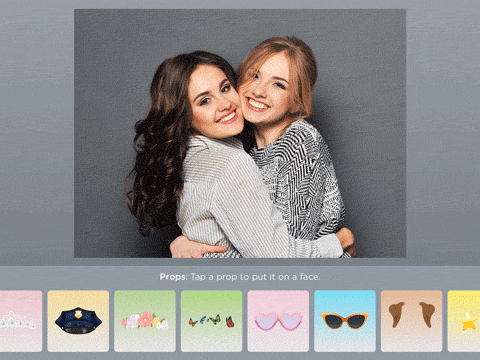 Digital props work with all the Simple Booth layout options including animated GIFs! They'll track your face from frame-to-frame for fun and hilarious outcomes.
Your guests can get creative, mixing and matching different props to try on. Each face can have its own props added, just like real photo booth props. And if you decide you want to remove one, no problem! Just tap your individual face and you can remove any graphics from it.
Library of free props included
Simple Booth HALO® app comes with tons of free prop packs to get you started. Over 120 free digital photo booth props are already included in packs that our designers have created for you to use at your events:
Classic Booth
Modern Selfies
Halloween Party
Mustache Mania
Football Fandom
Valentine's Day
St. Patrick's Day
Holiday Party
New Years!
You can even make your own custom digital props by choosing which part of the face your custom prop graphics will attach to. Props can be glasses that go over the eyes, hats that go on the head, beards that go on your chin and more.
The possibilities with digital props are endless! Elevate your photo experiences today with the new digital photo booth props in Simple Booth.
Learn About Simple Booth