We've seen experiential marketing go by many names. Engagement marketing, event marketing experience, live marketing are all examples.
Regardless of what you call it, experiential marketing does something other types of marketing and advertising struggle to do: carefully communicate a brand's values and connect with a targeted group of consumers in a unique and resonant way.
To start us off, let's take a look at some of the most undeniably unique and compelling campaigns from recent years. We'll learn how their messaging worked to impact participants and/or consumers as we go through the list.
1. Empowering female athletes. The adidas & Dick's Sporting Goods #SheBreaksBarriers campaign by Match Marketing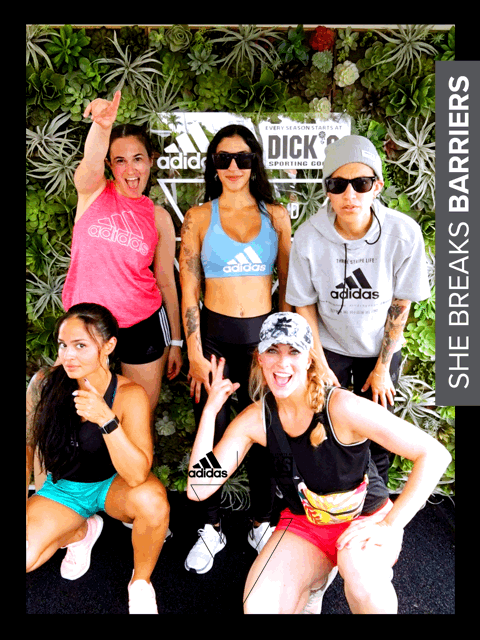 To empower female athletes, adidas and Dick's Sporting Goods launched a tour of fitness events, bringing together women across the United States.
At each event on the tour, Match Marketing set up camp at a Dick's Sporting Good store and invited female athletes from the community to join in on training sessions with elite trainers, customize their adidas sportswear, and eat a healthy meal together.
By and large, the campaign was smashing success. Here's how it worked:
Attendees were invited to take their photo using Simple Booth HALO® to capture their experience as branded photos and GIFs. The images were then sent to the participant's phone and who more than happy to share their GIFs on social media. As a result, this created social buzz around the events and the brands.
Using branded content in such a way is a proven method for brands to build awareness and connect with consumers on an individual level.
In fact, EventMarketing found that ninety-eight percent of people who attend events create content at them. On top of that, one-hundred percent of people who created content at an event will then share said content online.
Now, can you guess what the most popular type of content event attendees create and share? You guessed it...photos. Which, not coincidently, is also a factor in the success of the Match Marketing campaign developed for adidas.
Using Simple Booth HALO® as their social photography platform, Match Marketing tracked impressive social sharing analytics of their own during the adidas #SheBreaksBarriers experiential campaign.




Ready to learn how they did it? Get the full case study here:
2. Rethink weight. The "#WeighThis" campaign by Lean Cuisine
In 2015, Lean Cuisine, part of the Nestle brand wanted to reinvent itself. Above all, they wanted to be seen not as a diet food brand but rather a healthy, clean choice that's more aligned with modern eating habits.
That's not a particularly easy task, so how did they pull it off? Enter experiential marketing.
As part of the pivot, Lean Cuisine launched the "#WeighThis" campaign on social media. The campaign pictured women by a scale and asked them to weigh themselves.
In a plot twist, however, the women weren't asked to weigh their bodies. Instead, they were prompted to share a personal accomplishment they'd like to be weighed by instead.
The "#WeighThis" campaign was also launched as an experience in the form of an installation at Grand Central Station in New York City. Again, the exhibit asked women how they wanted to weigh themselves. Next, those accomplishments were written onto a scale then placed as part of a public art installation.
What made it a success?
In brief, it pulled at people's heartstrings and created an emotional reaction.
The installation challenged passersby to rethink weight and their own value. As has been noted, it invoked positive emotional responses participants associated with the Lean Cuisine brand. However, it also put the brand in front of hundreds of thousands of consumers in Grand Central Station.
3. Your opinion matters. "Building a Better Bay Area" by Google
When Google made a move to increase its charitable giving, it asked the public where the funds should go.
As such, the public poll was made available online for anyone to take. However, it specifically targeted members of the Bay Area by installing interactive posters for locals to cast votes.
The posters were placed everywhere from bus shelters to food trucks. They served as an outreach effort to the community, thus reinforcing that Google cared about locals.
Here's how Google made it work:
By placing the posters in commonly accessed locations, Google took advantage of the "you're already there" mentality. For example, "I'm already here waiting for the bus, I might as well take the opportunity to make a difference while I have the time."
Smartly, Google attached the #GoogleImpactChallenge hashtag to spread the word online. Not surprisingly, the combination of those two tactics resulted in the campaign racking up over 400,000 votes in a week and a half.
4. This is what we do. Healthymagination by GE
The #Healthymagination experiential marketing campaign by GE was designed to promote global healthcare solutions. More specifically for rural areas in under-developed countries that may lack basic services.
As a part of the campaign, GE hosted events, creating sets that simulated where Healthymagination is at work including:
an emergency room
an urban clinic
and a clinic in rural Africa
To consumers, the events demonstrated how GE's healthcare technology has meaningfully helped doctors and patients in real-life scenarios.
GE's benefits from the events were two-fold:
First, the experiences resulted in more awareness for GE's technology. Secondly, this inspired a sense of appreciation for the brand's work, building trust between GE and businesses who may benefit from using GE products.
5. On the go, really. The Goodness Machine by GoGo SqueeZ
The Goodness Machine was an interactive installation that shot GoGoSqueeze products up with parachutes for participates to catch.
The Goodness Machine went on tour to popular landmarks, including the Mall of America and New York's Madison Square Park.
In addition to the interactive installation you can see in action on Instagram, the machine captured GIFs, which were shared to a specific website.
Did launching applesauce packets work as an experiential marketing strategy?
Absolutely.
While the machine and the flying applesauce worked to embody the "on-the-go" nature of the product, it did more than convey a sense of convenience to consumers.
People enjoyed the interaction so much, it earned GoGoSqueeze over 200,000 walk-by impressions and 300,000 thousand social media impressions.
6. Test drive. The Stroller Test Drive by Contours
Contours identified a huge challenge in shopping for strollers—no child-user feedback. In a comical and engaging move, they created an adult-sized replica of one of their bestselling strollers.
What's not to love about that?
As you might imagine, the experiential marketing effort was a BIG success and it all thanks to this:
It gave parents a chance to take a break from adulting and have a nice laugh instead. Contours allowed parents to sit back, relax, and enjoy the ride–just like their kiddos do when they're in a Contour stroller.
7. The One-Up. #PayWithACupcake by Zappos
Remember back in the summer of 2015, when Google got a lot of buzz on another of their experiential marketing campaigns where they handed out cupcakes and other snacks?
Here's a refresher… Google set up a cupcake truck in Austin, Texas, to promote a new photo app. Google was "selling" cupcakes, but rather than accepting money, they asked people to #PayWithAPhoto from their phone.
Now, a free cupcake turns out to be a pretty great way to get people to engage with your product.
But…
Zappos ingeniously parlayed the success of the #PayWithAPhoto campaign into an epic one-up marketing stunt.
Get this…
Zappos set up a booth next door to the Google truck and handed out higher-value items.
The catch? To get one of the high-priced items, Zappos asked consumers to #PayWithACupcake they'd just received from Google.
Zappos' efforts were so successful, even Google's staff couldn't resist feeding the shoe retailer a sweet treat in exchange for a better goodie!
There's no doubt Zappos stole the experiential marketing show going down in Austin that day.
But the Zappos campaign delivered in another way too:
Once they had consumer's attention, the campaign illustrated Zappos' brand mission of delighting customers in an unforgettable.
8. Next-gen personalized Oreos. Trending Vending with Oreos
Mondelēz International, parent company of the Oreo brand, used South by Southwest as their venue to showcase its ability to personalize consumer packaged goods.
The company took its traditional cookie, the Oreo, and encouraged users to create their own delicious twist on it. Attendees were invited to create a personalized flavor combination according to Twitter trends with a 3D printer.
The installation demonstrated Mondelēz's technology and encouraged users to imagine future possibilities for personalizing consumer packaged goods and harnessing social trends.
9. Not so different after all. Small World Machines by Coca-Cola
Coca-Cola installed two high-tech vending machines in popular shopping malls in Lahore, Pakistan and New Delhi, India, two cities plagued by decades of political tension.
The machine invited people from both countries to complete a friendly task such as wave or touch hands and then share a Coke. It challenged users to put their differences aside.
10. Making dreams come true. Gilmore Girls Luke's Diner Pop-ups by Netflix
In advance of its launch of the revival of "Gilmore Girls," Netflix turned over 200 coffee shops across the country into replicas of the beloved Luke's Diner from the show.
The pop-ups invited viewers to step into the iconic Stars Hollow coffee shop for a free cup of coffee. It was wildly popular among fans.
Netflix reaped the rewards of experiential marketing by tapping into nostalgia.
The diners delighted everyone who ever liked Gilmore Girls, and encouraged its audience to check out the relaunched series.
11.  Showcasing startup innovation. The Budweiser Beer Garage by Anheuser Busch
The Budweiser Beer Garage at South by Southwest was a high-tech showcase of the Anheuser-Busch brand. "The Garage" was a gathering place inspired by the actual Budweiser Beer Garage in Palo Alto, CA.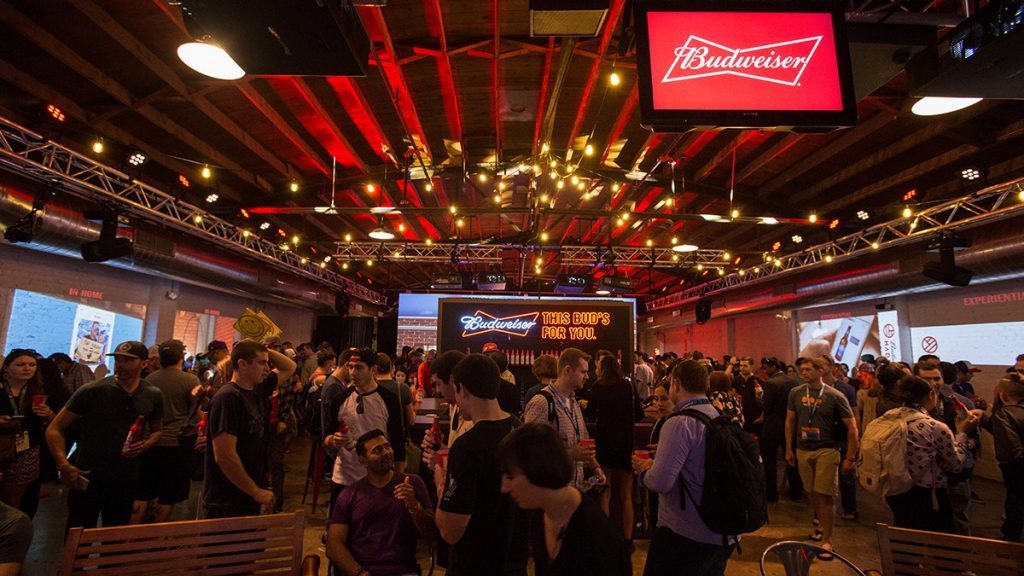 Its main attraction was a 4D multisensory immersive reality tour of the Budweiser brewery in St. Louis, Missouri.
Using a virtual reality headset, guests "toured" the brewery including a visit with the Clydesdales and the brewmasters conducting quality tastings. Scent, sound, and wind effects were added to bring the experience to the next level.
It reminded consumers that Budweiser is at its roots a startup that found success and that it remains innovative and relevant (despite the new wave of craft beer).
12.  The difference you make. Social Swipe by Misereor
How many times a day do we swipe our credit cards and on what?
Misereor, Germany's largest Catholic aid organization, asked consumers this when it ran its campaign Social Swipe.
Social Swipe was a series of interactive posters placed in public places that showed passersby a need in the community, such as a hungry person. Upon the user swiping a card, the poster showed the good that the donation creates.
For example, the donation or swipe symbolically cuts through the chains binding a Philippine child prisoner or cuts a slice of bread for a family in Peru. Social Swipe asked users to confront problems and to consciously use their resources for someone else's well-being.
13.  Furniture reimagined. IKEA's furnished climbing wall
Ikea celebrated France's opening of the country's 30th IKEA store with a furnished vertical rock-climbing wall. The marketing firm, Ubi Bene, worked with Ikea to install the wall in the center of the city of Clermont-Ferrand. the climbing wall was a hit attraction.
A spokesperson for Ubi Bene, explained part of the successful campaign was knowing their audience and catering to their needs.
"As Clermont-Ferrand is a sporty city, IKEA wanted to give to the inhabitants an event that perfectly suits their needs," explained Vanessa Vannier.
Additional experiential marketing examples that Ikea has tried include showrooms for rent through its partnership with Airbnb and sleepovers in its stores.
14.  Simulating the childhood dream of being an astronaut. "Space Projection Helmets" by National Geographic
National Geographic's "Space Projection Helmets" are an immersive virtual reality experience designed specifically for the release of its new show, "One Strange Rock."
The helmets are meant to help viewers experience space through an astronaut's perspective. And wow did they deliver. The ingenious and totally immersive experiential marketing campaign earned National Geographic over 35 marketing awards.
15.  Summer weather tease. The Ultimate Ice Breaker by the Greater Palm Springs Convention & Visitors Bureau
The Greater Palm Springs Convention & Visitors Bureau and JetBlue extended a warm invitation to New Yorkers when it placed two large ice molds in Manhattan.
To promote JetBlue's new direct flights from New York to Palm Springs, the ice molds held warm-weather gear, including golf clubs, sandals, and pool gear. The molds were staffed with brand ambassadors who invited passersby to crack open an ice block and win a prize.

The activation was accompanied by an online element, asking online users to post about what they would do with vacation time in Palm Springs. Consumers used the hashtag #JetBluePSP and mentioned @thegpsoasis Twitter account for an additional chance to win prizes.
What we can learn from these experiential marketing examples
Although hugely different, the experiential marketing examples from above all helped consumers to better understand, appreciate, and connect with the brands they represented.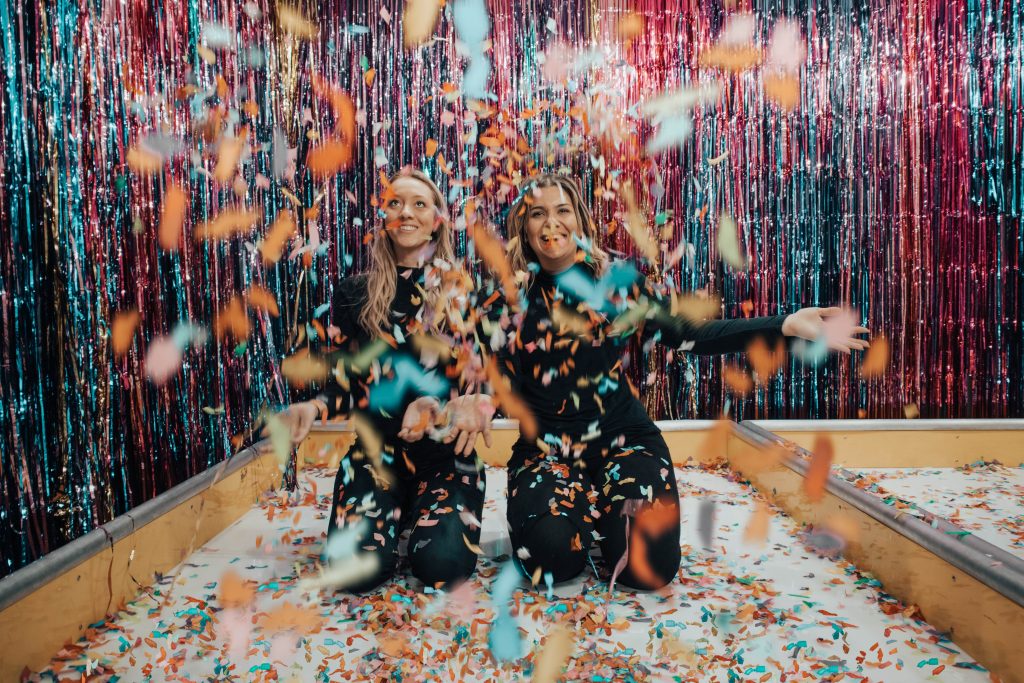 Remember, most successful experiential marketing efforts have the same basic components:
a clear and well-thought-out message about a brand or product
the right customer reach
and a memorable experience for consumers
This might mean introducing new ideas, engaging the senses or stimulating an emotional response.
A winning experiential marketing campaign leaves people saying things like, "so, I saw THIS today" or "I was in the park one day, and THIS happened".
When done right, an experiential marketing event makes the consumer part of something; it becomes an experience the consumer might share either on social media or via traditional word-of-mouth.
Experiential marketing campaigns mean more conversions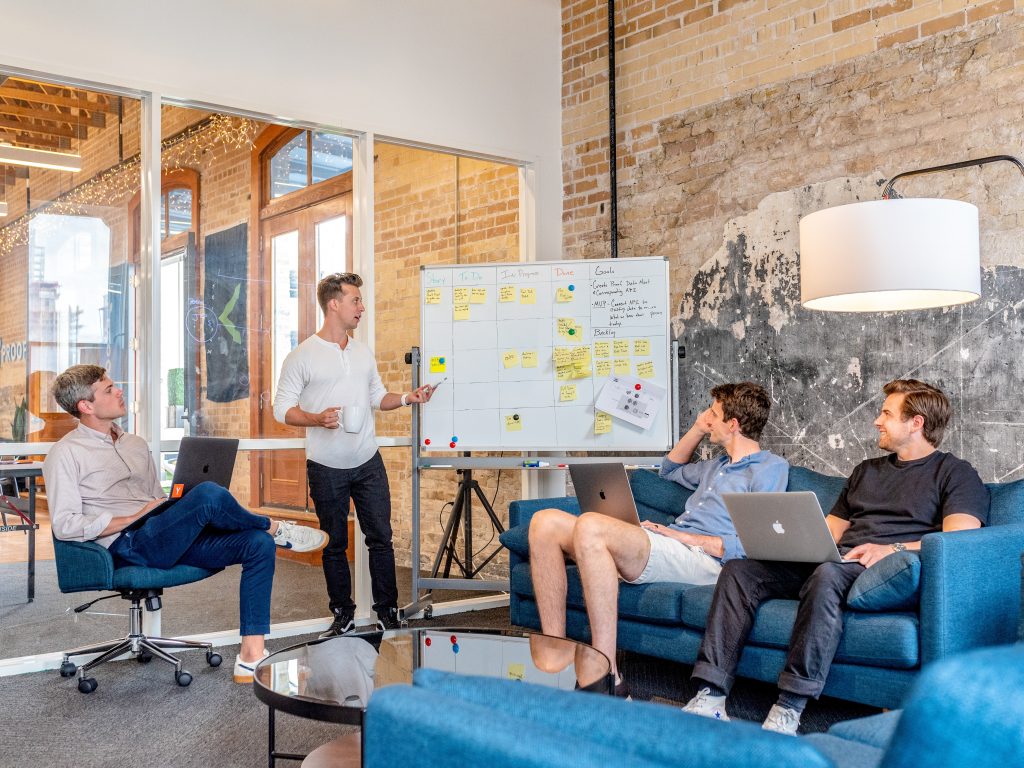 It's true, experiential marketing isn't a one-size-fits-all approach. However, it is beneficial for businesses to develop an experiential strategy that connects with their brand and consumers.
What makes us so confident? The facts…
A recent study by Splash and Harvard Business Review polled of over 700 businesses and found 93% of them place a priority on hosting experiential events.
On top of that, EventMarketer reported 77% of marketers are using experiential marketing as their core advertising strategy. Furthermore, 90% of those brands plan on maintaining or increasing their event marketing budget moving forward.
And here's the real kicker…
The same report shows 74% of consumers who partake in branded event experiences are more likely to convert into paying customers.
Color us impressed.
Ready To Try Experiential Marketing For Your Business?
Get even more out of your Simple Booth activations. Learn the five most indispensible elements to a successful experiential activation, plus other invaluable marketing tips in our Ultimate Guide To Experiential Marketing.
Download your copy today!