There are two types of printers primarily used for photo booth applications: inkjet and dye sublimation. Both have their advantages and disadvantages. But for most professional Simple Booth HALO® activations, a dye sublimation printer is the best way to go.
Inkjet vs Dye Sublimation Printers: Which Is Best For Photo Booths?
Let's do a quick comparison of each:
Dye Sublimation vs. Inkjet Photo Printers
| | |
| --- | --- |
| Dye Sublimation | Inkjet |
| ✔️ Fast print speeds (6-15 seconds per print avg.) | ⚠️Slow print speeds (2+ minutes per print avg.) |
| ✔️ Large paper capacity (400 photos per paper roll avg.) | ⚠️Limited paper capacity; paper needs refilling frequently |
| ⚠️ Costs more to purchase upfront | ✔️ Lower initial investment |
| ✔️ Lower cost of use over time | ⚠️ Costs more to operate over time |
| ✔️ Prints are instantly dry | ⚠️ Prints need a dry time after printing |
| ✔️ Excellent print quality (300 dpi or more) | ✔️ Excellent print quality (300 dpi or more) |
| ✔️ Infrequent maintenance and cleaning | ⚠️ Needs to be used and cleaned regularly |
As you can see, a dye sublimation printer wins in just about every aspect. They are fast, easy to set up and maintain, and don't compromise on quality. Plus, despite their somewhat higher upfront cost, they are less expensive to operate over time and typically have longer lifespans than inkjets.
Based on that, we've opted to include mostly dye sublimation printers in our list of recommendations, with the exception of one inkjet–the Primera IP60, which is surprisingly fast for an inkjet. We'll get to that soon.
Lastly, we've selected options for all budgets. The models listed below range in price from $100 to upwards of $500.
But, before we dive into specific brands and models, let's learn the fundamentals of dye sublimation photo booth printers. If you've never used one before, they are a little different than your average inkjet or laser printer.
Or, if you're already familiar with the technology, feel free to jump directly to our list of the best photo booth printers.

How Do Dye Sublimation Printers Work?
A dye sublimation printer uses a heat process along with special dye and paper to print photos. These special dyes are contained in films or ribbons in four colors: cyan, magenta, yellow, and black.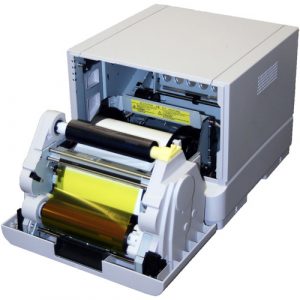 During the printing process, the dye films are placed on the top of the paper and the print heads begin to heat up. As a result, the dye films become hot and the dyes go from a solid-state to a liquid-state and embed onto the paper.
Once on the paper, away from the heated print head, the dye re-solidifies nearly instantaneously. This creates a longer-lasting image, that is dry immediately upon printing, unlike a typical inkjet printer that produces a slightly wet print.

FURTHER READING: How Does Printing With Simple Booth Work?
Don't Compromise On Print Speed
Another area where dye sublimation printers shine is speed. They are fast. At least two of the models listed below will print a 4 x 6-inch print in eight seconds. Surprisingly, the inkjet printer also prints a 4 x 6-inch print in eight seconds, but that is not typical of most inkjets.
Most inkjet photo printers take several minutes or longer to make a print of the same size.

For personal use, speed may not be too much of a consideration for you. But at photo booth activations where you're expecting a steady flow of participants, you need a printer that can keep up with the traffic. The last thing you want is large groups of people standing around your printer table waiting for their photo to print.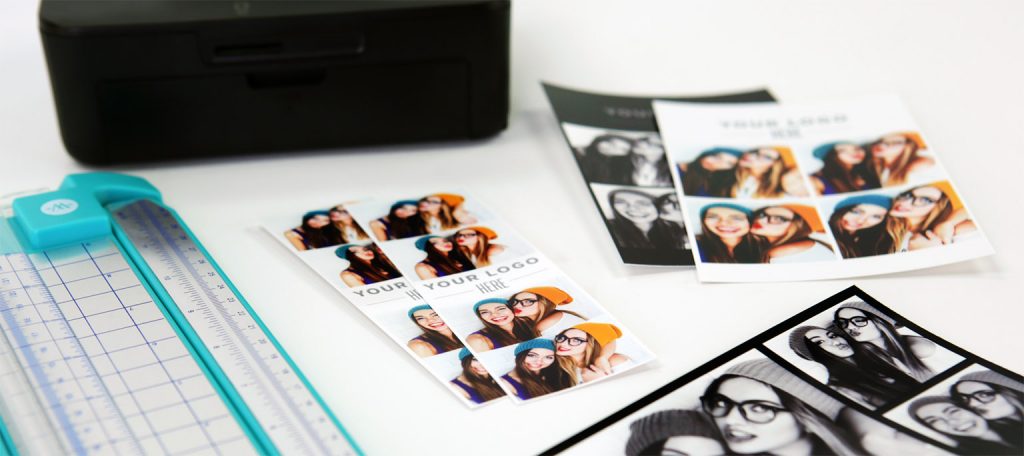 Of course, it's not always possible to predict how large your activations will be, but if you think there is a chance you will do a mid to high-volume event with your photo booth, don't compromise on printer speed.
When It Comes To Print Sizes, You Have Options
There are photo booth printers capable of printing a wide range of photo sizes. Different models offer different print sizes, but most will offer sizes commonly used for photo booth activations. For example, 2 x 6-inch strips and 4 x 6-inch prints.
Some will, however, be limited to a single size—usually 4 x 6-inch prints. In most cases, a 4 x 6-inch print is perfectly suitable for photo booth printing.
One case to be made for printers that can print multiple sizes is that it also increases the number of photos you can print in between paper changes. At least in certain situations.
For example, a couple of the printers below have a feature that prints and cuts 4 x 6-inch paper into two duplicate 2 x 6-inch photo strips. This effectively doubles the number of prints you can get out of one roll of paper. This is especially helpful if you find yourself printing out multiples of each shot on a consistent basis.

Not to mention, more photos per roll means less time you have to spend changing the paper spool. If you're trying to minimize your hands-on time with your photo booth printer during activations, this is something to consider.
Pre-Research Paper and Dye Kits
Paper for most dye sublimation printers comes on rolls rather than individual sheets. The paper rolls are typically sold as a kit that includes dye films or ribbons.
The paper and dye ribbons look like this: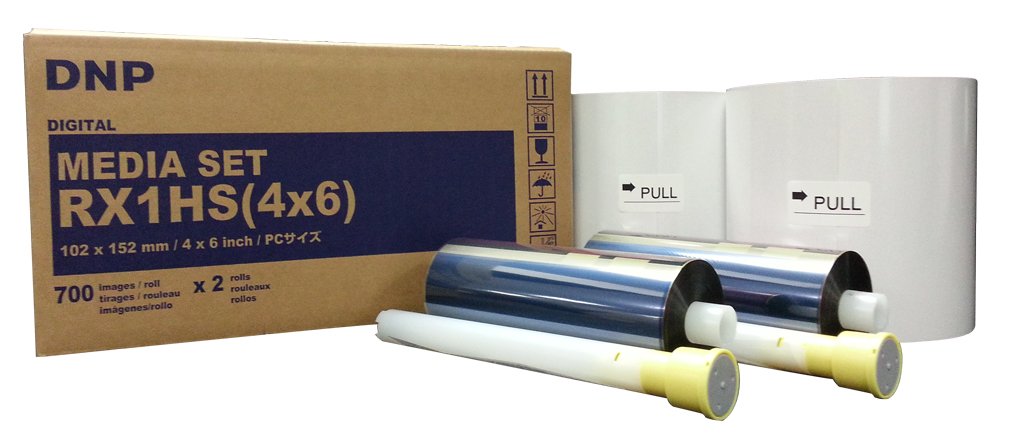 You'll also find they come in a number of different options besides different sizes. Some premium papers will give you the option between a glossy or matte finish. In some instances, you will also be able to find a perforated paper as well as some with an adhesive back.

Our best advice is to research the cost of paper and dye kits before you purchase the printer as prices can range dramatically.
Some printers will have third-party options available at a lower cost, but many will be restricted to paper and dye made by the printer manufacturer. We'll include links to kits whenever possible in our photo booth printer recommendations below.

FURTHER READING: How Can I Print With A Dye Sublimation Printer?
Dye Sublimation Printers Are Known For Quality Prints
Like with any type of printer, the quality of the prints they are capable of printing depends a lot on the model. As a whole, dye sublimation printers are regarded as producing excellent images—usually better than inkjet printers.
The minimum print resolution for all the models on our list is 300dpi and there are some models that can print even finer resolutions. Even our inkjet option prints up to 4800 dpi.
Just keep in mind that higher resolution prints generally mean a slower print time and higher ink consumption. Truthfully, there are very few instances where a 300dpi resolution would not be sufficient for a photo booth printer.
Connection Types
How your printer connects to your photo booth will also weigh on your decision when researching the best photo booth printer for your needs. When printing from mobile devices like an iPad, the easiest way to connect your photo booth to a printer is a wireless connection via AirPrint.
Good To Know
Some printers advertise being "wireless-enabled" or that they are "compatible with iPad" but only work with the printer manufacturer's apps and are not actually AirPrint compatible.
Learn More
The problem is, most dye sublimation printers are not AirPrint capable. In fact, there's only one AirPrint capable printer on our list. You will very likely need additional software and a computer to use a dye sublimation printer with your iPad.
The good news is, we've done some research and have discovered a relatively simple way to make it work…
Using Wireless Print Server Software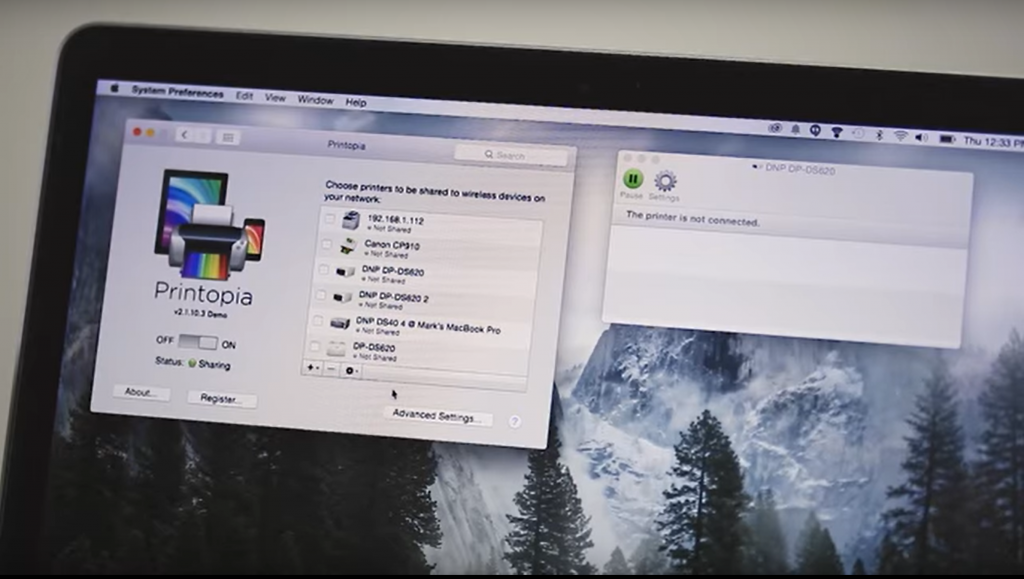 If you have a dye sublimation printer (excluding the Canon SELPHY CP1300) you will need to use a wireless print server software. This requires connecting the printer to the computer that is running wireless server software during your photo booth activation.

We recommend a couple of programs you can use. Both of these programs include a free trial. We encourage you to test with your printer before making any purchases:

For Mac: Printopia
For PC: O'Print (Please note that O'Print is less reliable. If you need to use a PC for your print server, please use O'Print's trial before your event to ensure the software works well with your printer.)
For instructions on how to use wireless server software with the Simple Booth HALO® platform, read: How Do I Connect To My Wireless Print Server Software?
A bit of advice…Don't compromise on your must-haves in order to save money. While the budget-friendly option does print nice quality photos, it does come with limitations, as we're about to discuss.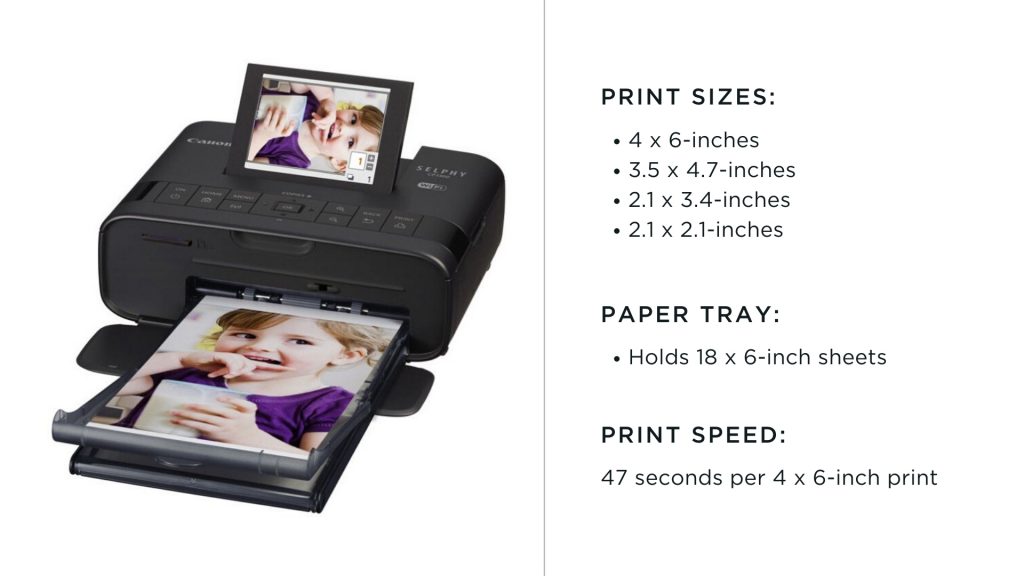 Let's start with the budget-friendly option. This printer has a lot of perks for small photo booth activations. It's the slowest printing unit on our list. However, we've opted to include it because it beats out the others in three important ways:
it has the lowest price point
the highest portability
and it's AirPrint capable (a rarity in the world of dye sublimation printers)
The Canon SELPHY CP1300 could work if you don't need to print high volumes of photos or in rapid succession. It's best suited for small parties, weddings, or other intimate gatherings as the video above suggests.
We wouldn't recommend this for mid to large size activations. The paper tray is on the smaller size and requires frequent paper refills. As we mentioned, it's sluggish, which could result in high wait times for participants to get their photos.
On the plus side, this is the only printer on our list that is AirPrint capable out of the box. It's also the smallest, most portable option on the list. It weighs only 1.9-pounds. Not to mention, you can run it on an optional battery pack.

Learn more: Canon SELPHY CP1300 User Manual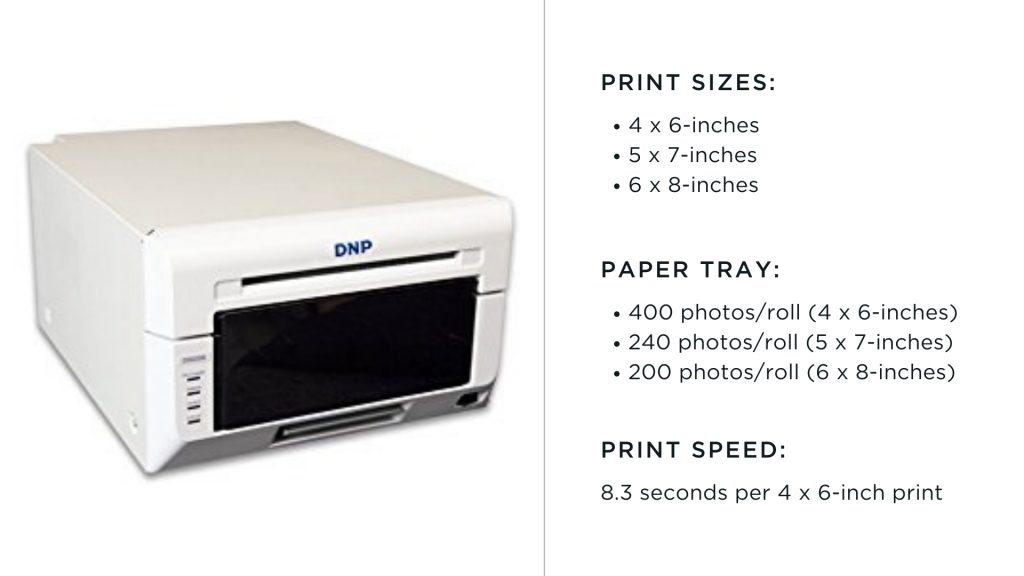 This is the printer we use at Simple Booth events. It only weighs 26-pounds, a reasonable size to transport between different activation locations.
On top of that, it prints high-resolution photos quickly—the fastest on our list. The DS620A is a workhorse that prints 400 photos per paper roll before it needs to be refilled. That means less time stressing about photo printers running out of paper mid-activation.
DNP is a trusted brand when it comes to photo booth printers and this printer is an example of why. It is the most expensive option on the list, but it's suitable for professional photo booth activations large or small.

Learn more: DNP DS620A User Manual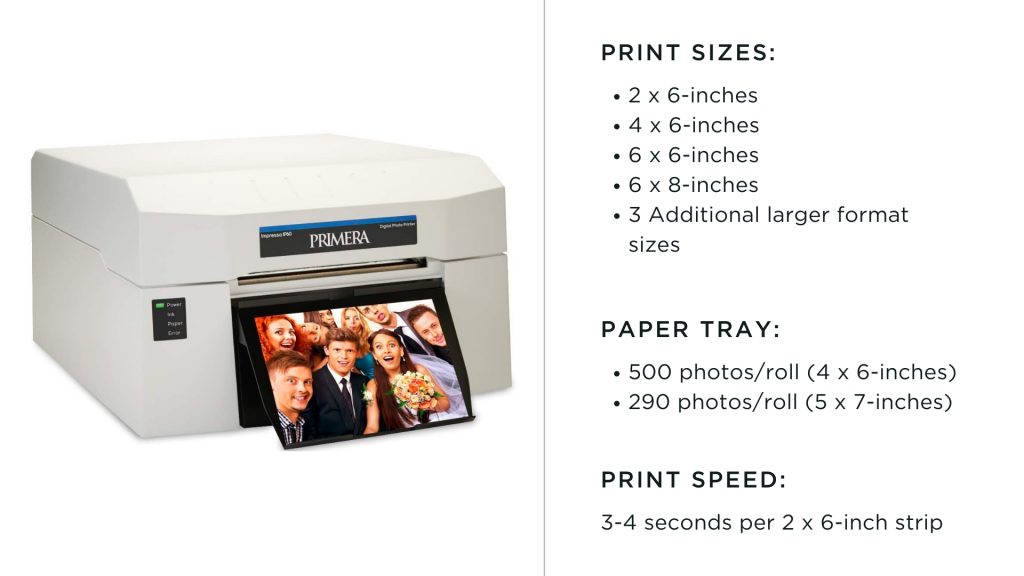 This is another printer we have in the Simple Booth offices. The only inkjet printer that made our list! But, looking at the speed and variety of print sizes it's capable of making, we think it's earned its place here.
Despite using inkjet technology, the Primera IP60 photo printers' performance is in line with the best dye sublimation printers. It only takes the printer about 8-seconds to print a 4 x 6-inch photo. Plus, the photo comes out of the machine dry and ready to touch. That's fast enough to keep up with even the busiest busy photo booth activation.
There's a multitude of papers available—glossy, metallic, or matte finish, as well as magnetic and sticky-backed paper rolls. A typical 4 x 6-inch print costs about 12-cents to print, again making it competitive with dye sublimation. The paper rolls have a small chip inside which enables the printer's display to show how much paper is left on a roll.
Being an inkjet printer, the IP60 uses a traditional style ink cartridge. We recommend buying the cartridges in bulk if you plan on using the printer on a regular basis. It's more economical and helps prevent a situation where you run out of ink mid-event.
Another big perk to this printer is its weight. It only weighs 8-pounds, making it the second lightest printer we're including.
Getting The Impressa To Print From An iPad
The printer itself is not AirPrint capable. That being said, you can plug in Primera's PT Link Wireless Printer Server directly into the printer's USB port. The PT Link allows for wireless printing from an iPad.
In our experience, the print server mostly works well to connect Simple Booth HALO® to the printer, but we have noticed some minor glitches.
Being one of the fastest and lightest printers on our list, it also the second most expensive. However, if you have a decent budget and want top tier speed, quality, and portability, the Primera IP60 checks off all of those boxes.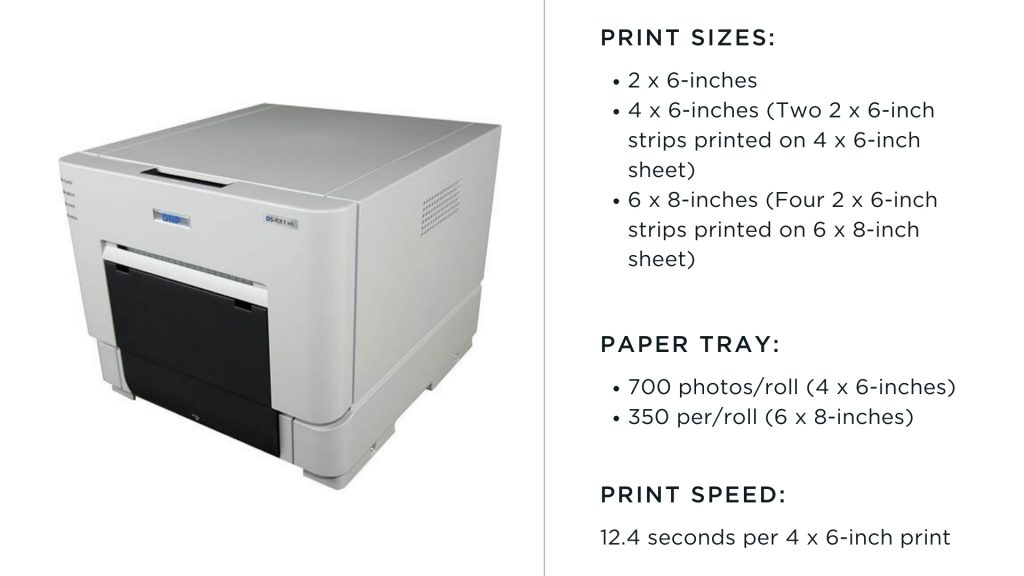 While not the fastest high-volume printer on our list, it still turns out high-quality prints rapidly enough for large activations.

The downside to this particular printer is that it's a bit on the noisy side. This could be an issue in certain situations. But based on customer reviews from B&H and Amazon, most marketers who use this at large events say the noise factor isn't much of an issue.
However, for activations in locations with a low ambient noise level, such as a small retail store, this could be an issue.
It's also a bit heavier than others at 30-pounds, but not unmanageably so. This printer is priced in the middle of the pack, which makes up for the slower print speed and heaviness.
We also appreciate getting 700 photos out of a single roll of 4 x 6-inch photo paper.

Learn more: DNP DS-RX1HS User Manual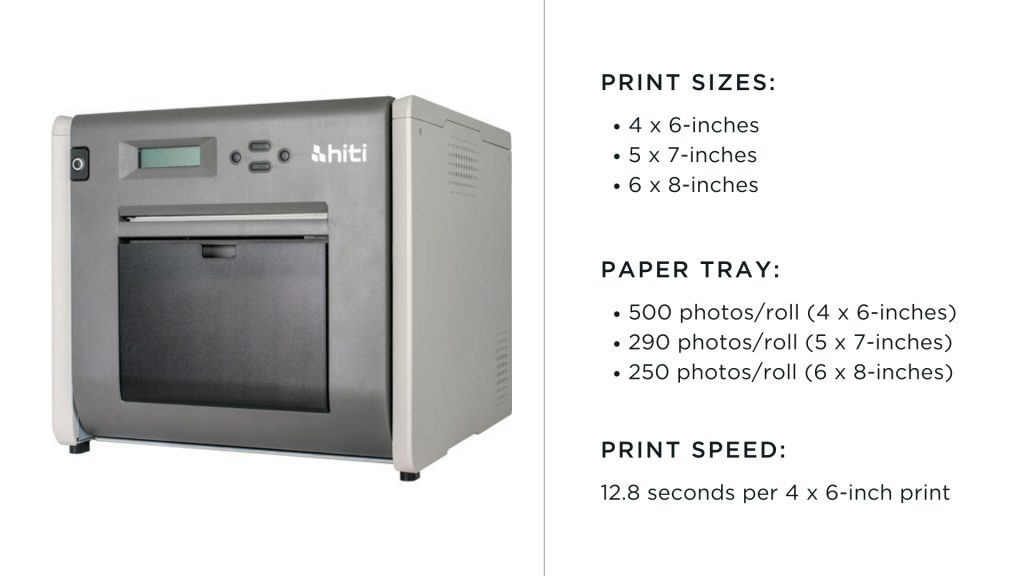 This is another printer that features a high paper capacity, fast printing, and multiple photo sizes. With up to 500 prints per paper roll, it has a slightly larger capacity than others on this list. Helpful if you are trying to maximize the amount of time between paper changes.
Unfortunately, the extra room for paper comes at the price of weight. It's 39.7-pounds. That makes it the heaviest printer we're covering here by about 10 pounds.
On the plus side, this printer also features a built-in paper cutter that cuts 4 x 6-inch paper into 2 x 6-inch strips.
Square format pictures are becoming increasingly popular, and the HiTi P525 caters to that by printing square prints. However, they are limited to 5 x 5-inches in that format. (See the screengrab below for more details on the diversity of print sizes.)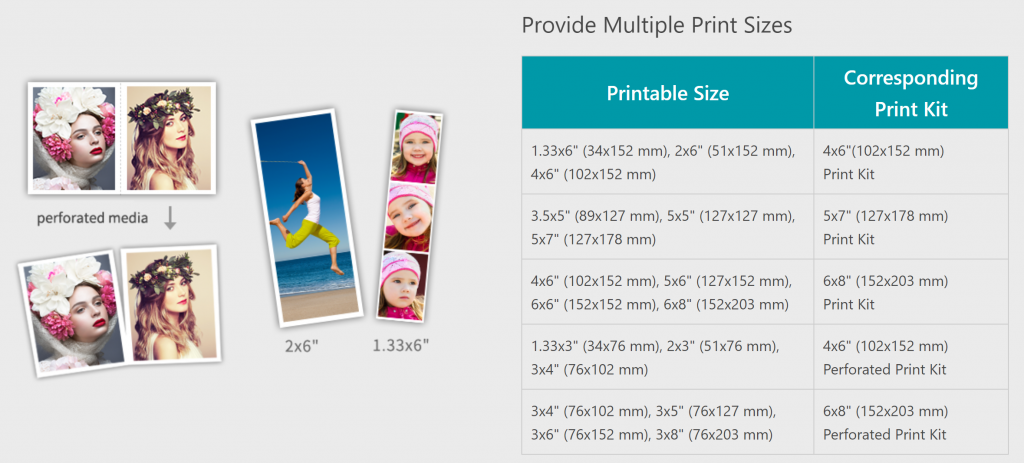 It prints a bit slower than some of the others. However, at 12-seconds per print, the machine is still suitable even for large activations. Plus, in lieu of speed, this unit is priced a couple of hundred dollars lower than the others.
Learn more: HiTi P525 Photo Printer User Manual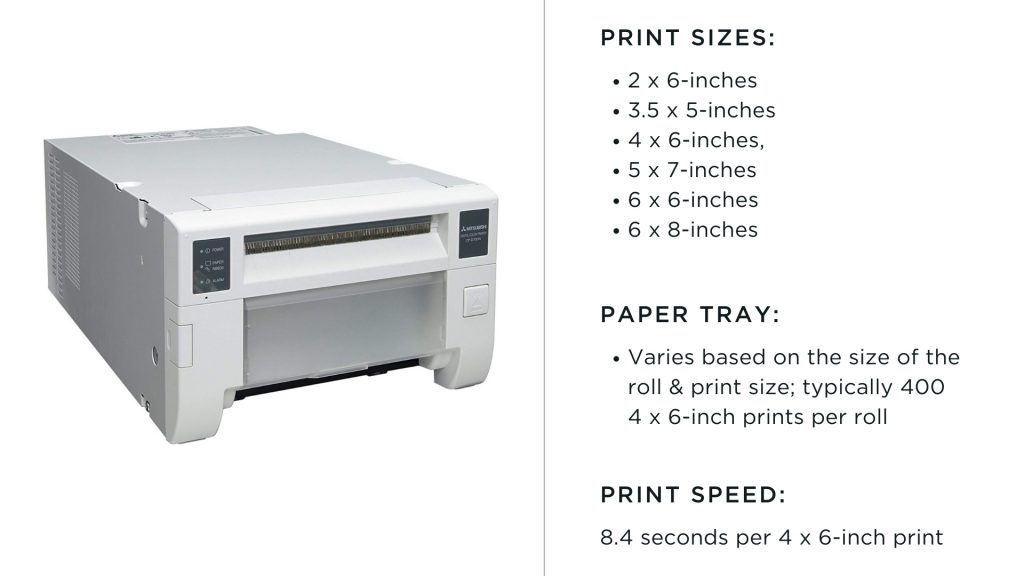 At 8.4-seconds per print, the Mitsubishi CP-D70DW is only 1/10th of second slower than the fastest printer on this list, the DNP DS620A. But it's also a bit less expensive.
It weighs just 26-pounds, making it light enough to transport.
The Mitsubishi CP-D70DW also has paper rolls available in matte or glossy finish for those who like to have options. Additionally, it can be set up to cut prints into 2 x 6-inch strips with the latest firmware update.
This printer is suitable for any size activation.
Learn more: Mitsubishi CP-D70DW User Manual
A Photo Booth Printer Is An Investment, Protect It
One last thing before we go… It would be savvy to purchase a protective case for your new photo booth printer. It protects the printer during transport and provides protection from dust and accidental bumps while it's being stored.
The Ultimate Guide To Experiential Marketing
Get even more out of your Simple Booth activations. Learn the five most indispensible elements to a successful experiential activation, plus other invaluable marketing tips in our ulitmate guide.
Download your copy today!