Ahhh, autumn is in the air. The temps are dropping, pumpkin spice lattes are flowing, and epic holiday parties are on the horizon. It sounds like the perfect opportunity for a Simple Booth HALO® activation. And just in time to try out all the improvements we've recently made to the Simple Booth dashboard!
What's New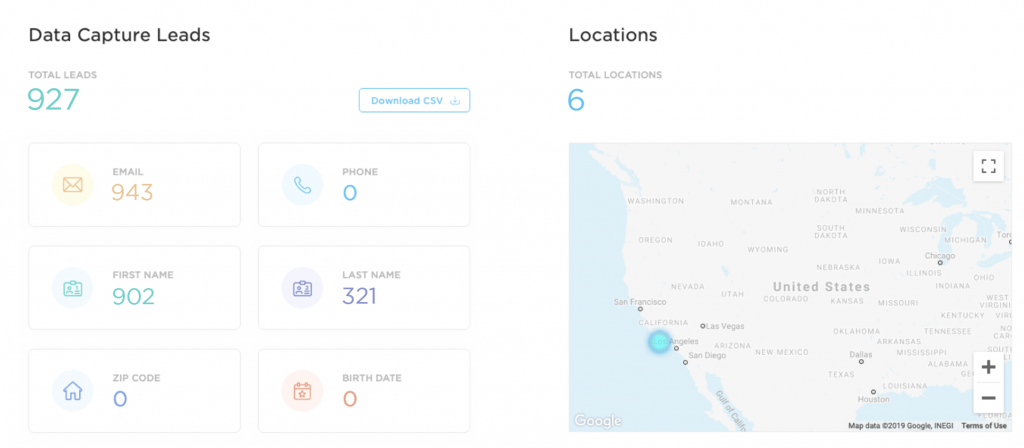 One of Simple Booth's most popular features is the ability to track how Galleries and photos are performing on social media. The new updates make it easier than ever. If you've logged into your Simple Booth dashboard recently, you may have already noticed a few of the improvements.

The three biggest updates include:

The improved design makes it easier to find the metrics you're looking for.
A deeper drill-down of social sharing metrics gives a more detailed look at your customer's demographics.
A new hashtag feature lets you more easily see who has shared photos with your hashtag on Instagram.
These updates improve the overall usability of the dashboard as well as providing Simple Booth HALO subscribers a more robust analytics tool. Let's take a closer look at the details so you know what to look forward to and how you can take full advantage of these sweet new metrics.
Better Design For Smarter Data Gathering
The various dashboard sections used to be populated by donut graphs, which are great, but like the pastry version, they're probably best enjoyed in moderation.

So, we've redesigned the Simple Booth dashboard to accommodate the growing amounts of metrics you'll find there. With the new look, you'll be able to easily gather the essential metrics you're looking for.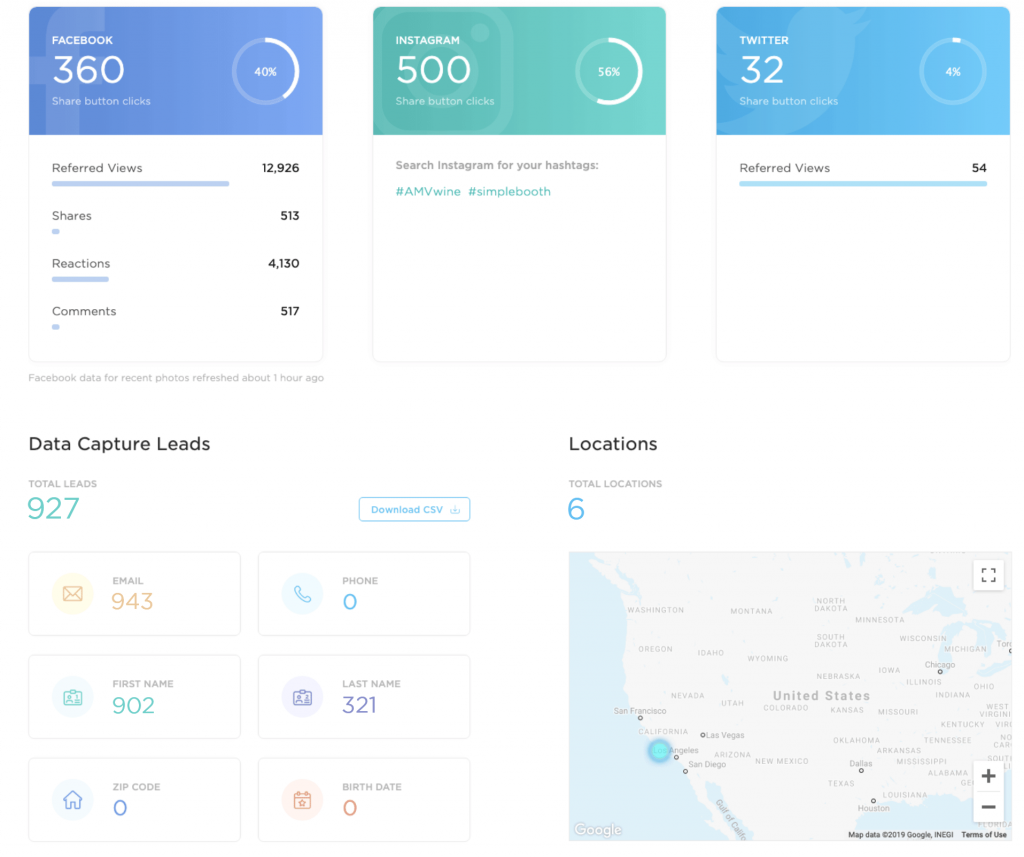 Speaking of metrics, check out all the new ways you can monitor the success of your Simple Booth HALO activations…
Better Social Sharing Metrics
On the Simple Booth dashboard, Share button intent tracks the number of times a photo is shared directly from your Gallery.
For some social networks, like Facebook, your Gallery photos are shared with a link. That link is what makes it possible to track additional engagement such as Facebook shares, reactions, and comments.
Because Instagram limits how links are shared on their platform,
users directly share photos from your Gallery to Instagram without a link. That means tracking additional Instagram engagement metrics, such as likes and comments, is currently not possible.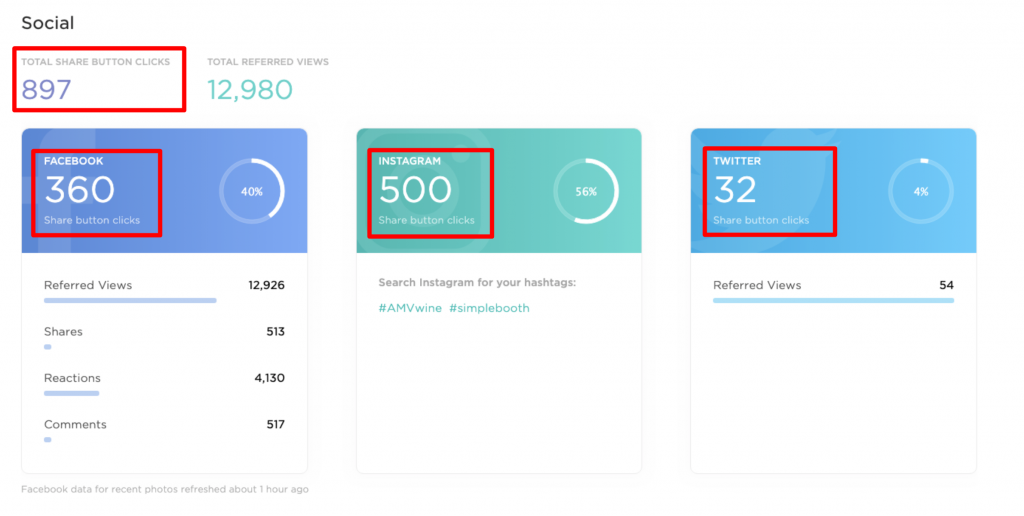 On the new dashboard, you can track share button intent on photos from your Gallery in a number of ways:
intent to share on Facebook
intent to share on Instagram
intent to share on Twitter
and intent to share on all three social platforms combined (displayed at the top of the panel)
This makes it easier to see which social media platforms your customers are most active on.

Understanding Referred Views
You can see how many referred views each of your Simple Booth Galleries has earned from Facebook and Twitter. This number shows you how many times someone has viewed a photo or GIF hosted in your Simple Booth Gallery after clicking through to it from a link on social media.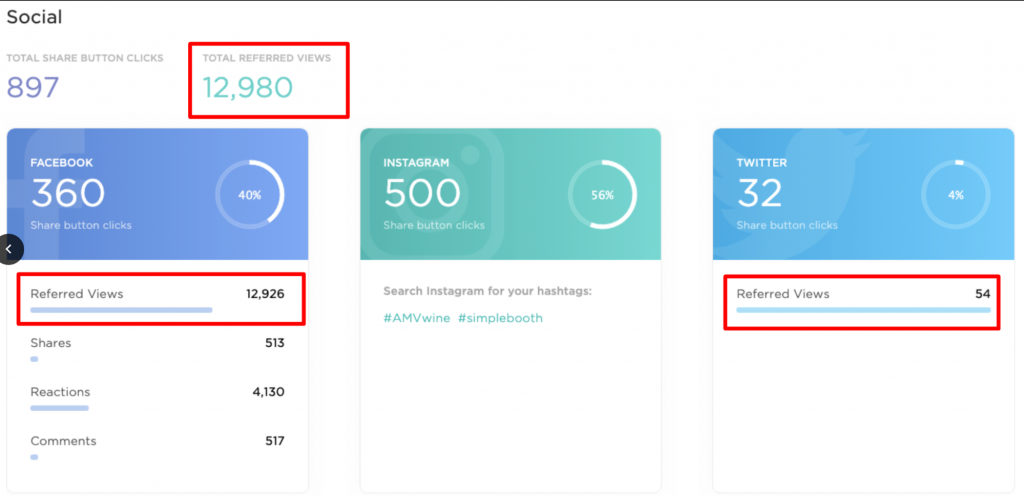 This metric is another useful way to track engagement with your photos beyond how many direct Gallery shares it has earned. While this metric was available prior to the latest updates, the way it's displayed has changed.
Referred views are available as three different metrics:

Facebook referrals
Twitter referrals
and the combined amount of referrals across both of the aforementioned platforms
Because all Instagram views occur through their platform, rather than through a link click, referred views for Instagram are also currently unavailable.
Keep Tabs On Your Custom Hashtags
Many Simple Booth HALO subscribers employ custom hashtags as part of their activation and marketing strategy. This is such a valuable marketing feature of the Simple Booth platform, we made it even easier to track.

Now, all you have to do to see who's sharing photos with your hashtag is click on it in the Instagram panel on your Simple Booth dashboard. This will redirect you to an Instagram search page where you can quickly check the performance of your hashtags.

How To Get The Fancy New Updates
If you're already a Standard, Pro, or Enterprise Simple Booth software subscriber, we've got some really good news, the updates are already yours. Just login to your SimpleBooth account and check it all out firsthand.

The updates will apply to your already existing campaigns as well as any new campaigns you are planning.

For Simple Booth users with a free or Lite subscription plan, get in touch with us to start taking full advantage of these powerful new analytics and metric features.