We've been in the photo booth business for over a decade.
During this time we've seen our fair share of good and bad photo booths: professional and DIY setups. We know exactly which cameras work best for certain situations and which simply don't.
And in this article, we'll help you find a camera that'll feel like a match made in heaven.
Now, to everyone who wants to either create a professional photo booth company, entertain guests at your next live event, or use a photo booth to market your business, here are the five best cameras for your photo booth—categorized.
Best All-around Camera For Photo Booths
Most Affordable Camera For Photo Booths
Best Performance Camera For Photo Booths
Best Smartphone Camera For Photo Booths
Plus: A Guide to Photo Booth Autofocus and Other Necessary Gear for DIY camera booths
But before we dive into these, allow us to introduce an all-in-one solution…
All-in-one: Simple Booth HALO®
For companies, marketers, and professional event planners.
Simple Booth HALO is the ultimate all-in-one solution for your photo booth needs.
Built from the ground up with simplicity in mind, it's a good-looking, premium photo booth that comes with all the bells and whistles:
a sturdy travel case,
a plug-and-play cable setup
an iPad with digital photo booth software,
a LED ring light with a brightness of 2170 lumens,
a C-stand that is more stable than an ordinary tripod.
If you want to bring more awareness to your business or live events, then Simple Booth HALO is the perfect solution for you.
Your guests will interact with the built-in iPad and see themselves before taking a photo—just like in traditional enclosed photo booths.
But unlike traditional photo booths, HALO will send the image to your guests' phones so they can post it directly on their social media profiles (with your logo included!), spreading awareness for your company.
HALO Construction
HALO is mounted on a C-stand, making it extremely sturdy. As such, there is no worry about people knocking it over—even on the most crowded nights.
The setup can be assembled entirely without tools and takes 5 minutes max—making Simple Booth HALO the perfect travel companion.
HALO is also an integrated product that comes with a dedicated app, which your guests can use with ease and without supervision. It's a proven photo booth solution that comes with every possible photo booth functionality you could possibly wish for:
Adding your logo on customizable templates? Check ✅
Sending images by email and text message? Check ✅
Live galleries with posting to social media and Instagram? Check ✅
It also provides all the fun photo features:
photo editing options
configurable filters
overlay graphics
doodle option
GIF and video creation
HALO was designed to make DIY photo booth headaches a thing of the past. We wanted to reduce the complexity of having multiple components and cables in photo booths.
That's why HALO has a built-in iPad—so you don't have to worry about choosing the right camera at all. That results in:
a quick setup,
less maintenance,
a smooth live view,
fewer points of failure,
no incompatibility problems,
no need to bring backup equipment.
If you're looking for a ready-to-go, simple, but extremely effective photo booth that doesn't break the bank… give Simple Booth HALO a try.
Best Cameras For Photo Booths
If you're IT-savvy, experienced in photography, and want to build your own photo booth and select the right camera for your photo booth enclosure, this section is for you.
We've picked 4 cameras that are best suited for your various photo booth needs. But since you also need lights, a stand, and a computer with appropriate software to handle the photo processing and sharing, we also included a bonus guide at the end to give you a headstart.
Note: The Simple Booth software is not compatible with DSLR or mirrorless cameras—we use the iPad camera to keep things simple, fun, and flowy. To use any of these cameras, make sure to select a photo booth software that lists them as compatible cameras.
Sponsored links: We've included Amazon Affiliate links below to support this and more articles like it.
Best All-Around Camera For Photo Booths:
Canon EOS M50 Mark II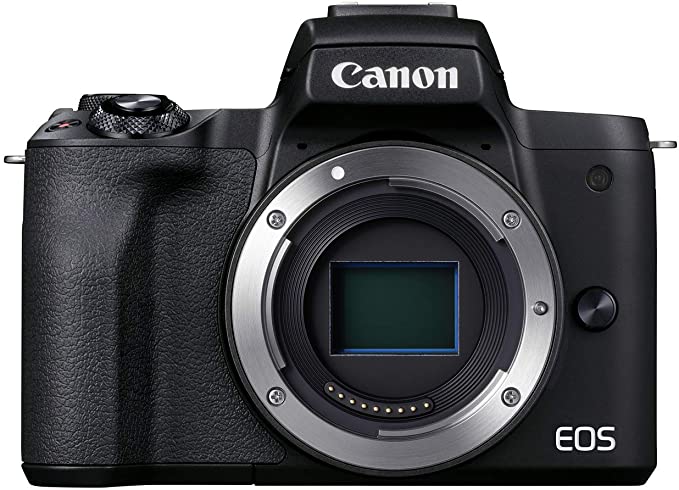 Canon has a long tradition of quality products and has set the standards for some time now.
The M50 is a mirrorless camera with a 24.1 Megapixel APS-C sensor, so the photos this camera takes at its price point are simply phenomenal.
Pros:
High-res sensor
Fast autofocus with eye detection
Compact mirrorless design
Good low-light performance for the price point
Cons:
Using EF or EF-S lenses requires an adapter
Being a mirrorless camera, the M50 provides awesome performance in a small body, meaning it fits easier in your setup while ensuring the photos you take are up to standard.
It offers a bunch of features usually found in much pricier cameras:
Very practical high-res rotating touchscreen,
Excellent connectivity (Bluetooth, Wi-Fi, NFC),
Top-notch Dual Pixel autofocus with eye detection,
Touch & Drag autofocus, so you can quickly select what you want in focus.
The casing is robust and—although we do not recommend testing this—it may even survive a short fall.
It's a good idea to purchase body and lens separately to make sure the lens is ideal for portraits and fits inside your photo booth shell. We recommend the 15-45mm EF-M lens or a comparable 18-55mm lens to accommodate for portraits and group pictures in front of varying-sized backdrops.
Note that the Canon EOS M50 is only compatible out-of-the-box with Canon EF-M mount lenses. However, you can purchase an adapter that lets you use existing EF or EF-S lenses with it, including autofocus functions. Make sure to select a lens with autofocus, and image stabilization is a plus.
In short: The Canon EOS M50 is an excellent camera with some outstanding features. It offers a lot for the price.
Most Affordable Camera For Photo Booths:
Canon EOS Rebel T3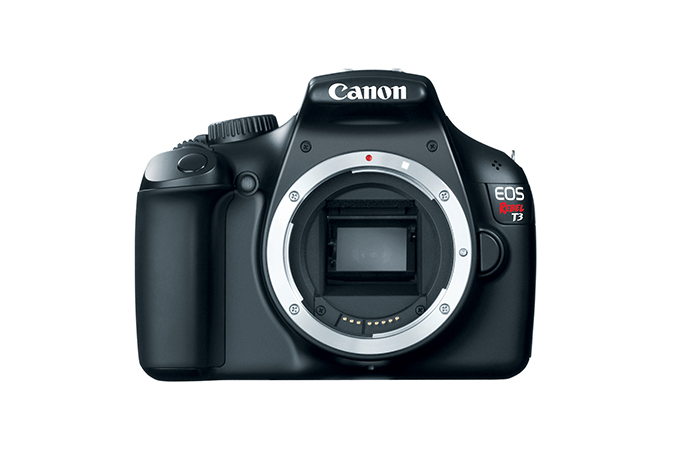 The Rebel series contains the most affordable cameras by Canon that you can get for your photo booth.
The entry-level Canon EOS Rebel T3 is a traditional DSLR camera offers decent picture quality and leaves you with extra money to invest in other necessary photo booth equipment.
Pros:
Proven track record of Canon reliability for under $150
Great as backup
Cons:
Limited ISO and poor low-light performance
Autofocus system is weak
The flash hot shoe doesn't work with triggering wireless flashes
If you're looking for something very basic to get you started, the Rebel T3 is a great option. For many photo booth enthusiasts, it offers exactly what you need:
A 12.2 megapixel CMOS sensor, capable of capturing sharp photos
The option to take photos in RAW format
Works with all Canon EF and EF-S lenses
If you decide to go with this camera, make sure to invest in some good lighting because the ISO only goes up to 6400 and is likely to produce a lot of grain because the DIGIC image processing is outdated. Another catch is that it's hot shoe doesn't have the center contact for external flashes or strobes. To properly light photo booth images, you will need a continuous lighting source like a pair of LED panels or wands.
Also, be aware that the autofocus is going to perform poorly with only 9 AF points. Making sure the subjects are always in focus is a key to great photo booth pictures and quickly becomes an issue if guests don't stand where you expect or move forward and backward from frame-to-frame. We have more on this topic later in the article.
The thing is, this camera also works great as an affordable but reliable backup.
No equipment is perfect, so it pays to have a plan B in case your star player can't perform for some reason. That's why when starting out, you might consider buying two decent cameras at a lower price point, instead of only one at a premium price point.
Trust us, you don't want to get stuck at a gig with a malfunctioning photo booth camera and no backup plan.
In short: The Rebel T3 can get you started quickly and won't break the bank. It's a great alternative to more premium and expensive cameras. Sure it has its shortcomings, but you can overcome them with the right photography knowledge & settings.
Need more features than the T3 offers?
You can always upgrade to another one of Canon's lineup in the Rebel series which goes all the way up to T8 and has a jazzed-up version for each with the letter "i" appended. The T7 is a popular choice because the latest version has better external flash support. Careful, though—it's easy to get lost in a maze of feature comparison and start paying more for functionality you don't really need.
Best Performance Camera For Photo Booths:
Nikon Z6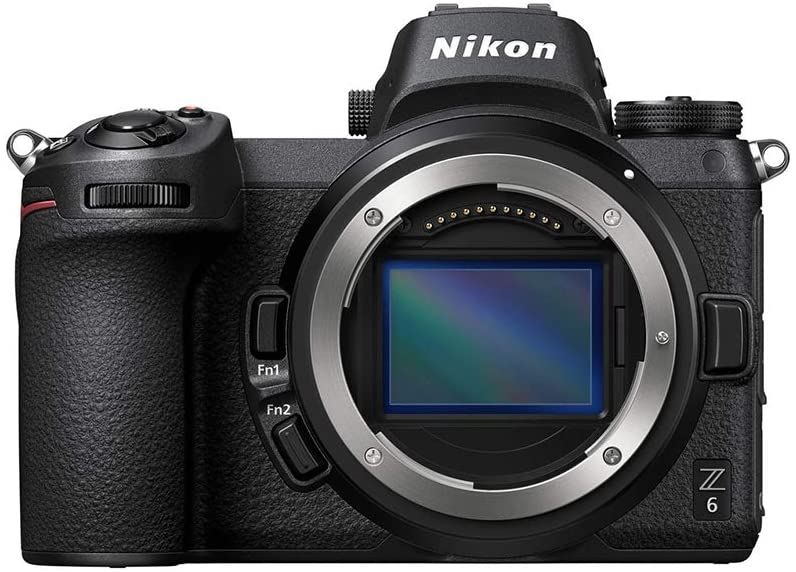 Our top performer in terms of picture quality and features is the Z6 from Nikon.
Pros:
More compact than a traditional DSLR
High-resolution images (24.5 megapixel)
Amazing low-light performance (up to 51,200 ISO)
Autofocus uses AI for better focus in low-light
Can be used by professional photographers or videographers outside the booth
Cons:
Premium price
Using Nikon F-Mounth lenses requires an adapter
It's a mirrorless system, with a 24.5 megapixel full-frame sensor so there aren't many situations this beast can't handle.
It has a long list of features, but the ones that stand out the most are:
10-bit 4k recording
10-bit HDMI output
Fast Hybrid Autofocus
High ISO range (for low light situations)
Like the Canon M50, the Z6 is a mirrorless camera and so it requires its own set of Z-Mount lenses—unless you purchase the adapter that lets you use existing F-Mount lenses.
The connectivity improvement Nikon made in the last couple of years is massive. It shows in the Z6 as it offers Bluetooth, HDMI output, WiFi (2.4 and 5 GHz), an app with a remote shooting option, and more.
This is a no-compromise camera. Frankly, it's excessive performance for most photo booth needs, but if you're looking to buy a camera for your photo booth that you can also use outside the booth to shoot professional quality video and photos, this could be the perfect choice.
In short: The Nikon Z6 is high-end and pricey, but it's extremely versatile—you can use it as a camera for a photo booth or pack it in your bag for a professional photo or video shoot. A true master of everything.
Best Smartphone Camera:
iPhone 13 Pro
You may be surprised by our final pick, but you shouldn't take smartphone cameras lightly. They've come a long way, and no phone shows that better than the new iPhone 13 Pro.
Pros:
Triple camera setup on the back
Portable, practical, and versatile
Great for capturing video
Fast and powerful processing with the right apps
Cons:
Limited zoom control
No external lens choices
Expensive compared to entry-level DSLR's
Smaller screen than an iPad
Poor at taking quick photos in low light
People may be surprised to see an iPhone
It has 3 cameras (on the back):
12 MP main camera
12 MP telephoto (3x zoom)
12 MP ultrawide
Perhaps the best thing about using the iPhone as your photo booth camera is its great software support. The App Store offers many different photo booth apps—every one of them optimized for your device.
The thing is if you already have one it won't cost you anything. Just be aware you can't use your phone while your photo booth is in use 🙂
iPhone's hidden advantage: 360-degree photo booths
Have you heard of 360-degree photo booths that spin around a small platform to take the video? iPhones are a popular choice for the camera on 360 photo booths since the camera must be small and lightweight on the swing-arm. Despite the small screen on an iPhone, they can still make it easy for participants to get their video by displaying a QR code.
In short: The iPhone 13 Pro is an interesting solution that may appeal to you if you're not sure about photo booths and want to try them out first, or if you need a camera for a 360 photo booth.
The Ins & Outs of Photo Booth Autofocus
Professional photo boothers are split on whether you should use autofocus or manual focus.
Autofocus is better… until it isn't
It makes sense that autofocus can take a better photo if people move toward or away from the camera, which is inevitable at any event. The problem is that if your autofocus isn't modern or high-tech, then it requires a significant amount of light to work right. There have been reports of software crashes from poor autofocus when the camera and lens take too long and can't "decide" where to focus.
To make it better, you can add continuous lighting like LED panels or wands, and invest in a camera with higher quality autofocus—ideally with more autofocus points or using AI to find the eyes.
Managing lens movement
The other risk of relying on autofocus is that it means a small motor controls the lens, which can move it in and out slightly. In an enclosed photo booth shell, you do not want your lens to ever push up against the side. This can burn out the motor in your autofocus lens and become an expensive, event-ruining problem.
One way to avoid this is by using a fixed focal distance or "prime" lens that will not move in and out, like a 24mm or 36mm. As a perk, prime lenses are typically shorter than a zoom lens. If you are looking to save even more space, you can get "pancake" lenses which are extra compact.
If you want to play it safe and not deal with these risks, turn autofocus off on your lens and set your manual focus to a happy medium. Wider lenses and setting higher apertures can help reduce the potential blur on subjects from getting too close.
BONUS: Other Necessary Gear for DIY Camera Booths
If you decide to build your own photo booth, you'll need the following in addition to a camera and photo booth backdrop:
Computer
Most DSLR photo booth software that support Canon or Nikon cameras run on a PC. The computer of choice to plug into is the Surface Pro tablet, which can also act as a touchscreen for your guests.
Stand
A sturdy stand is essential.
Typically, this means purchasing a DSLR photo booth shell with an included stand from a photo booth supplier that will house both your computer, DSLR, and light. You can alternatively use a tripod for a one-off event or to test your camera.
Lights
Since photo booths are often set up inside at dimly lit events, you'll need to have lights to take good photos.
You can use a flash if your camera supports it—either wired or connect with a wireless hot shot adapter. However, it's often better to stick with a simple and powerful LED with adjustable brightness. Continuous lights will make your setup more attractive and avoid sudden, bright flashes that can be a nuisance.
Neewer brand offers affordable light panels in a variety of configurations. You can also get a great look with soft boxes or umbrellas to diffuse the light more.
Also, don't forget to check out our essential 5 photography lighting tips to get the most out of your lighting equipment.
Accessories
Don't forget a power supply charger and USB cable to connect your camera—including extra backups incase they fail. These are not typically included with the initial purchase but are required for photo booth use cases.
Conclusion & Our Opinion
If you are a business owner, photo marketer, or photo booths aren't going to be your full-time gig, we definitely recommend going with the Simple Booth HALO. It's the best all-in-one photo booth solution you can find and will definitely save you a lot of time, effort, and troubleshooting.
On the other hand, if you're a technical person that loves to tinker and are excited to hand-pick your camera—you'll be hard-pressed to go wrong with the Canon EOS M50.