Live Feed™ allows you to leverage user-generated content from Simple Booth and display it in real-time at your venue or event. It's a live display of photos being captured and shared with your branded slides mixed in.
When people see others having fun on the social feed, they naturally want to join in and share pictures too. It's the ultimate social, interactive content to take your digital signage to the next level and fuel the cycle of engagement.
More photos = more shares 🙌
The result is a more lively, energetic atmosphere with more people taking photos. More photos means more shares, which amplifies all of the effort you've put into creating an Instagrammable experience in the first place.
At Simple Booth, we know how important it is to have a world-class customer experience. That's why we created Live Feed and we use it ourselves all the time, including when we threw the mother of all parties after the Photo Booth Expo in Vegas.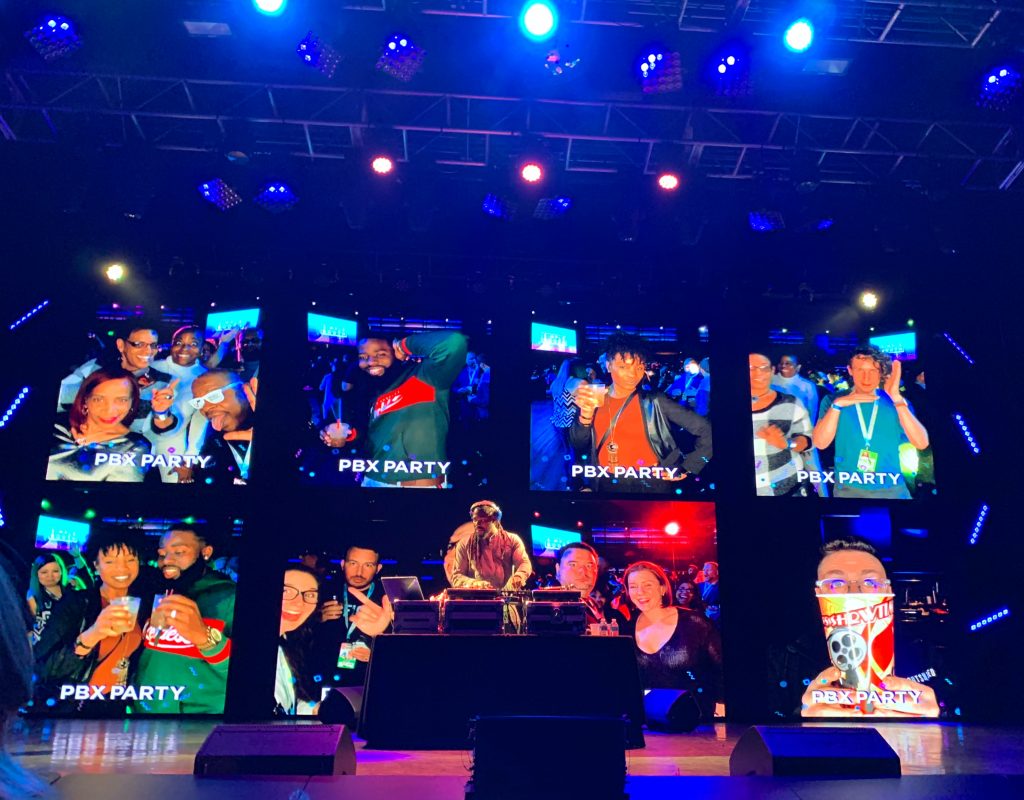 Live Feed is simple, yet powerful ⚡️
You can customize Live Feed to be perfect for your event and then start it up with the press of a button.
With settings to control animations, transition timing, number of photos, and layout, you can create an eye-catching slideshow that's easy use.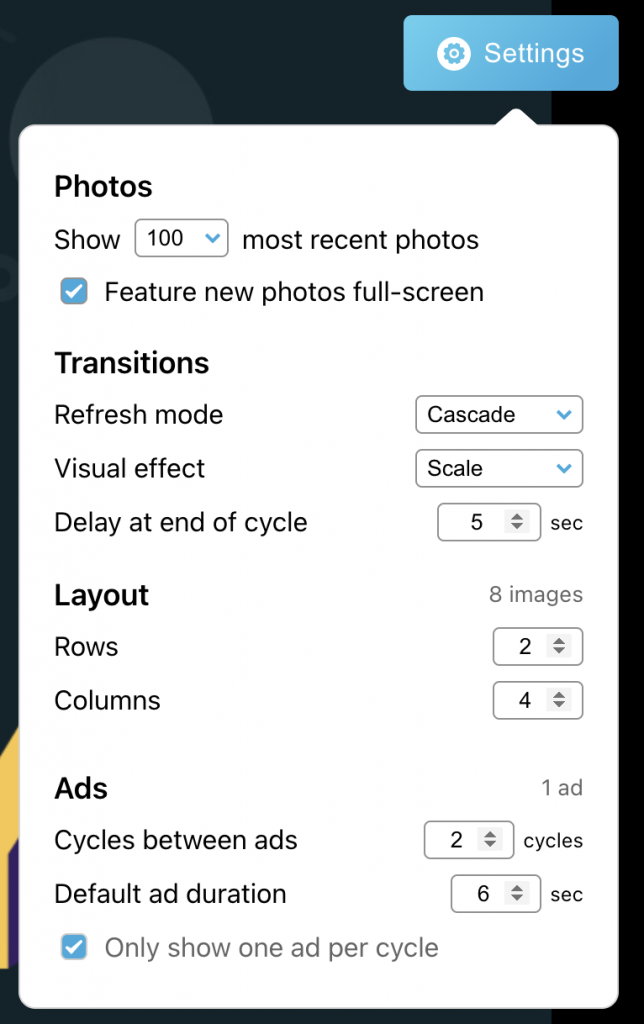 Digital signage that works for your brand 📈
You can mix-and-match your own images and videos as ads for Live Feed to loop through in-between sets of photos. This is another way you can promote your business, non-profit, or event sponsors through the Simple Booth platform.
Remember that picture of Live Feed at the conference afterparty above? The day before, we leveraged Live Feed as the centerpiece of our trade show booth. We played videos of our products between sets of photos using the ads feature.
Live Feed can be the life of the party and a functional tool for your business! Here are some ways you could use ads:
Display your logo to reinforce your brand
Promote drink specials for restaurant marketing
Offer a sponsorship package that includes a Live Feed ad
Highlight all of your event sponsors with a slide of logos
Callout the hashtag that you use on social media to encourage sharing
Pump up the crowd with an awesome video
When it comes to promotion, ads in Live Feed are just the beginning. If you're looking to grow and expand your business through photos and word-of-mouth marketing, Simple Booth has you covered.
Embed Live Feed on your website
Even if you don't have a TV, LED wall, or projector to play Live Feed on, you can put it on your website, like this:
Example of the HTML code to generate the embedded widget above:
<iframe style="width: 100%; max-width: 100%; height: 720px;" frameborder="0" allowfullscreen="" src="https://www.simplebooth.com/live-feed/k6A47UoVUYA3?hideControls=true"></iframe>
Now we're really showing off, but only because we want you to be able to show off all your great photos with Live Feed ✌️
Simple Booth is the leader in digital photo experiences for people, places, and businesses of all kinds.