With more choices available to consumers than ever, it's an ongoing challenge for brick-and-mortar establishments like bars and restaurants to increase brand awareness, drive more traffic, and increase sales. Marketing techniques like social media marketing, email marketing, text message marketing, and SEO are vital for building a strong online presence and brand identity.
However, keeping up with all the bar and restaurant marketing strategies can get exhausting.
Why not just advertise?
Facebook ads, Google ads, and now TikTok are topping the lists of bar and restaurant marketing ideas. And we agree, online advertising is one of the easiest ways to reach local demographics directly. However, it has become more expensive and difficult as competition for keywords and ad placements increases for small businesses as well as big ones.
Another great marketing idea, which worked great in the past, were apps based on consumer reviews like Yelp and TripAdvisor. They were amazing tools to bring in local customers and even foreign ones. However, they gained a reputation for putting up paywalls and holding restaurants and bars hostage.
It's often impractical for small businesses to rely on "buying" new customers like big companies that have deep pockets and teams of sophisticated marketers.
All too often, money spent on online advertising is never seen again.
Customer loyalty is what counts
If you can get new customers in the door through online ads, it's still going to be hard to make a profit if they leave and never come back.
A better, long-term goal for any bar or restaurant is to give customers a reason to come back and tell their friends—or better yet, bring their friends with them. Let your customers be the real influencers. Word-of-mouth coming from our friends works better than all the thought-out restaurant marketing strategies. Positive reviews (and negative reviews, too) stick out to us more when coming from a friend that a random Yelp reviewer.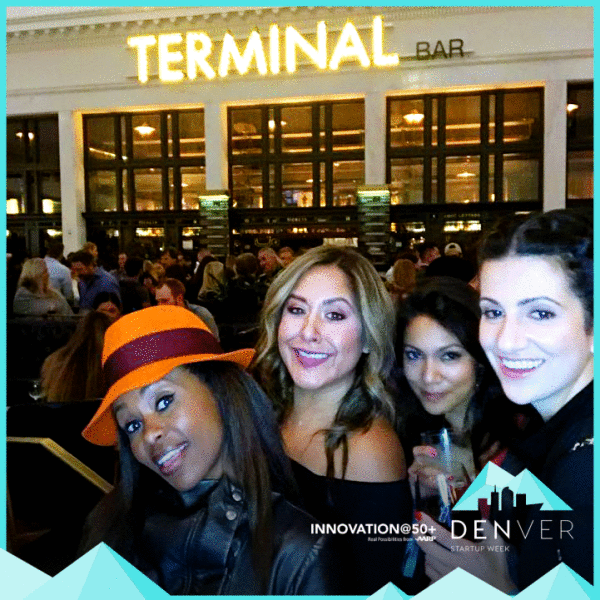 Perhaps the most compelling reason that a customer would come back to your bar or restaurant, and bring their friends with them, is when they have a great experience.
The experience economy is here
Have you heard of the experience economy yet? It's the forward-thinking theory that experiences are set to become powerful economic drivers, right at the top with big categories like goods and services.
Consumers unquestionably desire experiences, and more and more businesses are responding by explicitly designing and promoting them.

-Harvard Business Review, Welcome to the Experience Economy

When you're first opening a new restaurant or bar is a great time to harness local enthusiasm with a grand opening party. However, what about after you've been open for years?
The good news is that experiences don't have to just be one-time. Experiences can be ongoing and a sustainable marketing channel for your bar or restaurant for years to come. And not just the dining experience.
SPIN got the formula right
SPIN is a ping pong social club with a full restaurant and bar at each of their eight (and counting) locations. When you walk into a SPIN restaurant, you instantly feel the energy.
From modern architecture and decor, to the baskets of bright orange ping pong balls lining the tables, to the glowing photo experiences—SPIN is an example of practical, experiential marketing that we can all learn from.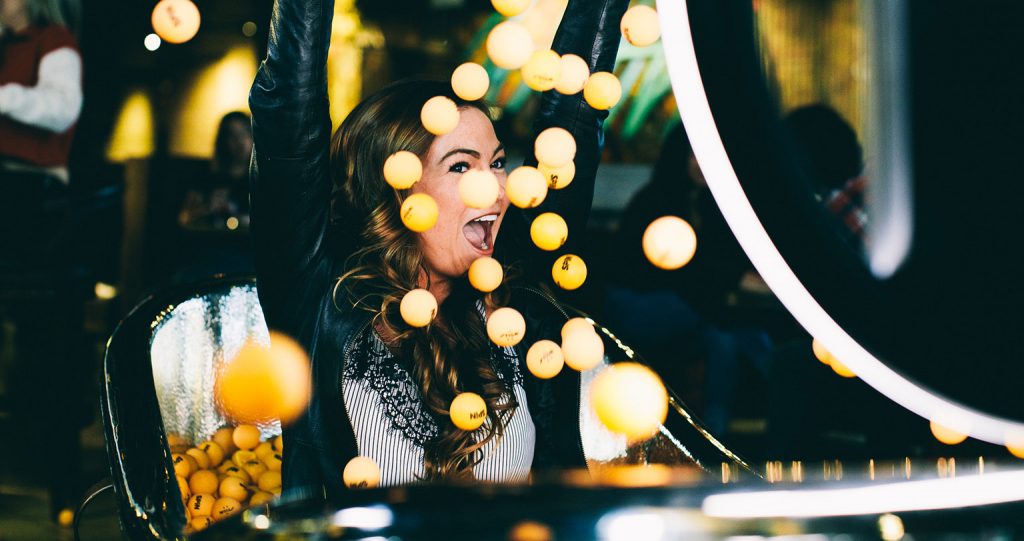 In particular, the HALO photo booths bring the beautiful backdrops around SPIN to life. That wall of street art? It's a photo op. The tub of ping pong balls? Jump in and take a photo.
Turn your space into an Instagrammable experience
Creating a visual destination and turning it into a photo experience has earned a high value among millennials, who are willing to pay entrance fees to Instagram museums that proliferated in 2019 like the Color Factory, Happy Place, and Museum of Ice Cream.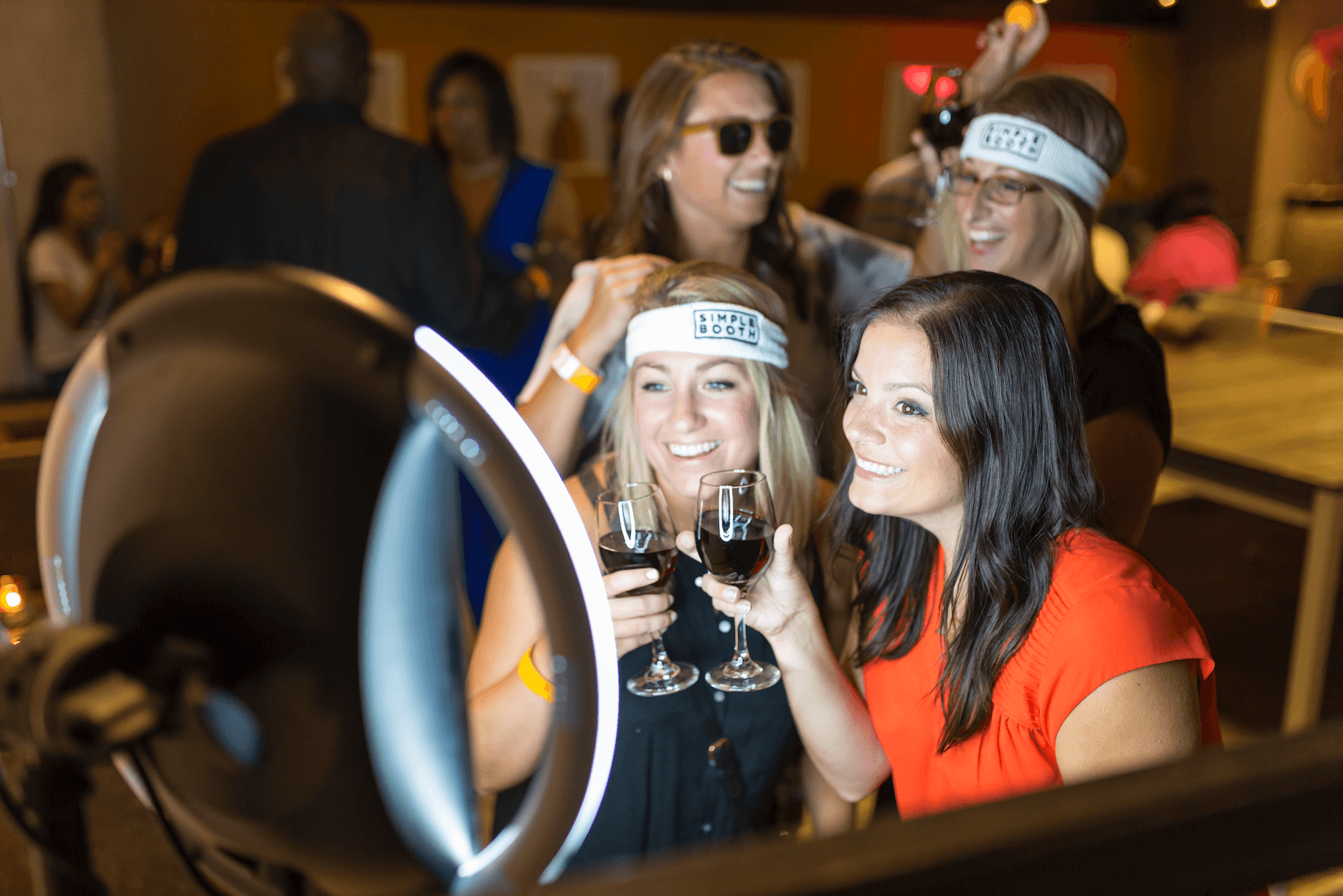 Millennials love it when bars and restaurants have a unique experience that also allows them to walk away with cool new content for their social media feeds. It's the perfect way to have fun in the moment with friends and share the experience with your broader network on social media.
For you as the bar or restaurant owner, it's the perfect way to use user-generated content that your loyal customers provide. Include the photos in your marketing campaigns and serve it back to your target audience. It's a simple way to present your local restaurant or bar in front of a wider audience.
Citizen bar saw a big difference after installing a photo booth
Citizen is an trendy and vibrant cocktail lounge and dance club in the Uptown district of Dallas, Texas.
Coin-operated booths have been a staple at dive bars, local pubs, and arcades for decades. For an upscale night club, though? Not so fast.
Citizen saw the opportunity to do things differently. They weren't looking for a small revenue stream, they were looking for a machine machine.
Specifically, the owners at Citizen wanted to find a modern photo booth for their bar that:
Doesn't charge customers any money
Instantly delivers photos to the customer's phone for easy sharing on social networks
Is attractive and sleek enough to maintain the brand's upscale aesthetic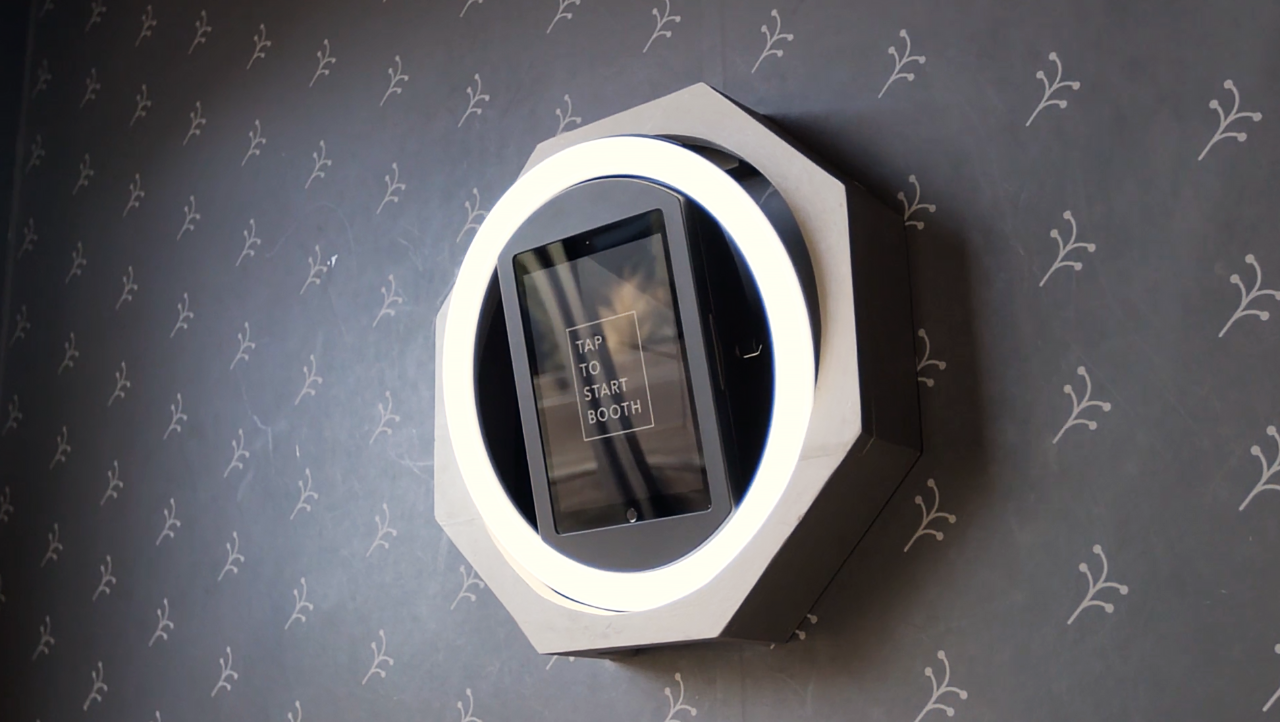 Citizen ultimately chose Simple Booth HALO and mounted it to the wall in a high-traffic section of their bar (right next to the restrooms). It allows every client that walks by to quickly and easily capture memories of their night out, get it on their phone, and share it.
Lots of photos, lots of fun
Immediately, the crew at Citizen began noticing how much customers enjoyed using HALO and the impact it had on return visitors.
Simple Booth and HALO have been integral to the overwhelming success of Citizen.

I think the sheer volume of pictures has justified our decision. I see people having so much fun back there [using Simple Booth].

Imran Sheikh, Citizen co-founder
Citizen has no doubt cultivated a vibrant night-life experience at their bar and lounge. Using HALO, they've been able to promote the bar, fuel the excitement and deliver lasting value in the form of memories to their customers.
More bars are beginning to choose photo booths or selfie stations as a promotional tool for social media, to elevate the atmosphere and drive memorable experiences. Bar photo booths get customers engaged, both in the real world and on social media platforms.
Having your brand associated with a meaningful, happy moment, whether it's an event, a theme party or just a team-building meeting, will create a deeper consumer connection than any advertisement ever could. It works better than any superficial loyalty program, too.
HALO makes it possible for any bar or restaurant
The photo experiences at SPIN, Citizen bar, and many more bars and restaurants are powered by Simple Booth HALO®.
"I would highly recommend HALO to any venue that is looking to engage their audience. The software is very easy to understand and intuitive. The amount you invest initially, you get back tenfold."

Greg Godfrey, Marketing Director, SPiN
Bars choose Simple Booth HALO because it's easy-to-use, looks modern, has great lighting, takes up very little space, and is packed with convenient software features. Most importantly, once you set it up, it's reliable and practically runs itself.
HALO is a total marketing toolkit
It's clear that photo booths help create real-world memories and emotional connections.
But did you know that Simple Booth also offers a seamless way to capture contact information to grow your customer base? Collecting this data means you can also more effectively build a list for email and text message campaigns for your restaurant or bar.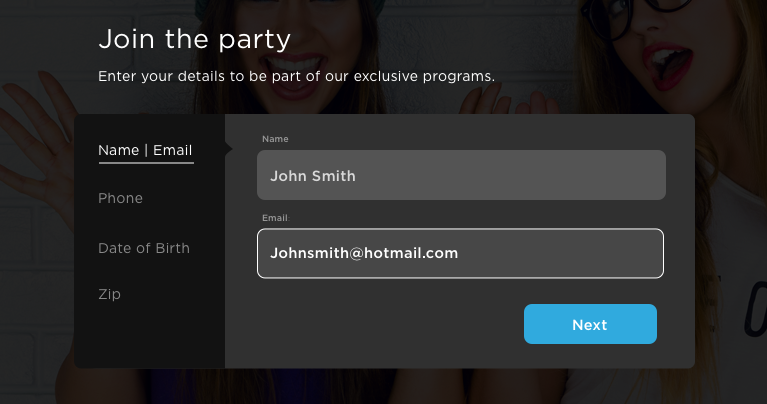 Photo booths provide the perfect cover to ask for an email or phone number, because customers love having their photos delivered digitally to their phones. And because you're creating an emotional bond, your leads are more likely to opt-in to your campaign and respond when you reach out to them.
Psychological studies repeatedly show that despite consumers' testaments to the contrary, their purchase decisions basically boil down to feelings.

–Adweek
Not only are SPIN's guests able to authentically capture their experience and have a fun photo to share on social media, but SPIN is also able to use the digital photo booth as a multi-purpose marketing tool and track their results from the Simple Booth dashboard.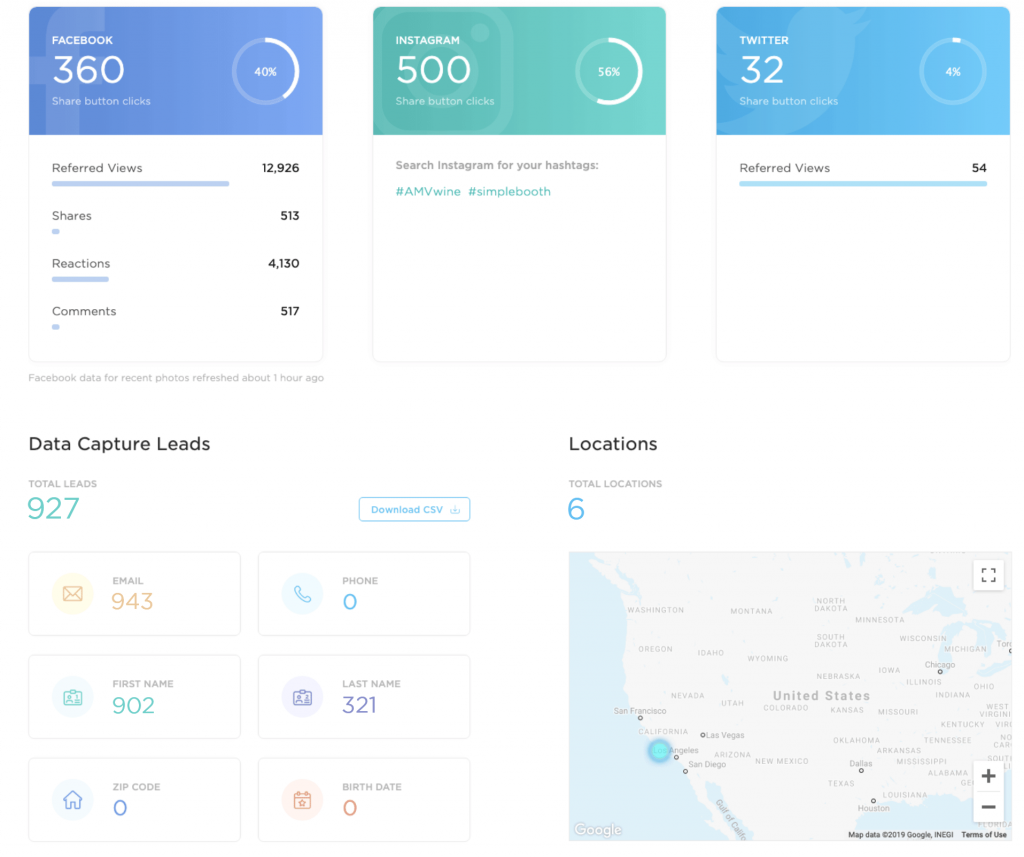 SPIN saw an immediate ROI after installing HALO in their top location with increased customer engagement, more organic social traffic, and a leap in email acquisition—not to mention the extra networking points when customers include the brand name in their hashtags.
It's marketing that works for you
Installing a HALO photo booth in your bar or restaurant is easy and provides automated, continuous photo marketing benefits. You'll create meaningful moments, drive leads, and give people a fun way to engage with your brand every day of the year.
While other ways to embrace the experience economy can require lots of people, planning, or expensive equipment for a one-time event, a photo booth can be set up once and generate ongoing value. It efficiently supports many marketing efforts such as email marketing, social media marketing, and even word-of-mouth.
As seen on Bar Rescue
Simple Booth HALO® was featured in Bar Rescue as a primary tool to revitalize the Kiva Lounge & Bar in San Marcos, Texas.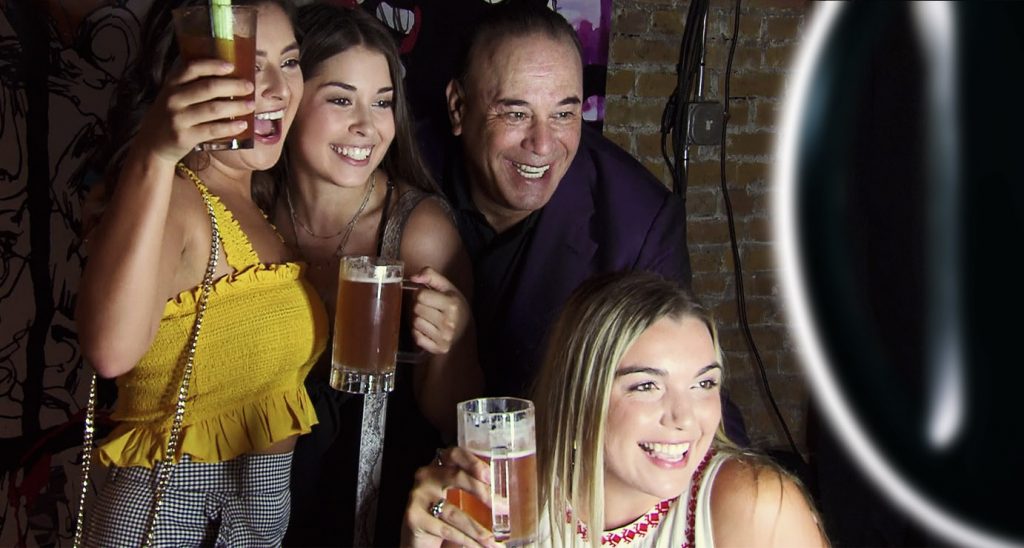 San Marcos is a college town located between Austin and San Antonio with plenty of bars to choose from.
To be successful this should be a fun, college party bar.

-Jon Taffer
The problem Jon Taffer had to solve is how to make Kiva stand out from the crowd for a young demographic.
To do just that, Jon installed a bar photo booth in a prominent location and commissioned artwork for a selfie wall backdrop to ensure Instagrammable photos for years to come.
Your bar or restaurant website, email newsletter, text campaigns, and social media platforms can be taken care of with the power of user-generated content, too. That's what we call effective marketing!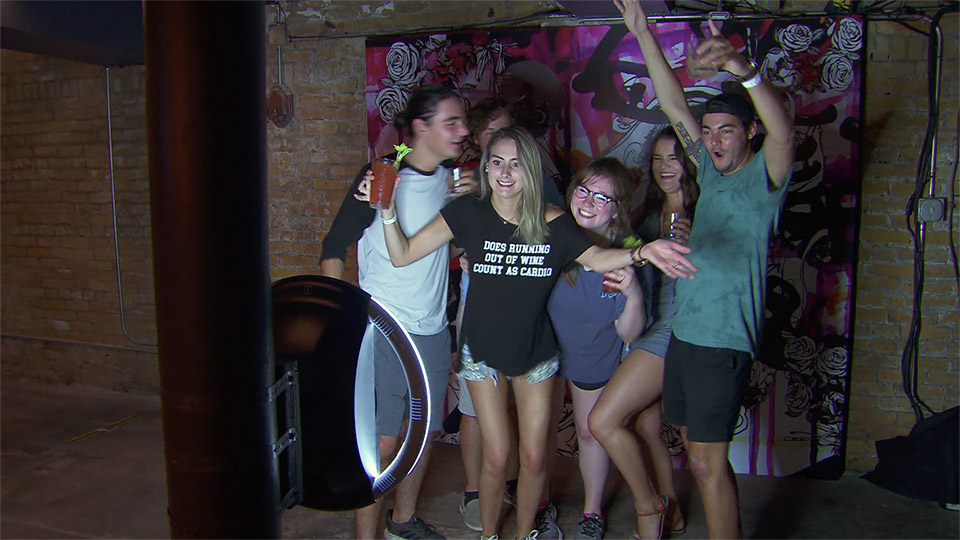 Why did Bar Rescue choose Simple Booth?
Simple Booth HALO is sleek and minimalistic, easily fitting into a bar environment with limited space. Its glowing ring light attracts people to capture selfies and share photos, animated GIFs, or videos.

The Simple Booth platform is designed to get your photo onto your phone as quickly as possible so you can share the photos in real-time. For a bar, that means traction on social media every night!
We're #MadeToCreate
As you've seen, Simple Booth is a top choice for bar and restaurant owners to capture amazing photos, make memories, and grow a social media presence.
It's a digital marketing tool that your customers will love to engage with.
There's just nothing else like it.
We'd love to show you what it's all about!
Simple Booth helps bars and restaurants create amazing, social photo experiences for their customers that supercharge their organic, word-of-mouth marketing.