Citizen Bar is a lively nightlife destination in Dallas, Texas that creates unique and memorable experiences for its patrons. When someone orders a bottle, C02 bursts from the chandeliers. Confetti rains from the ceiling!
Bartenders carry sparklers onto the dance floor.
"Citizen presents the finest environment in which you can be yourself, indulge yourself and enjoy yourself."

Imran, Partner at Citizen
Bars like Citizen understand that it's not enough to simply sell beverages to customers and hope they'll stick around or come back for more. Customers have more choices than ever about where to spend their money–that's why they're making more and more buying decisions based on experiences.
Capturing the Fun with Photos Every Night
It's only natural when people are having a good time in such a fun atmosphere that they want to capture and share it. But it helps to have a little encouragement in the form of great lighting, an interactive experience and a call-to-action.
That's where Simple Booth HALO® comes in.
The HALO photo booth in the bar adds an entirely new element to their already alluring atmosphere.
"We are living in a world of selfies right now, and everyone loves taking pictures. We knew we wanted to have a photo booth. The fact that Simple Booth had HALO was the deciding factor for us."

Imran, Partner at Citizen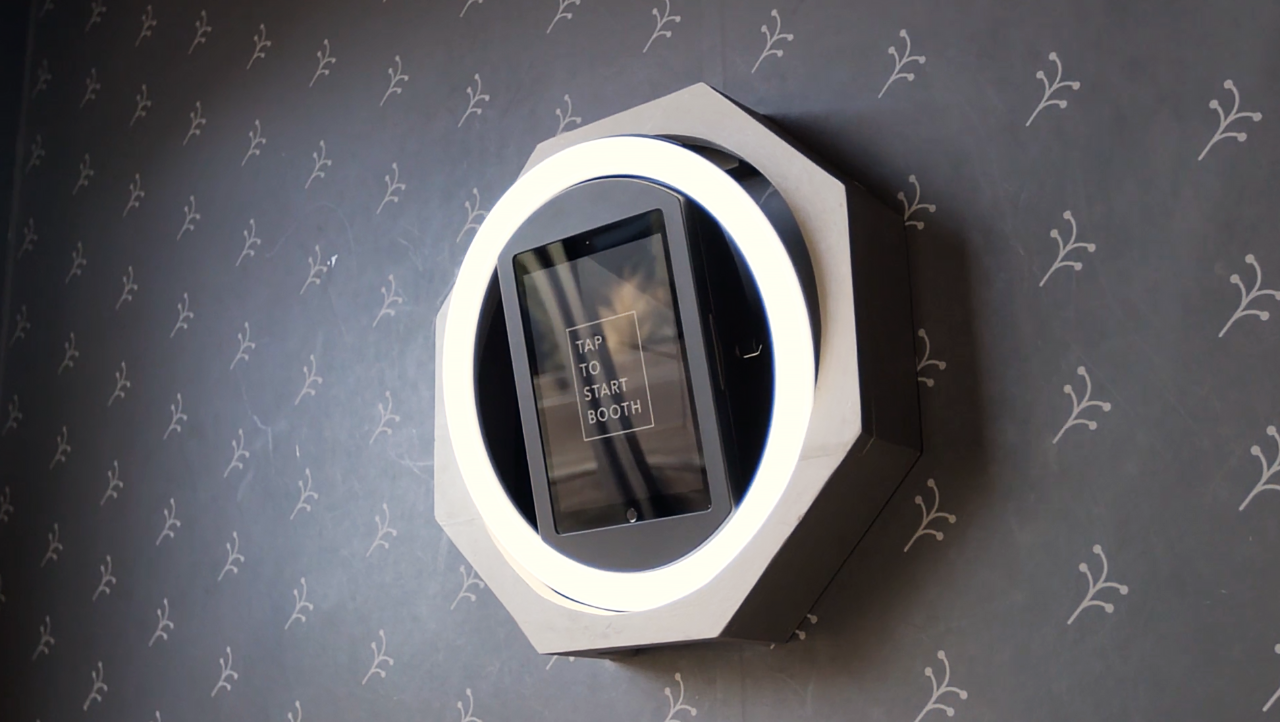 Citizen created a custom wall mount for HALO that has become a permanent fixture in a high-traffic section of their bar (right next to the restrooms). Now every client that walks by can quickly and easily capture memories of their night out, get it on their phone and share it.
They Saw an Increase in Social Media Presence
The result was a lot of fun taking photos and an incredible number of pictures being shared on social media every single night.
"Simple Booth and HALO have been integral to the overwhelming success of Citizen."

Imran, Partner at Citizen
Through the Simple Booth platform, people are able to see and relive the fun and excitement happening at Citizen. They can look back at their photos, share them with friends and get excited about visiting again.
Users are also able to send photos immediately to their phone by text message at no cost.
"The users have those memories, we have those memories– and that's what it's all about. There's really nothing more gratifying as a business owner."

Imran, Partner at Citizen
Citizen has no doubt cultivated a vibrant night-life experience at their bar and lounge. Using HALO, they've been able to promote the bar, fuel the excitement and deliver lasting value in the form of memories to their customers.
More bars are beginning to choose photo booths or selfie stations as a promotional tool for social media, to elevate the atmosphere and drive memorable experiences. They get customers engaged, both in the real world and on social media.
But it's more than bars. Early innovators like Soul Cycle's Gabby Cohen are onto the idea, too: "Photos are really important to us. They're part of our cultural currency. You feel connected to something when you're part of something visually.'
See how Simple Booth HALO® can help promote your bar or business, engage customers and make a difference on social media.