Experiential and event marketing have been thriving components of the marketing mix since long before the internet, mobile devices and social media took over our lives.
Brands and marketers engaged with people at events, but the impact was mainly limited to those who physically attended. You would have to cross your fingers hoping that your marketing efforts made a lasting impression.
Some guests might have received a brochure or promotional items to take home, but a surefire way to share and measure the experience beyond anecdotes and word-of-mouth just didn't exist.
Event marketing is transforming
With the explosion of mobile, experiential marketers have new tools to amplify their event marketing.
"Social media amplification alone can provide a 365-day global opportunity for brands beyond their events"

-Event Magazine
This mobile transformation of society has taken control from brands and put it directly in the hands of consumers. Snapchat stories are created. Instagram photos are uploaded. Facebook posts are shared.
And brands struggle to find their way into the conversation in an authentic way. The rise of digital photo booths is creating a new avenue to engage at events, connecting your digital and real-life marketing efforts.
The digital photo booth is born
Event marketers and retailers are taking peoples' love of selfies and testing digital photo booths as a new hybrid form of experiential marketing and social media marketing.
These modern gadgets don't look anything like the photo booths of old. They're sleek, technology-infused and built for the mobile age.
According to a recent New York Times article, "these booths and rooms seem to be the latest way to engage customers and build a brand."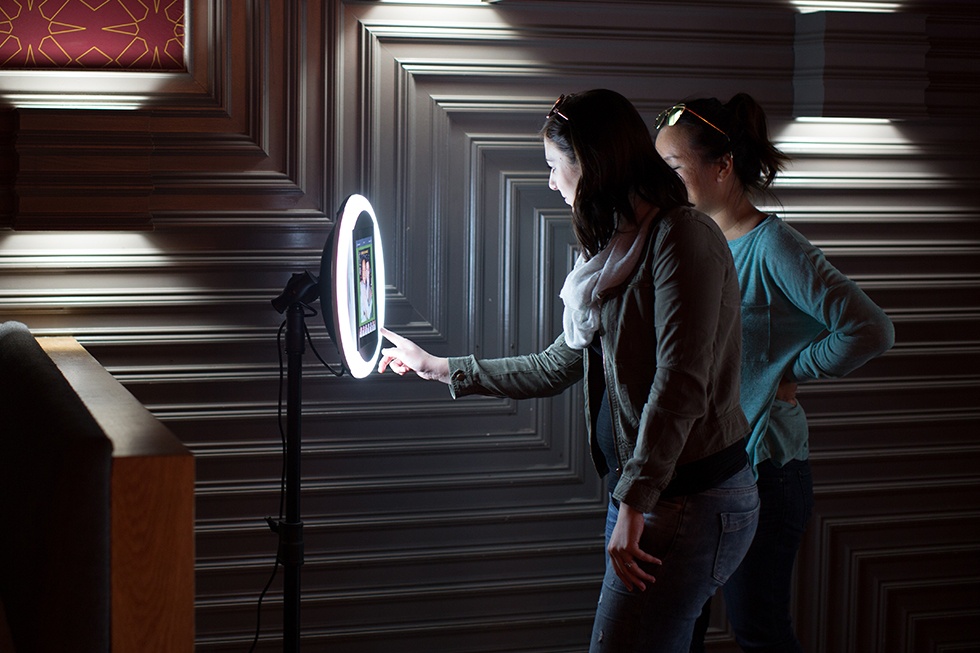 Digital photo booths allow marketers to overlay photos and animated GIFs with custom graphics and even choose what hashtag that guests will be prompted to use.
Photos are pooled into online galleries that bring guests back and strengthen the connection to the brand and experience. Because guests want to get their photo, they're also willing to trade their email address and join a marketing list at the same time, turning your experiential marketing event into a lead-gen strategy.
Guests love using ring lights and technology to take great pictures and experience something different–not just another selfie. It's also an experience that people remember and, in the case of businesses and retailers, customers return again and again to take more photos.
While digital photo booths are just beginning to rise in popularity, they're already evolving with consumer trends like augmented reality. Snapchat-style lenses and face filters are making their way onto digital photo booths for another branding opportunity and reason for guests to engage.
Platforms like Simple Booth help brands, agencies, businesses, and retailers to create a fun, social, and shareable experience for guests.
Learn More