Skeptics might ask "why." Why go to the effort of setting up a dog photo booth for subjects that will be hard to get into position, won't sit still and may not even look at the camera three attempts out of four?
We say, "why not?"
You don't need a reason to set up a dog photo booth. Dogs are amazing! We don't even deserve them.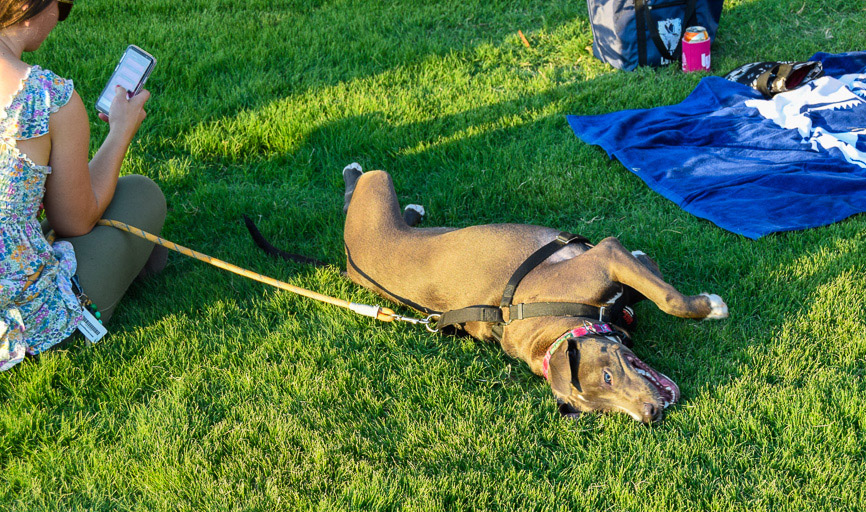 But we're going to give you a reason anyway. Pets are the pinnacle of Instagrammable content. People love photos of animals and there's a good chance that a collection of dog selfies will grow your internet presence faster that your own mugshots.

Better yet, you can make a real difference in the world by setting up a dog photo booth as a way to help your local animal shelter. It's a great way to help with animal adoption, and you'll probably make some great new canine friends along the way.
1. Plan your dog photo booth 📸
First, decide whether humans will be in the photos with the dogs, or our furry friends will be getting personal portraits. If you're aiming for dog exclusivity, you'll need a slightly different game plan.
For dogs + humans 💁‍♀️🦮
If you'll have humans in the photos, you should invest in an iPad photo booth app made for live events like Simple Booth that shows a countdown, live preview and lets people interact with the screen for their pets. Humans will know when to smile, when to cue their dog, and can decide if the photo looks good, or whether to retake.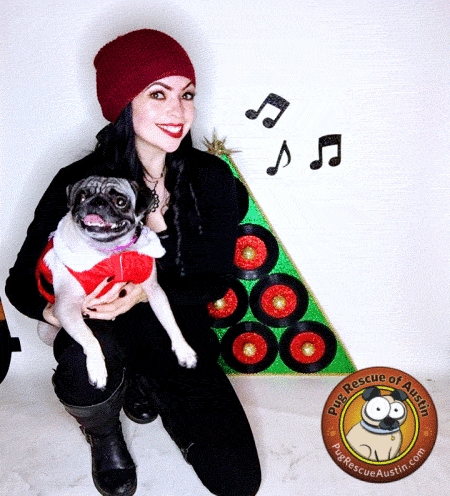 We talked to Sara Champagne at MYEVENTISTHEBOMB who has set up more than a few dog photo booths and she has this tip to share:
"Set up up a bench, chair or mat where people can sit down next to their dog. Then, make sure the iPad is slightly above eye level and angled down so the photo is at a pleasing angle for people and their pets."

Sara Champagne, Account Executive at MYEVENTISTHEBOMB
For dogs only 🐾
If you'll be snapping pictures of dogs by themselves, turn off that photo booth countdown timer. It won't do much good.
In Simple Booth you can set your countdown time and start delay seconds to zero so it takes the photo immediately the screen is tapped. You can have someone help with this, or connect a Bluetooth media remote so you can take the photo wirelessly.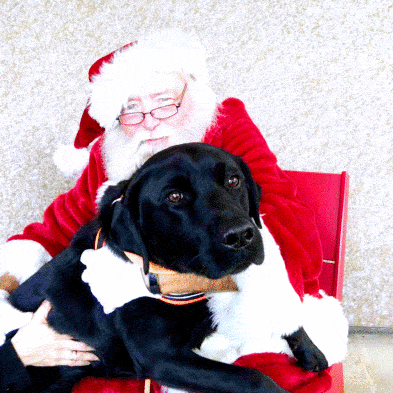 This is also a great opportunity to take advantage of the higher resolution of the back iPad camera, since your furry friends won't be tapping the screen to start on their own or needing a preview.
Another option is to capture animated GIFs or short videos, which turn out better when the pup is moving!
Virtual dog photo booth 💡
You can also get your pack together for a virtual photo booth. This is an appealing option because you can simply send a link to all the humans and they'll fetch the photos. Virtual photo booths offer lots of fun overlays, stickers, and backgrounds to make each photo fun.

2. Bark for backdrops 🐶
Photo booth backdrops add a certain appeal to the whole experience. You can do something as simple as a plain color to keep it classy or go all-out and construct a colorful dog house!
No matter what you do, the key is creativity and having some fun with it to make it unique.
"We usually put up a cute backdrop so people have something special from the party. It makes the photo a little more unique and is an asset that can be branded or promotional in nature."

Sara Champagne, Account Executive at MYEVENTISTHEBOMB
3. Dig up dog-friendly props 🦴
You should take advantage of any opportunity to play dress-up with your dog.
Having some props on hand to dress up your doggy subjects is officially known to take the fun to the next level. Hats, glasses, scarves—you can get creative with it. No promises that the dogs themselves will love playing dress-up, but their humans certainly will.
4. Camera tricks 👻
Now comes the most important part: actually taking a great photo with each dog.
Dogs can get easily distracted—unless they're chasing squirrels—so you should put someone in charge of getting each dog's attention to make sure your photos turn out.
Every dog is different, so it's a good idea to have a few tricks up your sleeve.
Dogs can be pretty willing participants. Once you know how to get their attention, they'll do exactly what you need them to. They're actually easier to work with than kids!

Sara Champagne, Account Executive at MYEVENTISTHEBOMB
Limit distractions from the start
If it's feasible, try to block off the sides of your booth so that your furry friends are more likely to look in the general direction of the camera. This will make everything else easier.
Treats, lots of treats
Pups everywhere are motivated by food and the scent of food, so there's no better way to get their attention than with the promise of a treat. Reward the dog after each photo and you'll have a very willing participant on your hands!
Draw attention with light
A change in light brightness can often attract a dog's attention and get them to look toward it. If you have lighting for your photo booth such as Simple Booth HALO®, you can turn up the brightness right before the photo takes to get the dogs to look right where you want them too.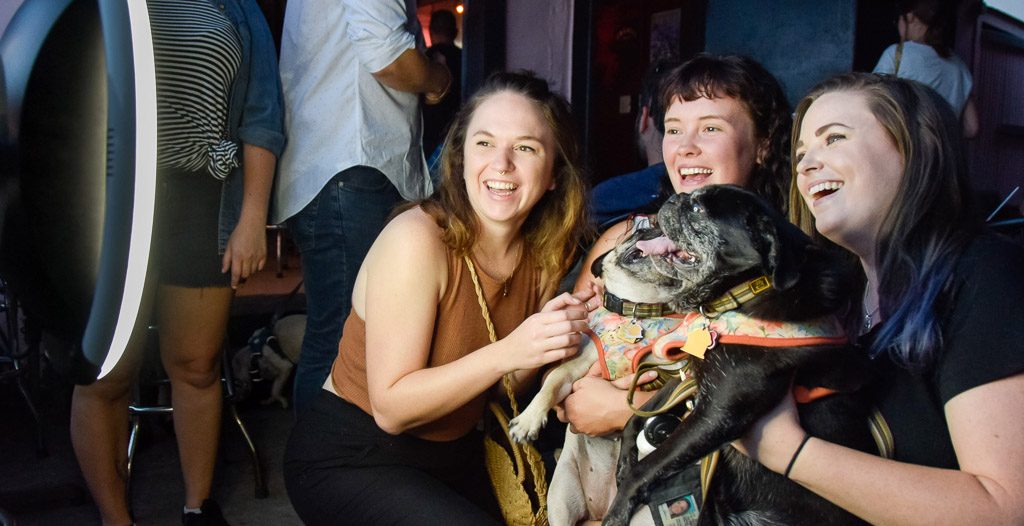 Make some noise!
An attention-grabbing sound right before taking a photo is a classic way to get pets to perk up. You can clap your hands, play a sound from a speaker or simply squeak a dog toy.
Don't be afraid to make a goofball out of yourself, it's part of the fun!
5. Praise your good doggy 🙌
Once you get the perfect photo, shower your dog in scratches, tummy rubs, treats, and, of course, a dazzling social media post so all the dogs of Instagram can see how adorable they are!
Don't forget to tag #simplebooth so we can gush over your precious pup and join in on the fun! 😄
At Simple Booth, we're all about creating unique experiences and capturing memories, whether for pets or their humans!