Sure, the dog is loving life right now, but you and your little ones are going stir-crazy from self-isolating due to the COVID-19 coronavirus. Are you desperately trying to find new, fun things to do at home with your kids?
First, take a deep breath. Know that you're not alone. We've got some awesome activity ideas that are so fun, you might not even want to go back to life as usual!
Before we dive into the list, there's something important you need to do (and it's free).
Head over to the App Store and get the Simple Booth app. It's totally free, and believe us, you're going to want to document all the fun you're about to have.
We'd love to join in the fun, so be sure to tag any of your shared photos with #AtHomePhotoBooth.
Got the app? Then here we go!
Things to do at home during self-isolation for kids of all ages
1. Set up a GIF/Photo Booth
Grab some costumes, makeup, props, and get ready to have a blast. Even the family dog will want to get in on this.
Feel like your photoshoot needs more? Create your own props!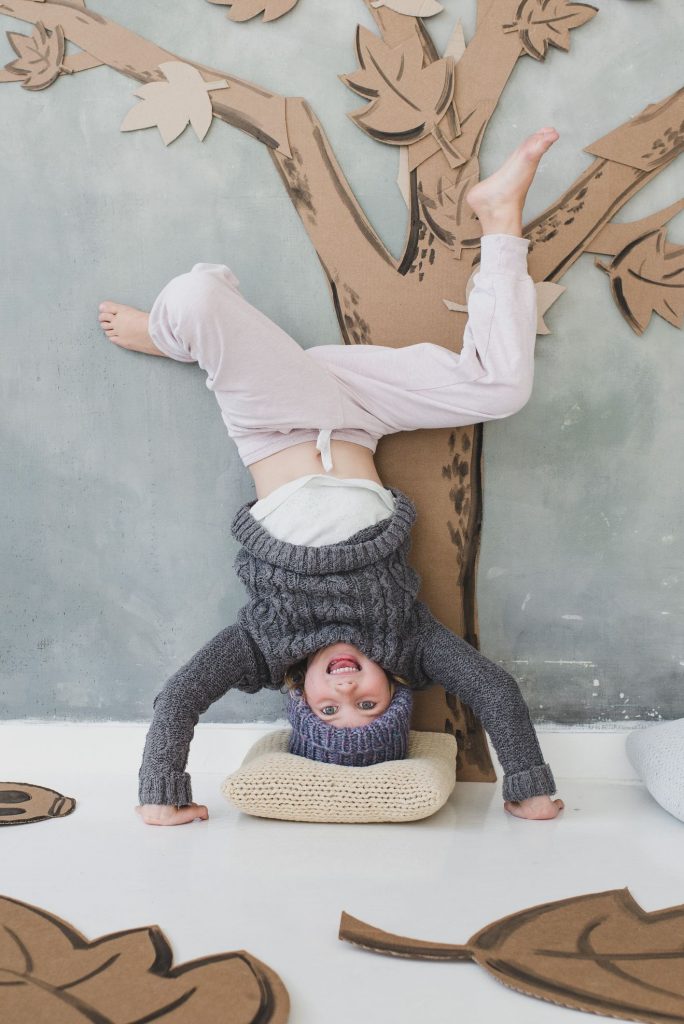 There are tons of DIY photo booth prop tutorials out there. Here are just a few of the things you can do:
Create a crown of flowers
Print off some fake mustaches, sunglasses, or other printable props and attach them to dowels for your own stick props (no dowels, just tightly roll up a sheet of paper—it'll be sturdy enough to hold your printables)
Create a Polaroid-style frame
Dig out your old Halloween costumes and mix and match to create entirely new outfits
Some paid tiers of our Simple Booth apps also feature digital props if you're not up to making your own!
Setting up a GIF/photo booth couldn't be easier than it is with any of the Simple Booth apps. Download and install Simple Booth on your iPhone or iPad and you're ready to capture your kids at their goofiest.
2. Treat Yourselves to an At-Home Spa Day
Bust out the essential oil diffusers and get ready for a mani, a pedi, and the obligatory selfie while you're rocking that face mask with your kids.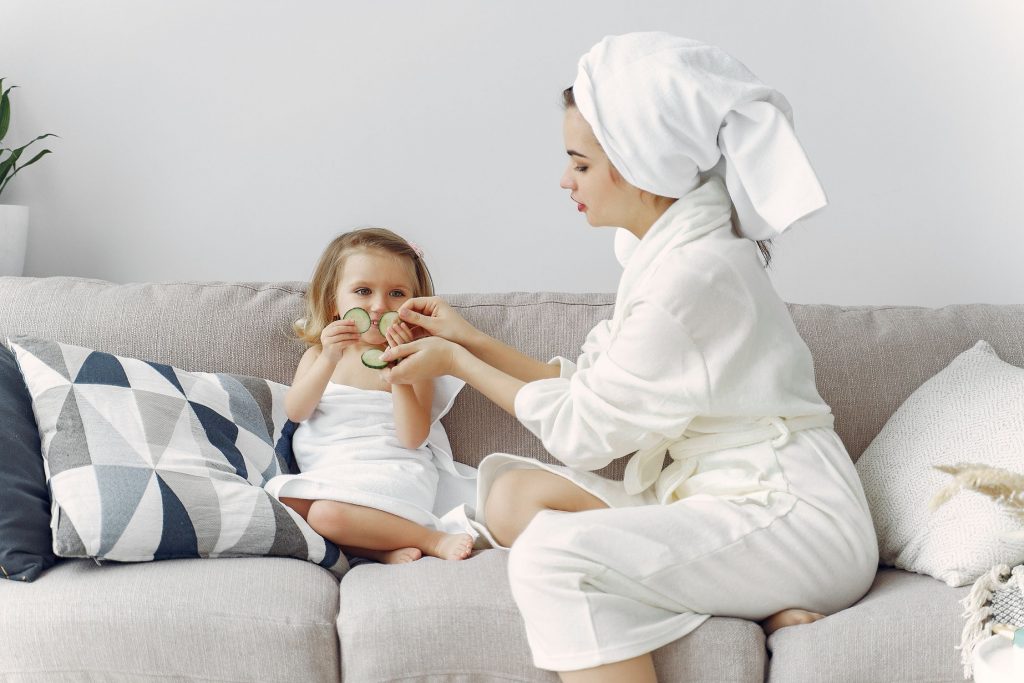 Did you know you can make a facial mask using a banana? Just mash a medium-sized ripe banana until it forms a smooth paste, then apply it to your face and neck. Let it sit for 10 to 20 minutes, then rinse it off with cold water.
Add some cucumber slices for the eyes and you have a perfect photo opportunity!
3. Take a Yoga Class in the Comfort of Your Living Room
Many yoga studios are offering online classes during this time, so take advantage.
Yoga helps kids improve flexibility, strength, and coordination, as well as increasing body awareness. Plus, it can offer a sense of calm and relaxation that your kids desperately need now that their schedules have been disrupted.
Do a quick search on YouTube for kids yoga, or try out one of the options below:
4. Grow an Herb Garden
It's springtime! Being stuck indoors all the time isn't good for anybody's mental health, but for kids it's particularly trying.
Bring a bit of the outdoors indoors and teach your kids about gardening by starting some seeds for an herb garden.
If you have your own backyard, take the gardening outside. You and your kids will appreciate the fresh air and sunshine.
If you don't have access to seeds, many herbs, fruits, and vegetables can be grown from kitchen scraps (the parts you'd normally throw away)! This post from ModernParentsMessyKids is a good primer on how to get started.
And don't forget to use the Simple Booth app to show off those new sprouts!
5. Make a Time Capsule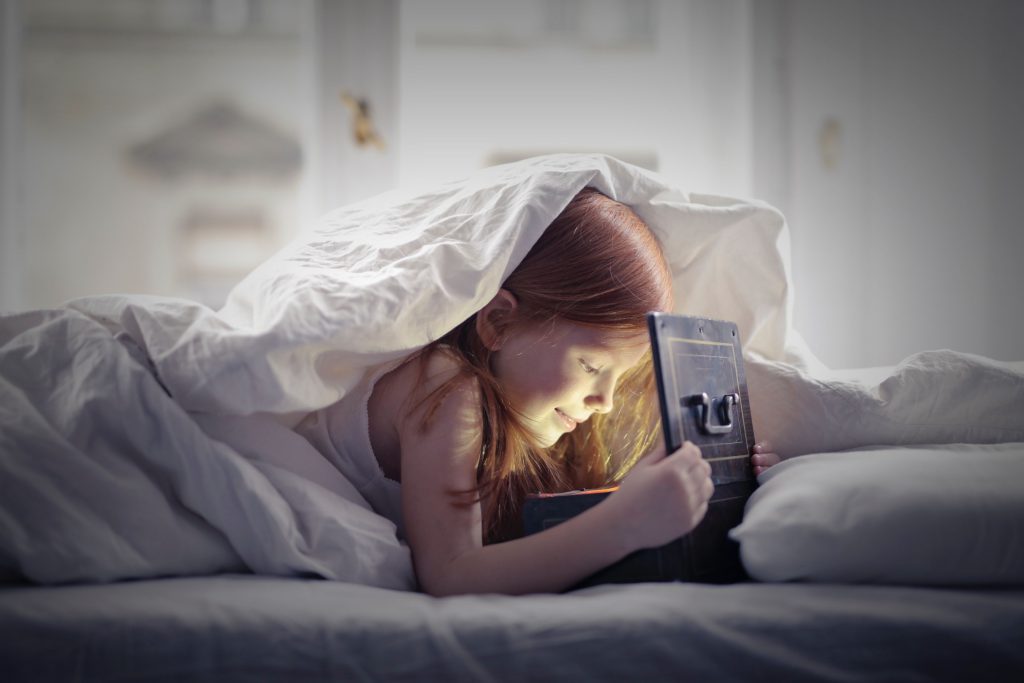 Do not open until 2030.
A time capsule is such a fun way to document what's going on in your family right now.
While you could use a shoebox and keep your time capsule inside, we recommend using a weather-proof container such as a Mason jar so you can bury it outside.
Not sure what to include in your time capsule? Here are some ideas:
A letter from each family member (if you have little ones who aren't yet verbal, write a letter to them instead)
Photos
Mementos of this year's trips, shows, and holidays
Newspaper clippings from today
6. Have a Paper Airplane Competition
Paper airplanes are pretty much the first thing anyone turns to when they're bored. There's just something about flying that sparks the imagination.
You can find tons of paper airplane designs and templates online. We recommend letting your kids choose the design they like best and having a competition to see which design wins.
To spruce up your creations of flight, try using heavyweight construction paper.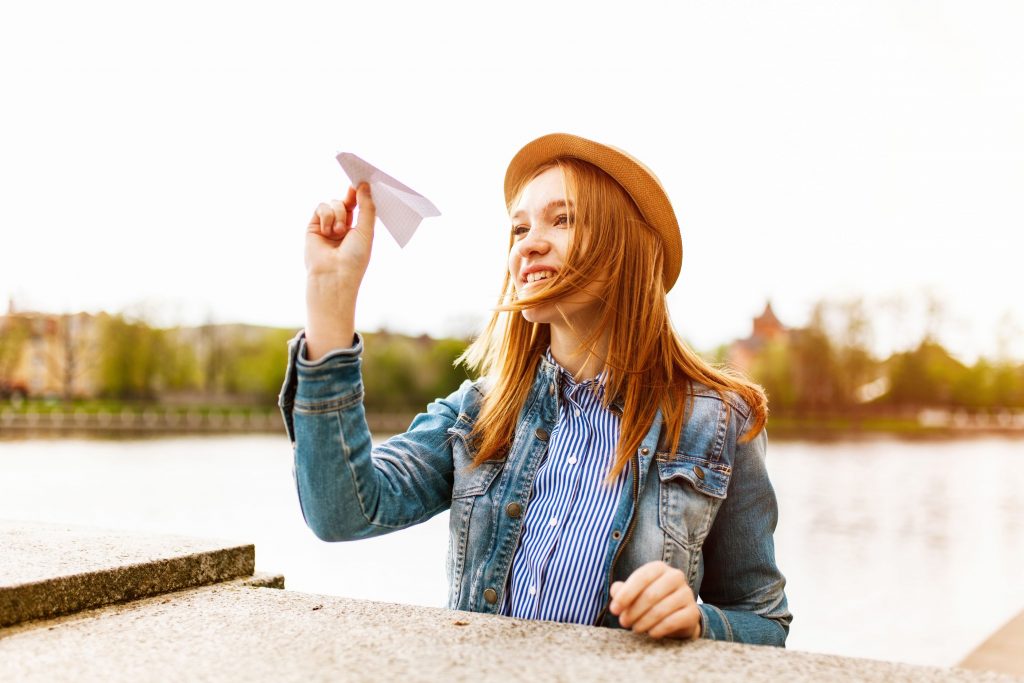 For an educational benefit, you can tell your kids all about the history of flight.
7. Make Bookmarks
There's a lot that can be done with a printer, tape, string, and paperclips. Bookmarks are a great place to start if you have kids who read.
A super easy idea:
Take a colorful paperclip (larger is better) and tie some ribbons to it. Easy bookmark!
Want to get a little fancier? Print off some silly photos of your kids and cut them to size (we love following the outline of the person without the background for a fun and funky shape). Then, glue them to cardstock and cut everything down.
Attach a ribbon or string and you're done.
8. Do a Dance-Off
Help your kids choose a song and create a dance to go along with it. Then, dance it out! Can you remember the whole thing?
Alternately, challenge your kids to freestyle and get as silly as possible. Just let loose and have fun.
9. Paint a Masterpiece
You don't even need a paintbrush to paint a masterpiece. Your kids can create amazing paintings with things like cotton balls, Q-tips, and even forks.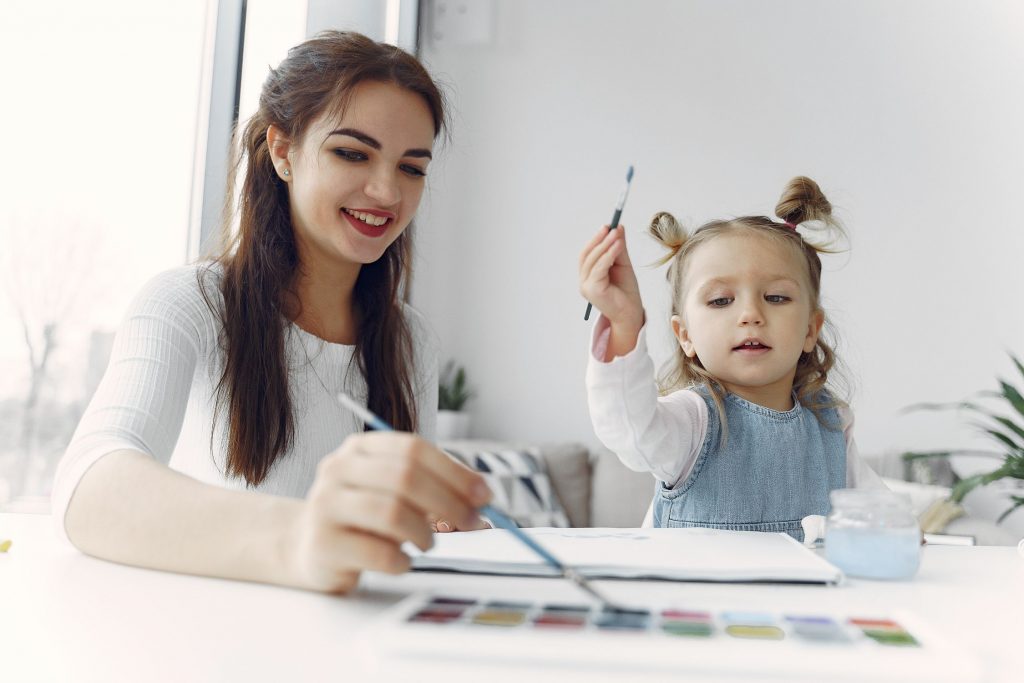 Don't have any paint on hand? Make your own:
Pour 1 cup (8 oz) of warm water into a large bowl. And 12 ounces each of white flour and table salt. Mix until smooth.
Divide liquid into separate containers and add food coloring (2-3 drops).
If the paint is too thick, mix in water until it's the consistency you want.
10. Bake Something Delicious
Kids can bake! Sure, they might need some help, but think of all the great photos you can get in the process.
But what to bake?
How about a giant chocolate chip cookie with sprinkles! You can find the recipe here.
Want something super simple that's still fun to make—and eat? Try rocky road cookie cups:
Ingredients
Directions
Preheat your oven to 350°. Divide the cookie dough into 1-1/4-in. balls and press evenly onto the bottom and up the sides of oiled mini-muffin cups.
Bake 10–12 minutes, until the edges are golden.
Use the back of a measuring teaspoon to make an indentation in each cup and put a few marshmallows and chocolate chips into each cup. Sprinkle with the toasted almonds.
Bake an additional minute to get the marshmallows and chocolate chips nice and melty.
Cool in pans on wire racks.
11. Make Your Own Play Dough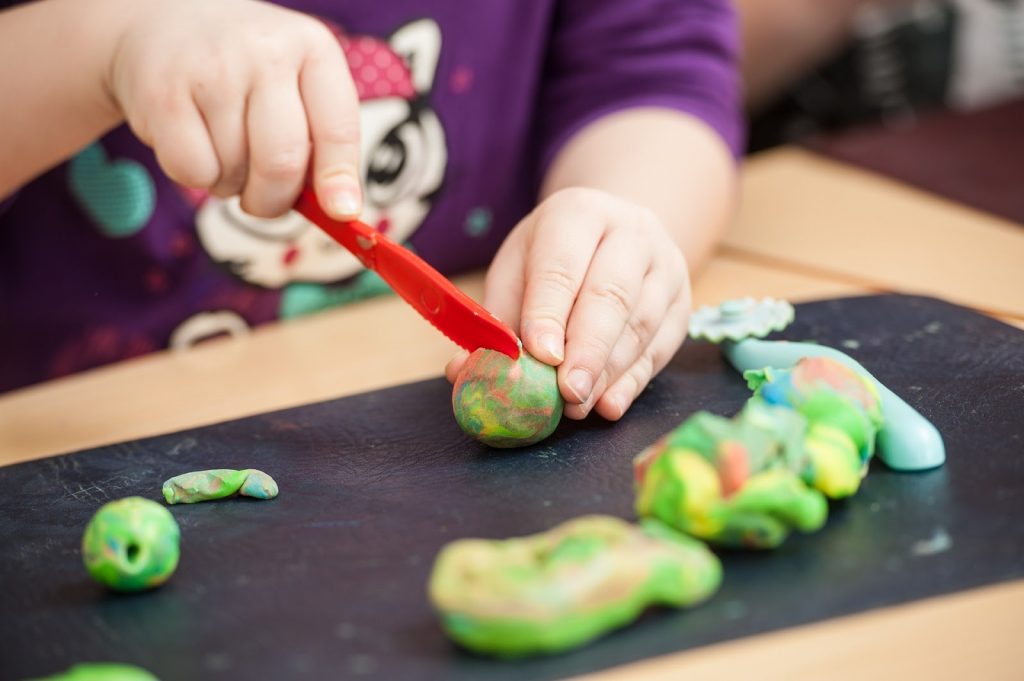 Everybody loves playdough, right? Did you know you can make your own right at home?
2 cups all-purpose flour
3/4 cup salt
4 teaspoons cream of tartar
2 cups lukewarm water
2 tablespoons of coconut oil (vegetable oil works too)
Food coloring (optional, but really ups the fun factor)
Quart-sized bags to mix and store (up to 3 months)
Stir together the flour, salt, and cream of tartar in a large pot then add the water and oil. Cook the mixture over medium heat, stirring constantly until the dough thickens and begins to form a ball.
Remove from heat and place the play dough inside a bag or onto wax paper. Let it cool slightly before kneading the dough until smooth.
Divide the dough into balls (one for each color) and put the dough into the quart-sized bags. And about 5 drops of color to start, but feel free to add more for more vibrant colors. Knead the dough while it's inside the bag, mixing the color into the dough (and keeping the food coloring from staining your hands).
Once it's all mixed, you're good to go!
12. Try Some Fun and Easy Science Experiments
Glittery volcanoes, elephant toothpaste, the old Mentos and Coke thing… Science is FUN!
If you're homeschooling during self-isolation (or even if you're not), you'll want to add some science experiments to the mix to keep your kids' brains engaged and active.
A great experiment to show the importance of washing your hands involves just a few simple ingredients.
Start with a dish filled with about an inch of water, then sprinkle pepper on the surface.
Let your kid put a finger on the water and watch how the pepper gathers on their finger.
Now comes the really cool part.
Put a little bit of dish soap on your kid's finger and have them touch the water again.
The soap chases the pepper away!
For older kids (second grade and up), you can dive into the science behind it all. There's a great breakdown here.
13. Make Your Own Sidewalk Chalk Paint
Get a little fresh air and create a sidewalk art gallery with this easy-to-make washable sidewalk chalk paint.
Here's what you need:
Cornstarch
Baking Soda
Water
Food Dye
Water
Here's how to make it:
Combine equal parts of cornstarch and baking soda in a large bowl.
Add water a few tablespoons at a time until the paint is the consistency of poster paint (the thicker the paint, the more it will puff as it dries).
Divide the paint up into separate containers and mix in food coloring.
Take your paint outside and get messy!
Don't worry, this paint is washable and won't last. If you're not feeling crafty, scoop up sidewalk chalk here.
14. Try Tie-Dye Using Permanent Markers
Tie-dye doesn't have to make a huge mess. All you need for this activity is a handful of permanent markers in different colors, rubbing alcohol (at least 70%), some cardboard, and light-colored t-shirts.
Put the piece of cardboard inside the shirt to keep your markers from bleeding through. Then, draw your pattern on the shirt.
Hint: You'll want to keep the drawing a bit smaller than you want the end result to be.
Once you're done, sprinkle rubbing alcohol on your drawing and the area around it where you want it to spread (a little dropper can help here). Let the alcohol dry, iron the shirt to set the colors, and you're ready to rock!
15. Make a Paper Plate Whale
Yes, even something as simple as a paper plate can offer tons of enjoyment. Here's what you need to create this super cute, 3D paper plate whale:
Grey or blue markers or paint (try the paint recipe in #9, above!)
Paper
Here's a step-by-step guide on how to put it together. Plus, the site has even more paper plate crafts to keep you occupied for HOURS.
16. Create a Collage
Nothing is easier than creating a collage. Seriously. It's just about gluing things to paper.
But it's so fun!
With just paper, glue, and a collection of random materials, you and your kids will be able to create frame-worthy collages and have a blast doing it.
Don't feel like you're limited to paper, either. Grab all those odds and ends in your junk drawer or sewing kit—buttons, ribbon, scraps of fabric—and get to creating. Activity Garden has a bunch of ideas if you're needing some inspiration.
Want to up the challenge for older kids? Try creating a shadow box instead. You can use old shoeboxes for the box and let them build their imagination inside!
17. Go on a Nature Walk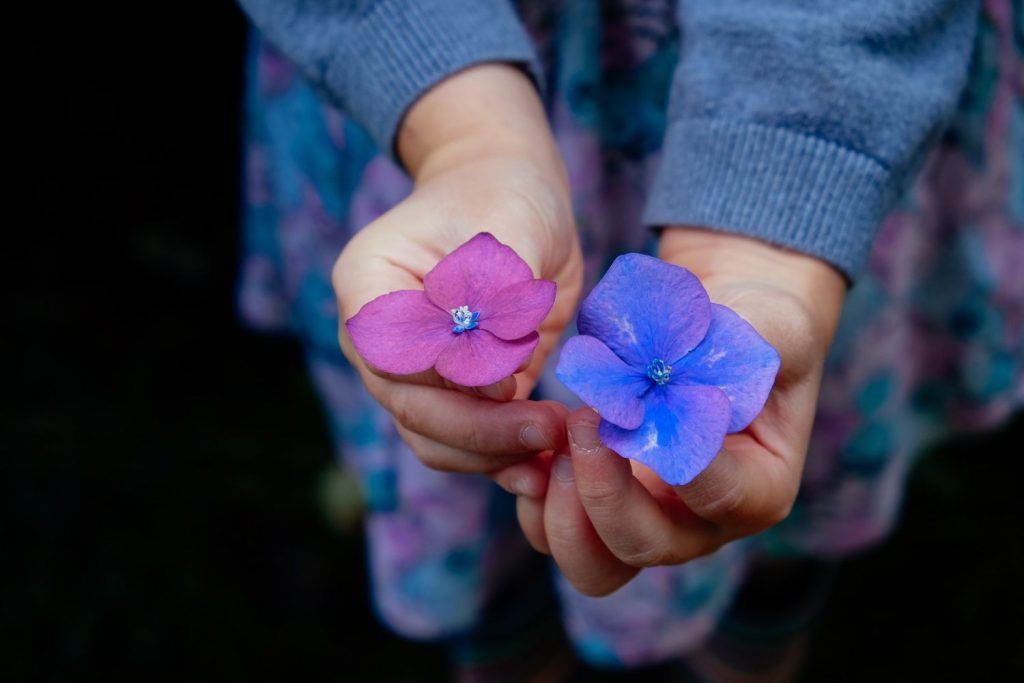 Self-isolation means isolating from people—not nature. Take a nature walk with your kids, pointing out all the plants and animals you pass along the way.
You could even collect some of the plants to create a collage or pick up some flowers to press.
If you or your child are at a higher risk of contracting illnesses, you can turn your backyard into a nature walk!
18. Have Fun With Fitness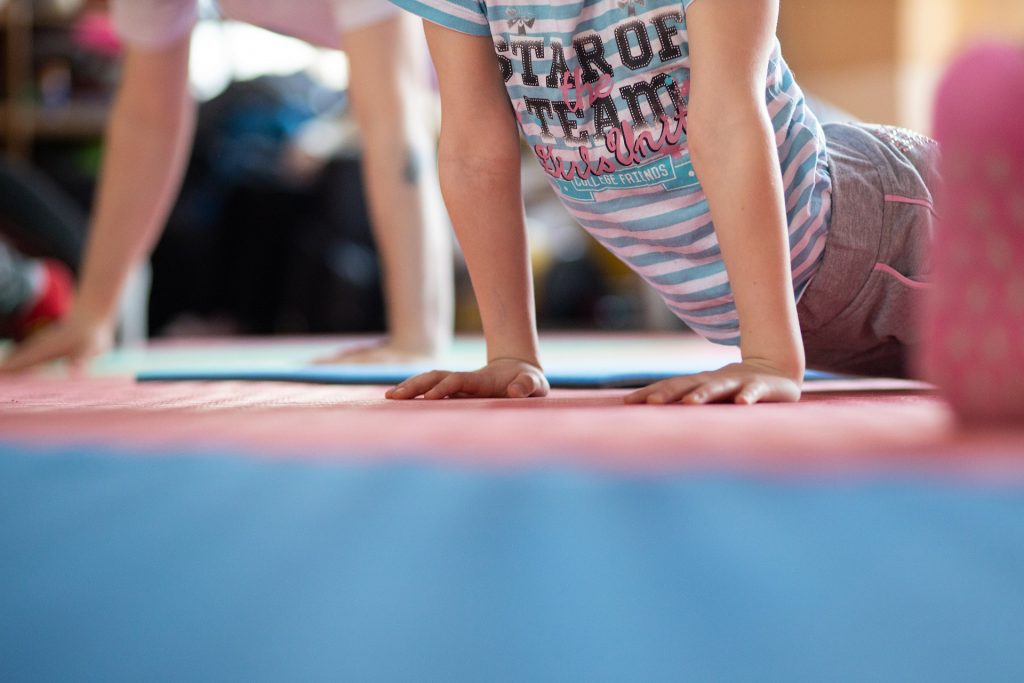 Sometimes kids just need to burn off some energy. A great way to let them do that, indoors or out, is with a fun activity circuit.
Set up 6 stations around the house with a different activity at each station. Then, see how many circuits you and your kids can do in 10 minutes. Make it official with activity cones.
Here are some activity station ideas:
Jumping jacks
Squats
Pushups
Planks
Hop on one leg
Frog jumps
The ideas are really endless. And, you can follow it up with nap time!
19. The Floor is Lava!
No matter how old you are, when someone yells, "The floor is lava!" you look for the nearest thing to climb on.
Add some "safe" items to the floor (towels, pillows, etc.) to make it possible to get around, then stay off the floor!
You can make this more complicated and fun by putting items around the room and seeing who can collect the most without falling into the lava. Double down on the fun with the official The Floor is Lava Board Game.
20. Paint or Draw… With Your Feet!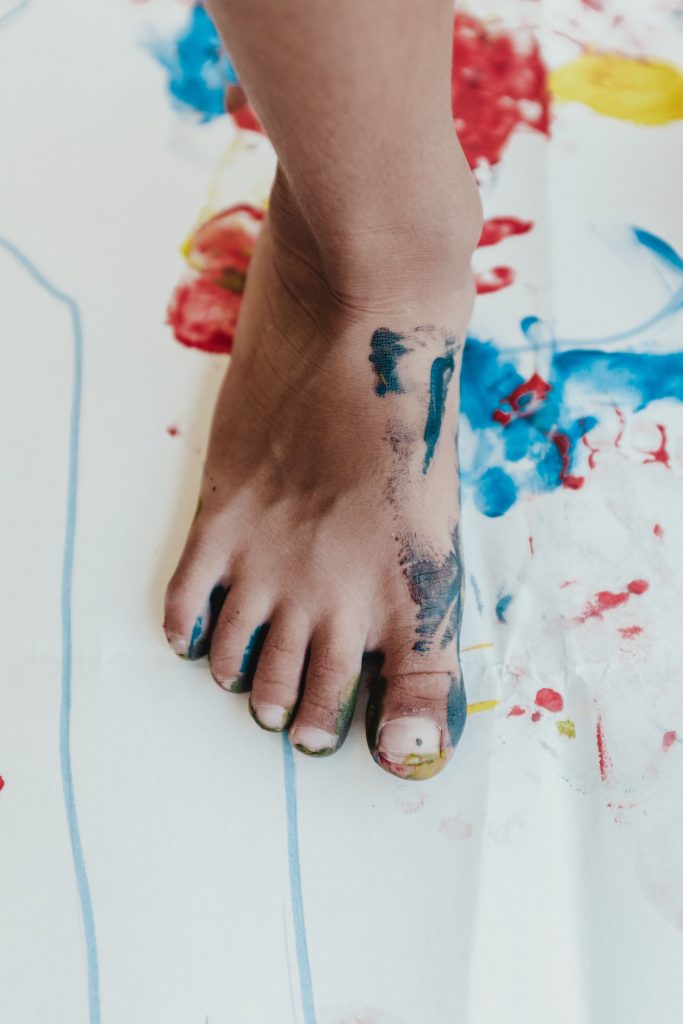 There are a couple of different ways you can do this…
If you have younger children, you'll want to spread out large sheets of paper (or butcher paper if you have it handy), pour on some non-toxic paint or foot stamp, and let them walk all over it.
For older kids, challenge them to paint or draw with their feet using a paintbrush or pencil.
21. Make a Fort
Pillows, blankets, cardboard—no matter what you use, building a fort is fun for everyone!
One of the easiest ways to build a fort in no time is by using your dining room table and a blanket. You literally just toss the blanket over the table and crawl inside.
Check out some other ways to make your own fort.
22. Take a Virtual Museum Tour
Who says you can't visit a museum while you're stuck at home?
The Museum of Modern Art (MoMA) offers digitized collections that you and your kids can visit from the comfort of your own living room.
With Google's Arts & Culture partnerships, you can go anywhere in the world! Check out the Olduvai Chopping Tools at The British Museum or head to Mexico and see the artwork of Frida Kahlo up close.
Google has hundreds of museums to choose from; there's bound to be something for everyone in your family.
23. Build a Rube Goldberg Machine
Rube Goldberg was an American Pulitzer Prize-winning cartoonist, sculptor, author, engineer, and inventor, whose work is an example of how art and science come together.
He created strange and elaborate contraptions designed to complete the most mundane of tasks like opening windows or setting an alarm clock.
He never built any of his inventions—only drew them. But that hasn't stopped thousands of others from taking inspiration from his strange designs and bringing his inventions to life.
Even Sesame Street got in on the fun!
Why not try your hand at it? You'll find a great outline of the process at TinkerLab and more great guidelines over at Fatherly or try the Castle Escape Challenge.
24. Visit a Zoo or Aquarium—From Your Computer!
There's just something peaceful about watching animals interacting with one another, isn't there? And if there are baby animals? Forget about it, we're hooked.
Zoos and aquariums all over the world have closed their doors to protect the humans who come through seeking a glimpse into their animals' lives every day, but that doesn't mean you can't visit anyway!
The Houston Zoo, San Diego Zoo, and Monterey Bay Aquarium all have webcams, letting you visit certain exhibits even while they're closed.
Take note, these are live webcams, so they have daily hours when you can log on and check out the animals.
25. Go "Camping" in Your Living Room or Backyard
With so many public lands and national parks closing to slow the spread of COVID-19, it may seem like camping is out of the question.
But it's not!
Camping at home not only saves you money, but it's less hassle than loading up the family car and heading into the forest.
Plus, if you camp in your own living room, there are fewer bugs.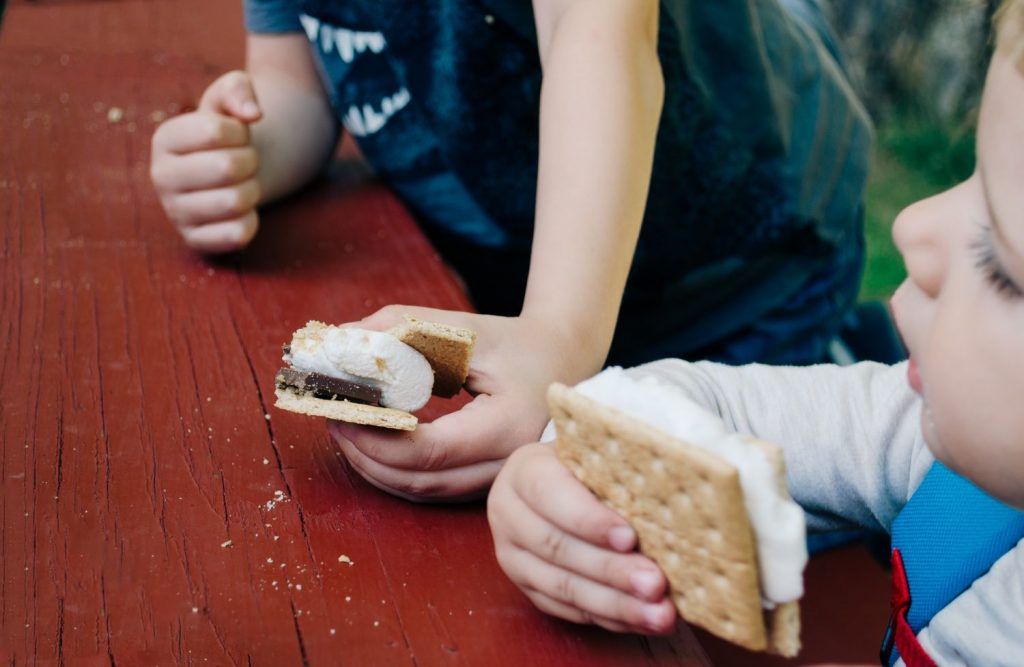 You can set up a tent indoors or outdoors and even make s'mores or have a campfire sing-a-long (we recommend you take it outside if you're going to build a fire 😉).
No tent? No problem! Just build a fort (see #21).
26. Make a Music Video for Your Favorite Song
Making a music video doesn't require a production team. Just choose a song and write out the storyline. Then, gather up your props and costumes and start recording.
For a fun and funky music video, try recording the entire thing using TikTok.
27. Teach the Dog a New Trick
You've got a lot of time on your hands. Why not teach the dog a thing or two?
If the family pet can already sit and stay, perhaps it's time to teach them how to leap. Start by having your dog sit and stay. Then, your kid can lay something on the floor (a stick is great if you're outdoors) and stand on the other side of it.
Next, they just call the dog. As the dog steps over the thing on the floor, they get a treat!
After a few times of doing this, you can start increasing the height of whatever it is you're using for the dog to leap over.
As soon as it gets high enough that your dog has to jump, start saying "Leap" before the dog has to jump and immediately reward with a treat.
Eventually, your doggo will leap when commanded!
Want more tricks? Here's a list of 52 tricks you can teach your dog.
28. Write Letters or Make Postcards to Send to Friends
When you're staying home, away from your friends and family who don't live with you, your kids can start to feel a bit disconnected.
Help them stay connected by writing letters and postcards to send to the friends they can't play with right now.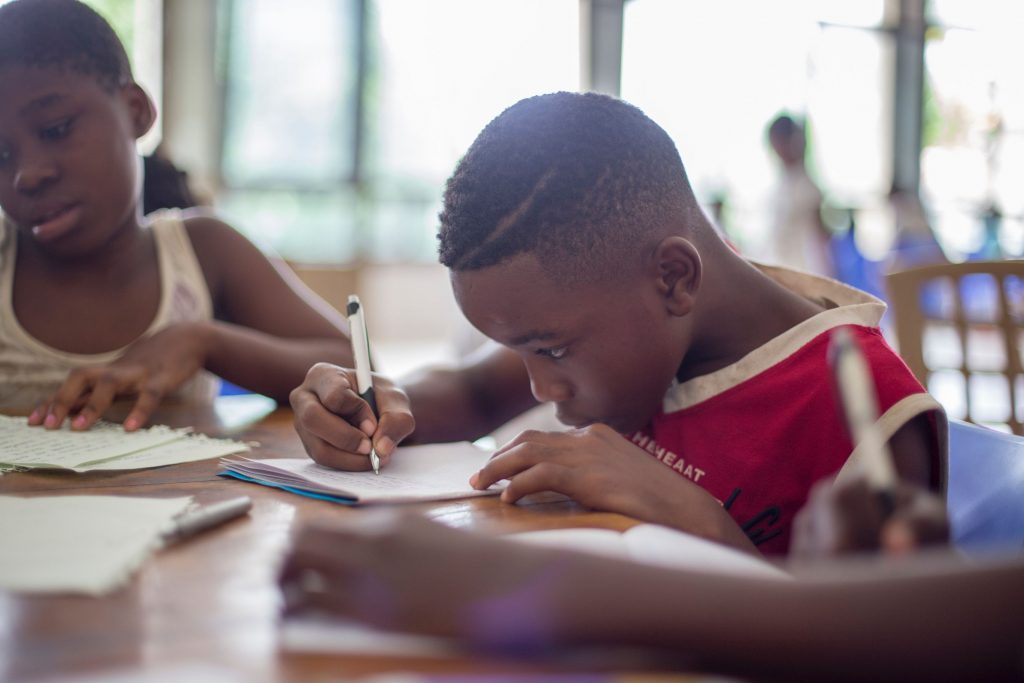 29. Visit a National Park With a Virtual Tour
We've already talked about camping at home, so why not turn it into a full-blown camping trip?
The National Parks Service offers virtual tours of several national parks.
You can explore Yellowstone, visit Denali in Alaska, or check out Devils Tower in Wyoming.
Looking for something a bit farther from home?
With Google Maps, you can travel to Mt. Fuji in Japan, visit the sacred valleys of the Khumbu at the base of Mt. Everest in Nepal, follow in Jane Goodall's footsteps through the forest of Gombe in Tanzania, or head to Egypt to explore the Pyramids of Giza.
30. Learn a New Language!
Head over to YouTube to learn a new language. Rock & Learn has an entire playlist of foreign language videos that will help your child (and you!) learn a new language. There are many languages to choose from: from Spanish to Korean, to Russian, to Japanese, and more.
There are tons of apps available that can help you learn a new language. But, there's one thing that most apps don't include—flashcards.
Making your own flashcards can help you and your kids retain the new words that you're learning in a way that goes beyond text and translation.
We recommend creating or purchasing flashcards of the most basic words first. And, instead of the typical setup having one side with the text of your native language and the other in the language you're learning, draw pictures!
So, instead of learning that cat = gato/gata, you learn gato/gata = 🐈.
This makes language learning more about communication and less about translation.
31. Build a Photo Booth Backdrop
A photo booth means hours of fun (and lots of silly pictures).
You can build a simple photo booth using just a blank wall, but we think it's a lot more fun to let your kids get creative. You can create a simple backdrop using wrapping paper or fabric.
If you have an old, spare sheet lying around, you could even have your kids paint it to make a backdrop of their own creations!
Here are a few extra tips to get the most out of your photo booth:
Choose a place that's well-lit. If you don't have anything that works well, just create your own lighting with lamps from your house.
Once you have just the right place, you can set your iPhone or iPad up on a tripod. (Of course, you can always just hold it, too.)
Grab some costumes and props and get to snapping.
The Simple Booth app will capture all of your photos and GIFs and let you easily share them with others or on social media. Some Simple Booth subscription levels even offer green screen capability if you want to take your backdrops to the next level!
32. Make 10 DIY Props Using Household Items
You can use whatever you have lying around to create some really fun photo booth props.
Start by digging out those old Halloween costumes. You probably have more silly hats, wigs, and masks than you know what to do with.
Next, raid your closets to find ties, bowties, and those formal clothes you have no use for right now.
The sky's the limit with these props. Dig through your junk drawers and drag out the craft supplies.
33. Take a Free Coding Course for Kids
Your kids probably already know more about technology than you do, so why not encourage them to explore that?
With schools closed all over the world, many educational applications and websites are offering free services to students. One of those sites, Tynker, is offering free coding classes for kids ages 5+.
They offer interactive learning that lets kids progress at their own pace, seamlessly transitioning to text languages like JavaScript and Python.
34. Write One-Act Plays and Have a "Theatre Night" in the Living Room
You can have a theatre night with kids of all ages.
For preschoolers, use "finger plays" like Where is Thumbkin?, I'm a Little Teapot, and Itsy, Bitsy Spider. There are loads of ideas right here.
If your kids are K–3rd grade, they can write and produce their own play, but will need a lot of support from you to get it done. You can find script examples and full plays through PBS Learning Media.
Kids from 4th–6th grade can probably write and produce their one-act play on their own. Be there for them to bounce ideas off of and to pitch in with extra hands.
35. Learn to Play the Ukulele
Plus, it's not hard to learn!
Ukuleles are just about the perfect size for kids' small bodies and hands and you can find one on Amazon for about $20.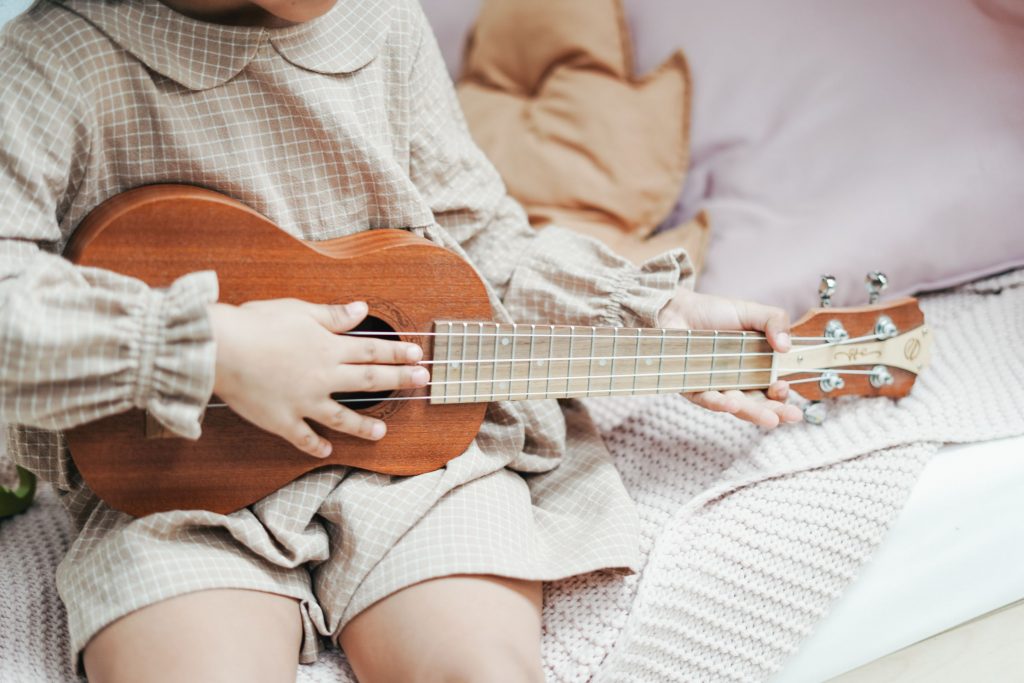 Ukulele4Kids shows how to play chords and has songs that are easy for kids to learn. And, Ukulele Go has tons of resources and games.
36. Go Birdwatching in the Backyard
Take notes and learn about different species.
Birds are funny little creatures. Not only are they adorable, but when you really pay attention to them, they have delightful personalities!
You can cultivate a love for birding in your kids (and maybe get an appreciation for it yourself) with these tips from the National Audubon Society:
Birdwatch with your ears. Birds may be hard to spot, but they're easy to hear. Close your eyes and listen. Once you hear where the birds call is coming from, you'll have a better idea of where to look to spot the bird!
Stay by water, if possible. Larger, easier-to-spot birds like swans, herons, and egrets tend to hand out near water.
Know what to look for. If you're not having any luck spotting live birds, check out your surroundings to see if they've left anything behind. Birds are a bit messy, so you'll probably be able to find nests, poo, cracked seeds, or even owl pellets!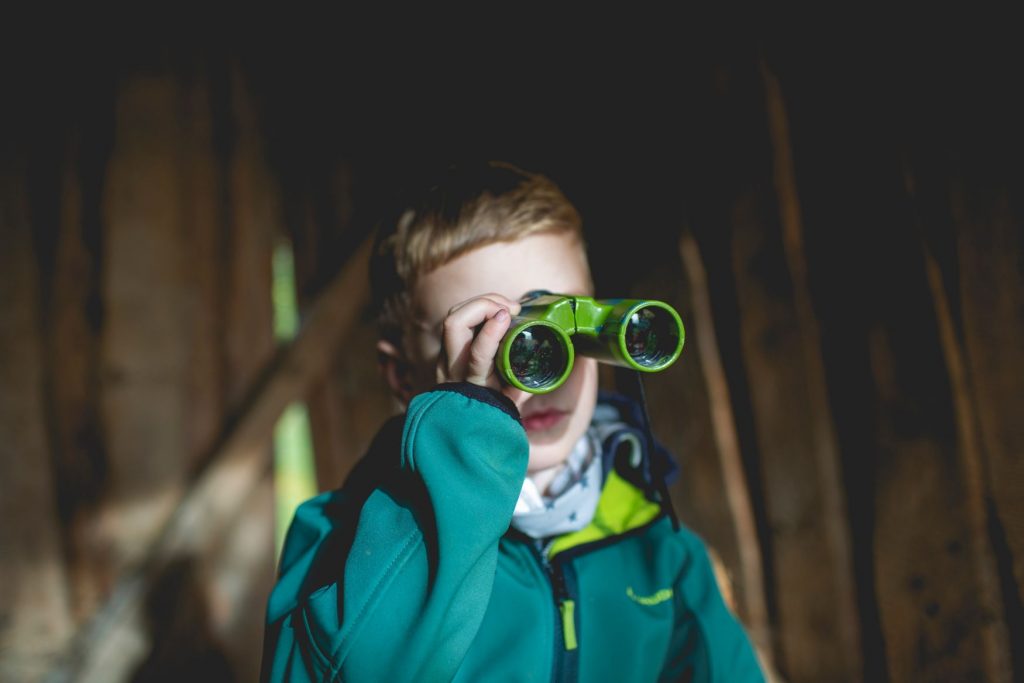 Pick up some kid's binoculars for long-range adventures!
37. Make Your Own Soap
Even when you're quarantined, you still need to wash your hands. Your kids will be much more eager to clean up with soap that they've made themselves.
PBS Kids has a great DIY soap recipe that you can use. You'll probably have most of the things you need already, but you might have to order some pure glycerin soap and soap dyes. Fortunately, that's super easy to find.
We love the idea of using small plastic toys inside of your bars of soap for a fun bath time experience!
38. Take a Daily Crafts Class Online
With CreativeBug and Crafts by Amanda, your kids will never run out of fun, crafty things to do and create.
On CreativeBug, you'll find things like a daily color meditation practice and creative doodling.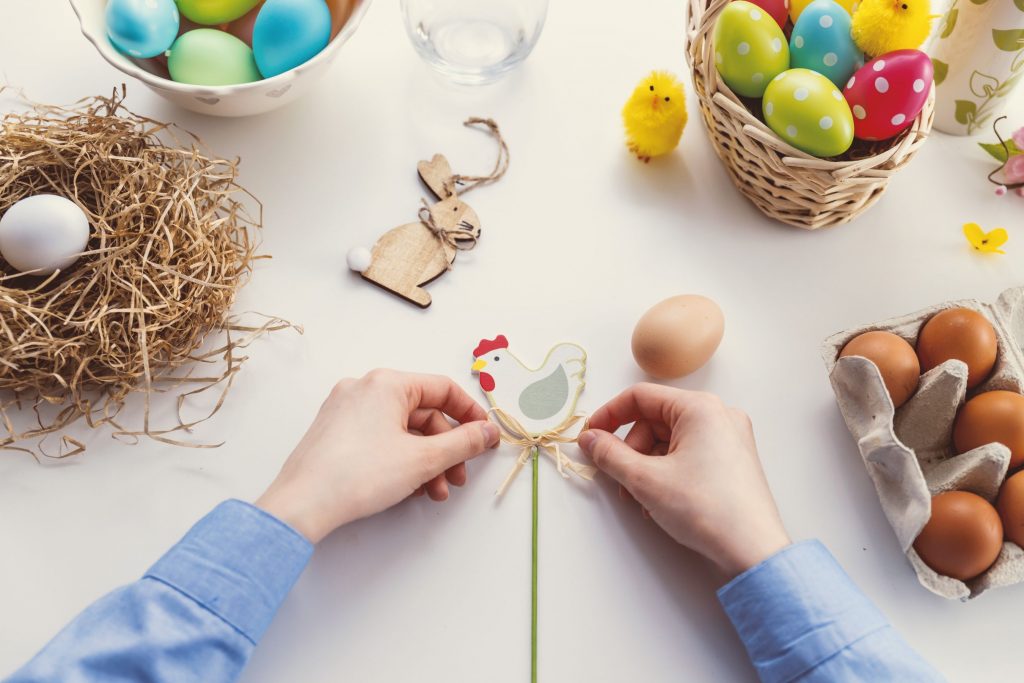 Crafts by Amanda seems to be a bit more low-key, with more than 300 crafts for kids. Your kids will have a blast making paper plate tropical fish or cardboard tube binoculars.
39. Take Free Karate Lessons Online
Karate Online with Sensei David is offering free online karate lessons for kids during the COVID-19 crisis.
This includes short video lessons that help your kids learn self-defense, build confidence, and stay in shape.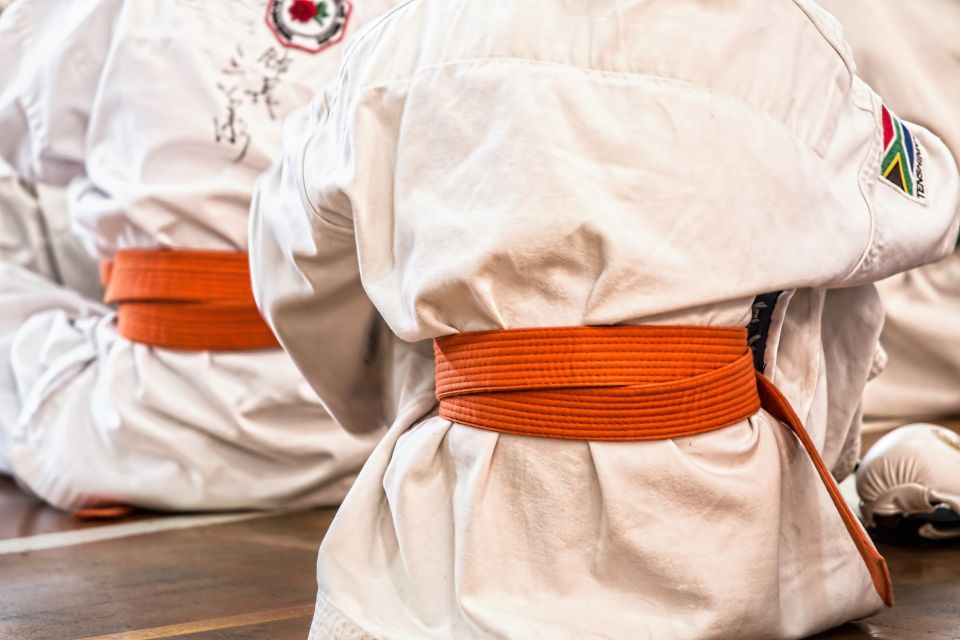 40. Organize a Treasure Hunt
A treasure hunt is a great way to keep your kids from getting bored when they're stuck at home. You can turn your house and yard into a fun and exciting game for kids of all ages.
All you need are some clues, fun prizes, and maybe costumes if you're going for a themed treasure hunt (and why wouldn't you?).
The Spruce has lots of great ideas for clues you can use, but it's also a lot of fun to make up your own.
For a twist on the treasure hunt theme, you could organize a scavenger hunt. This is a simpler alternative, but it's still loads of fun. Just make up a list of the things your kids have to find or do and let them run wild! For an out-of-the-box option, add gofindit Too's Outdoor Treasure Hunt Game to your Amazon shopping cart.
41. Build an Indoor Obstacle Course
Building an indoor obstacle course for your kids is a great way to keep them active while they're cooped up.
The obstacle course can be as simple or elaborate as you want. We recommend keeping it simple to start, then adding more difficult challenges as your kids get good.
Here are some ideas:
An obstacle course will create endless opportunities for photos of your kids having fun.
42. Make Slime
Is there anything more fun than playing with slime?
Yes—making it yourself!
Basic slime requires only 3 ingredients:
¾ cup of water
¼ cup of white school glue (like Elmer's)
½ tablespoon Borax (or Slime Activator)
Directions:
Mix ¼ cup of water with ¼ cup of white school glue. For colored slime, just add a few drops of food coloring.
In another bowl, mix the Borax with the remaining ½ cup of water and stir until the Borax dissolves.
Add the Borax solution to the glue solution and mix it up until it's the texture you want.
For slime that goes beyond the basics, check out this post.
43. Escape to Another World With Story Time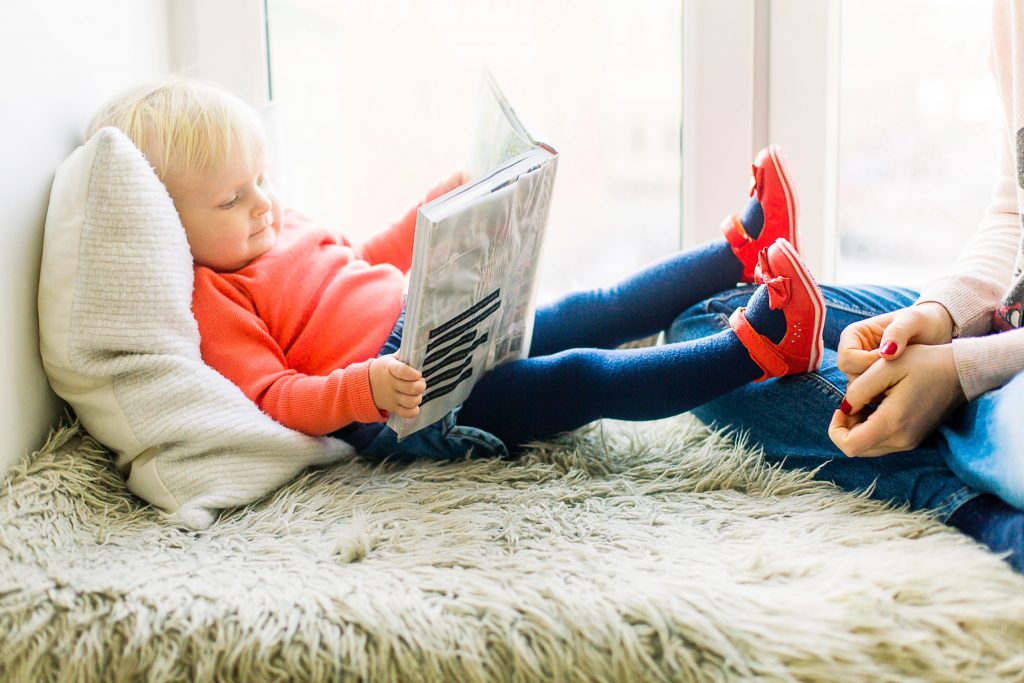 Having storytime with your kids fosters a love of reading. Check with your library to see if they have online checkout (most libraries do). Or, check out this site for tons of free stories you can read with your kids.
You can also check out the WildBrain channel on YouTube and have someone else read you both a story.
44. Attend a Virtual Concert for Kids
More and more concerts are getting canceled, but that doesn't mean you can't enjoy live(stream) music!
Want to see if your favorite artist is holding a concert online? This post from NPR has tons of options with more being added every day.
Of course, you can always check the Facebook page of your faves and get more info about what they're doing.
45. Teach Kids to Sew
Want to teach your kids an excellent life skill while still having fun? Teach them to sew with their own kids sewing kit!
Here are 25 free sewing projects that you and your kids can do together. From a drawstring backpack to a 20-minute banded skirt to a superhero cape, you're sure to find just the right project to get started.
46. Start a Daily Drawing Challenge
Drawing helps improve hand-eye coordination and puts all parts of the brain to work. That's why we love the idea of a daily drawing challenge.
Check out this link for a month's worth of ideas. And don't forget to get a picture of every day's creation that you can keep forever.
47. Take a Self Portrait Every Day
You've probably seen those videos showing a timelapse of someone's daily selfies for a year, right?
Now is a great time to start one for each of your kids!.
48. Take a NASA for Kids Class Online
Are your kids interested in space? Who better to teach them all about than the experts at NASA?
NASA Kids' Club and NASA Space Place engage your kids with space and Earth science through fun games, interactive features, and exciting articles.
Next, let your little astronauts build their first Lego space shuttles!
49. Write a Short Story
Help your kids flex their creativity through writing! And don't worry, this is something your kid can do even if they don't know how to hold a pencil (they'll just need you to write for them).
Kids have incredible imaginations and probably won't have trouble coming up with tons of story ideas.
This post helps you support your kid with story structure.
50. Make a Comic Strip
Does your kid like to draw the things they come up with? A comic strip might be just the thing!
Make Beliefs Comix is a website is dedicated to helping kids create their own comics with guides, lesson plans, and more.
If you're too short on time for the DIY route, get started with a blank comic book for kids.