Want to set up a fun Christmas photo booth without the hassle? Simple Booth is the perfect choice for your upcoming event with DIY and professional solutions.
This holiday season, our design-savvy elves have been working overtime to pack the Simple Booth HALO® app with new Christmas party digital props and photo booth themes.
We can practically guarantee that these sweet photo booth graphics will ensure your holiday party totally sleighs. 🛷🥁
But first, Christmas photo booth props!
Props go with themes like eggnog and cookies, or Santa Claus and his beard! The truth is, participants love customizing their photos and digital props are a fun way to do it! Simple Booth includes over a hundred options to choose from.
When customizing a preset in Simple Booth, simply scroll down to the props panel, find a prop pack that looks promising, and check or uncheck which props you'd like to make available to participants.
Candy cane, santa hat, snowman, antlers or Christmas tree? With so many funny Christmas photo booth props, you'll never run out of party ideas.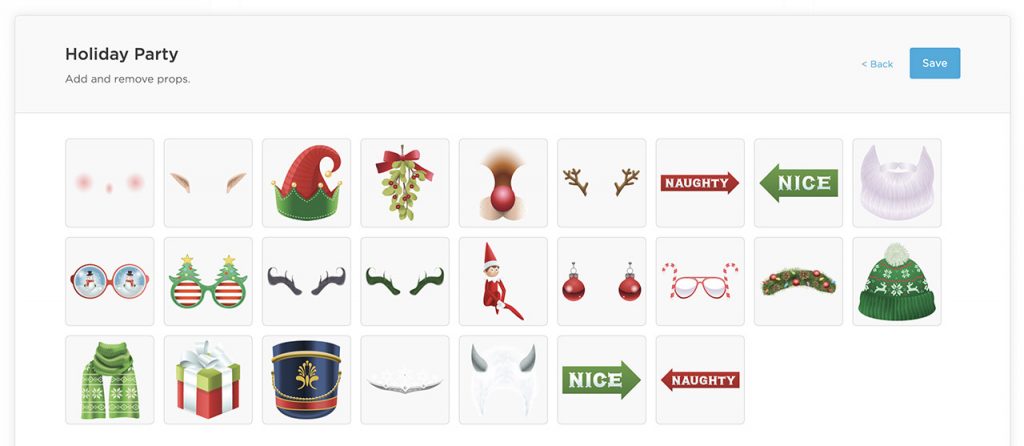 You can also upload your own custom graphics as props from Simple Booth on the Standard or Pro plans.
With so many options, how many is the right amount of Christmas photo booth props to make available for participants? We recommend at least 5, but no more than 20.
FURTHER READING: Introducing Digital Photo Booth Props
Now to the holiday themes
Photo booth themes in the HALO app change the design of the start screen that participants see when they walk up as well as the overlay on photos that go out to social media. Our themes look great on different types of layouts from photo strips to single pictures, animated GIFs, and even Rebound videos.
Here are 10 previews of themes that are available in the app:
1. Merry Christmas
A classy Merry Christmas photo booth theme with a simple frame.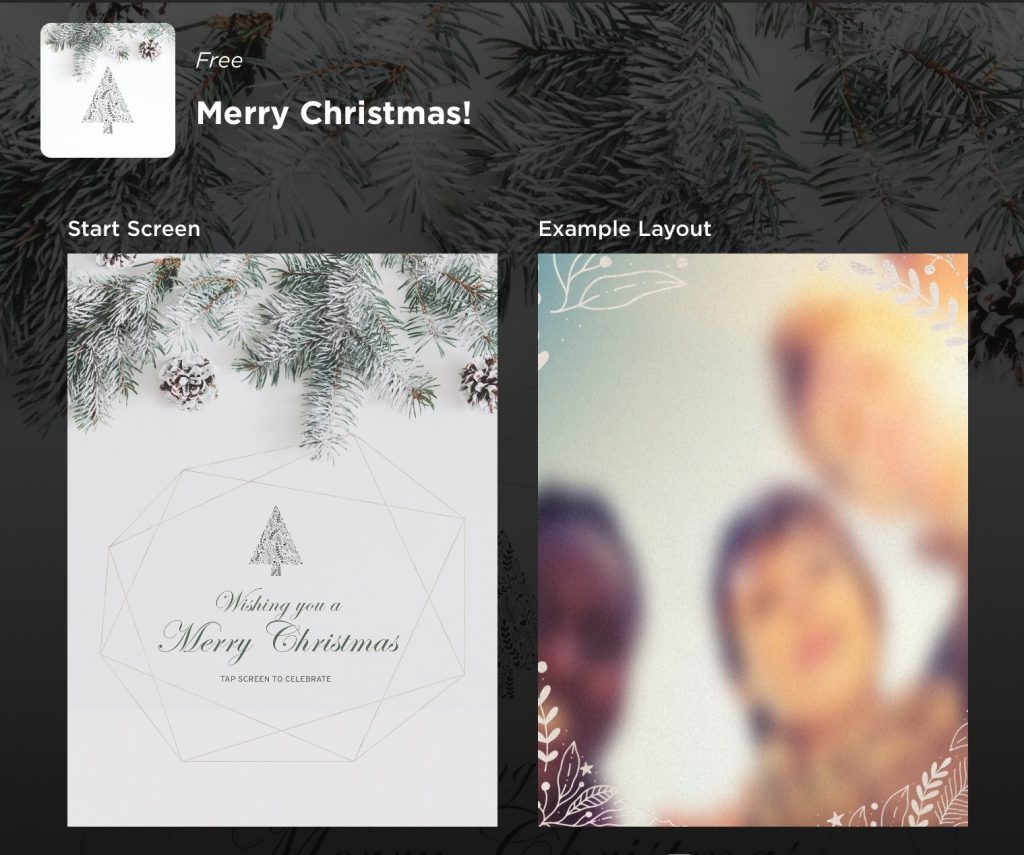 2. Holiday Cheer
Holiday Cheer features gingerbread cookies and animated falling snow for your GIF layouts!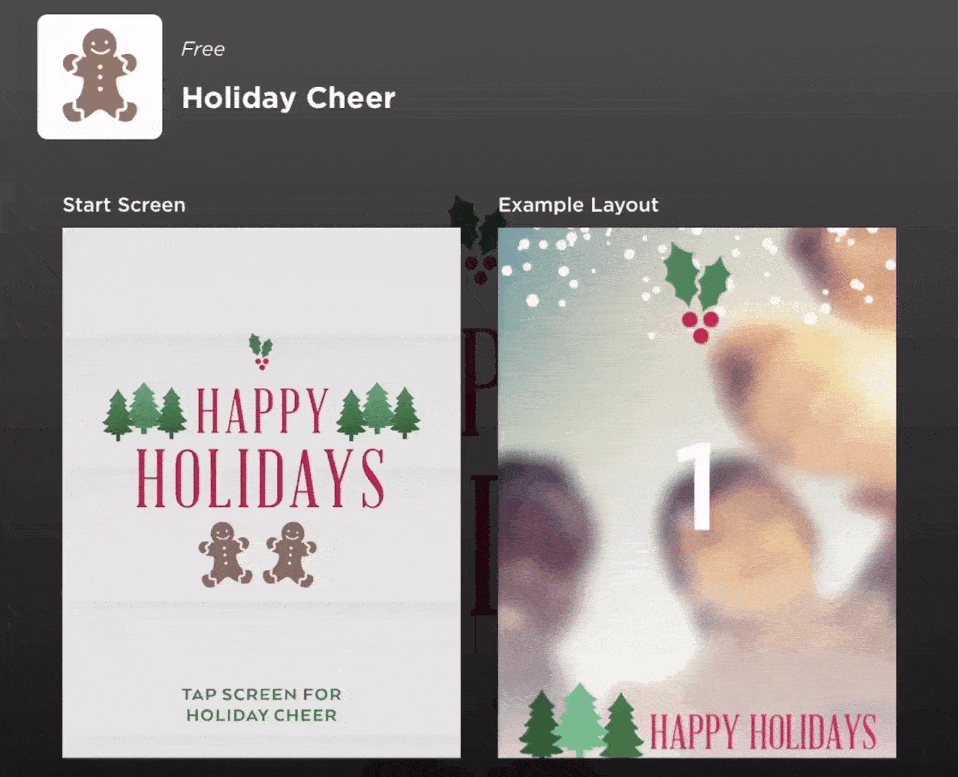 3. Snowscape
Dreaming of a white Christmas? Snowscape also has falling snow for Live GIFs and works for all winter holidays.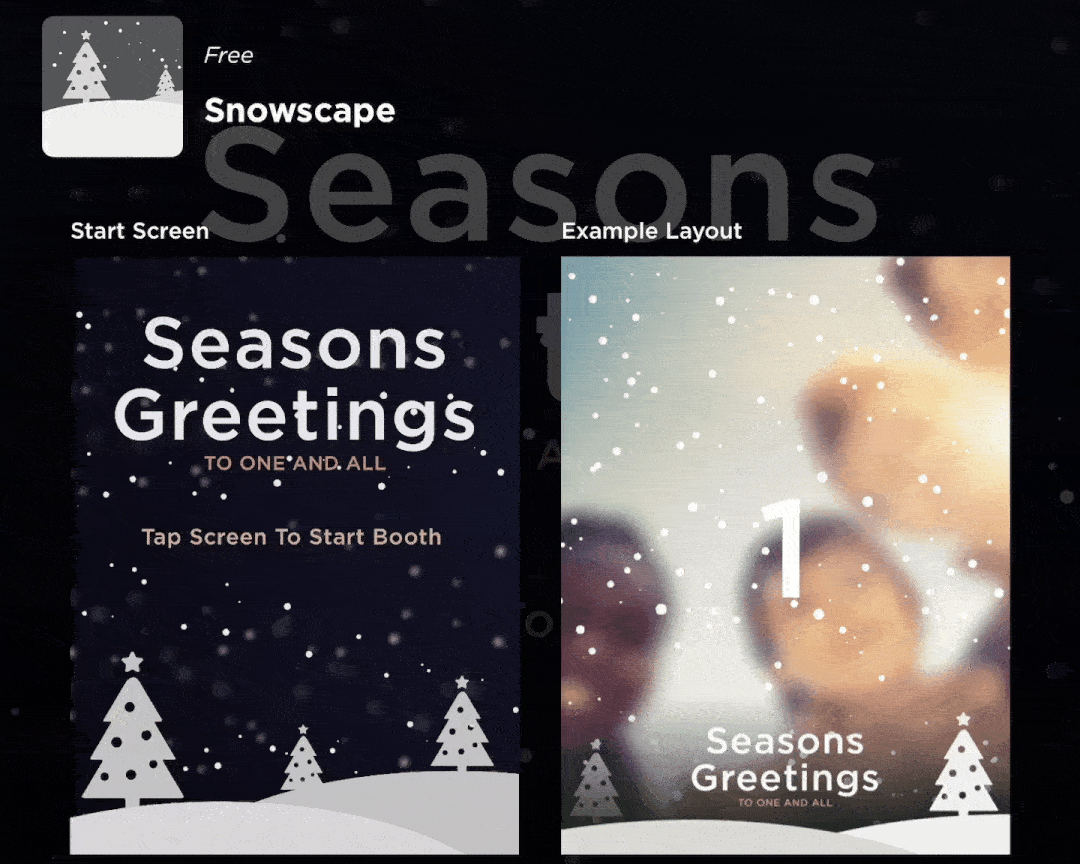 4. Happy Hanukkah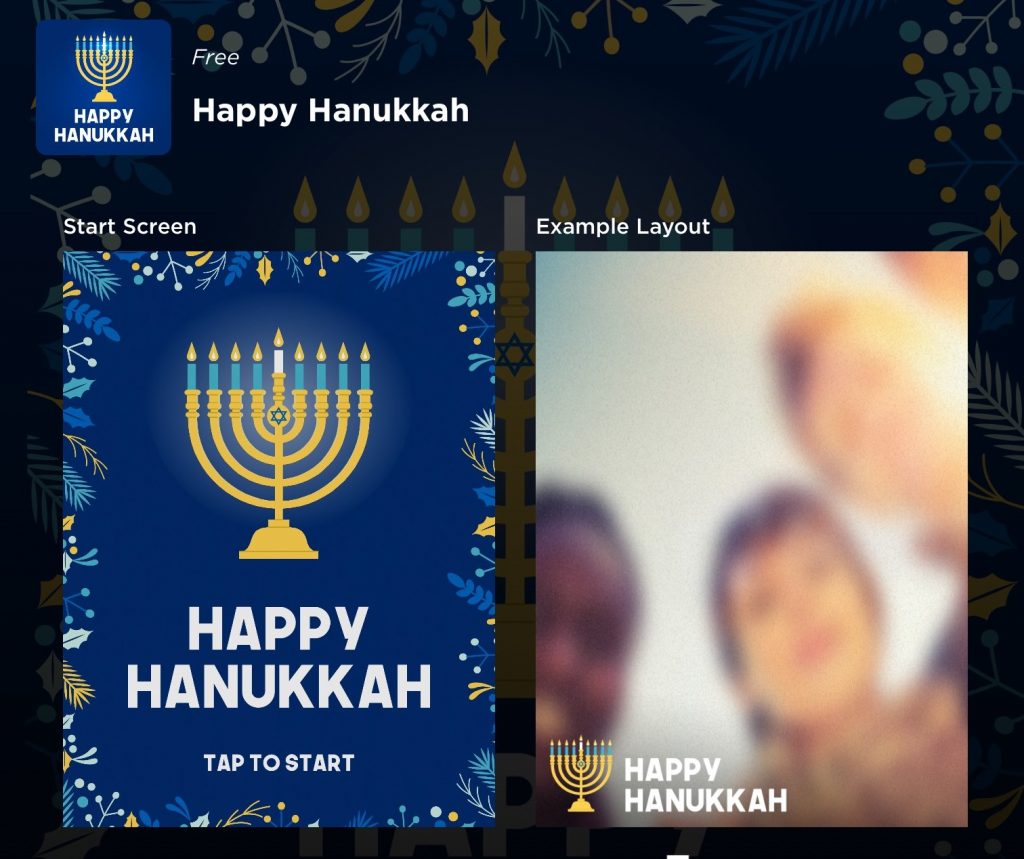 5. Blizzard
You caught us, we're obsessed with snow. Crystalize your Christmas photo booth with the intricate snowflakes on this Christmas theme.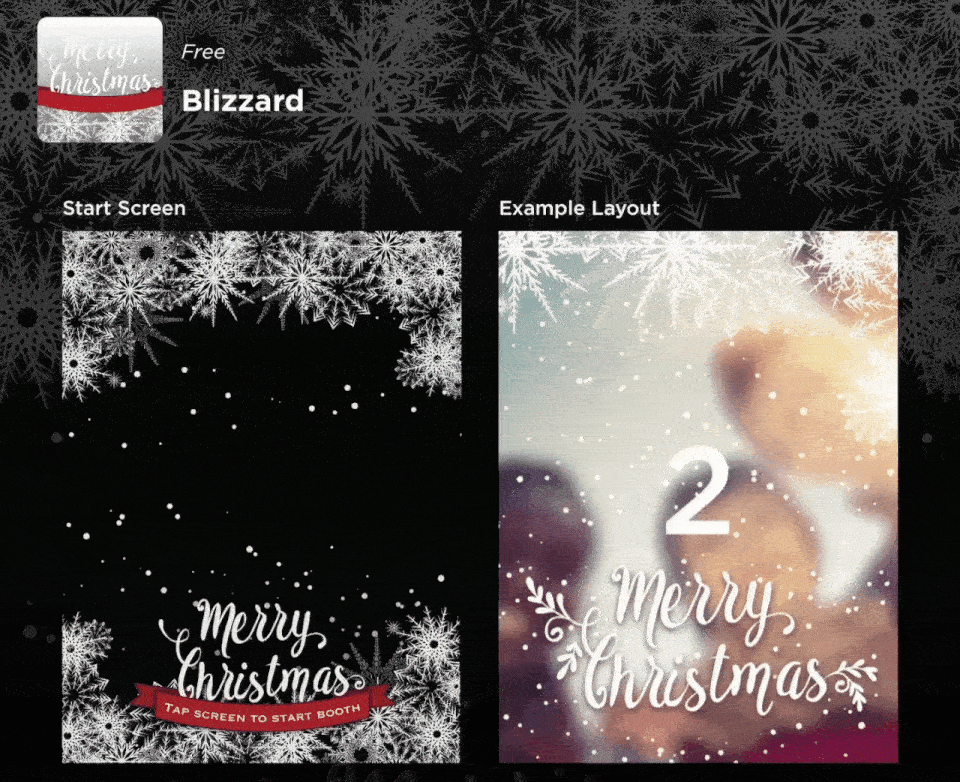 6. Ribbon Holiday
A bold font on an ornate, flowing ribbon alludes to days of yore with modern undertones. Shimmering stars on a tasteful yet understated Happy Holidays overlay complete the ensemble.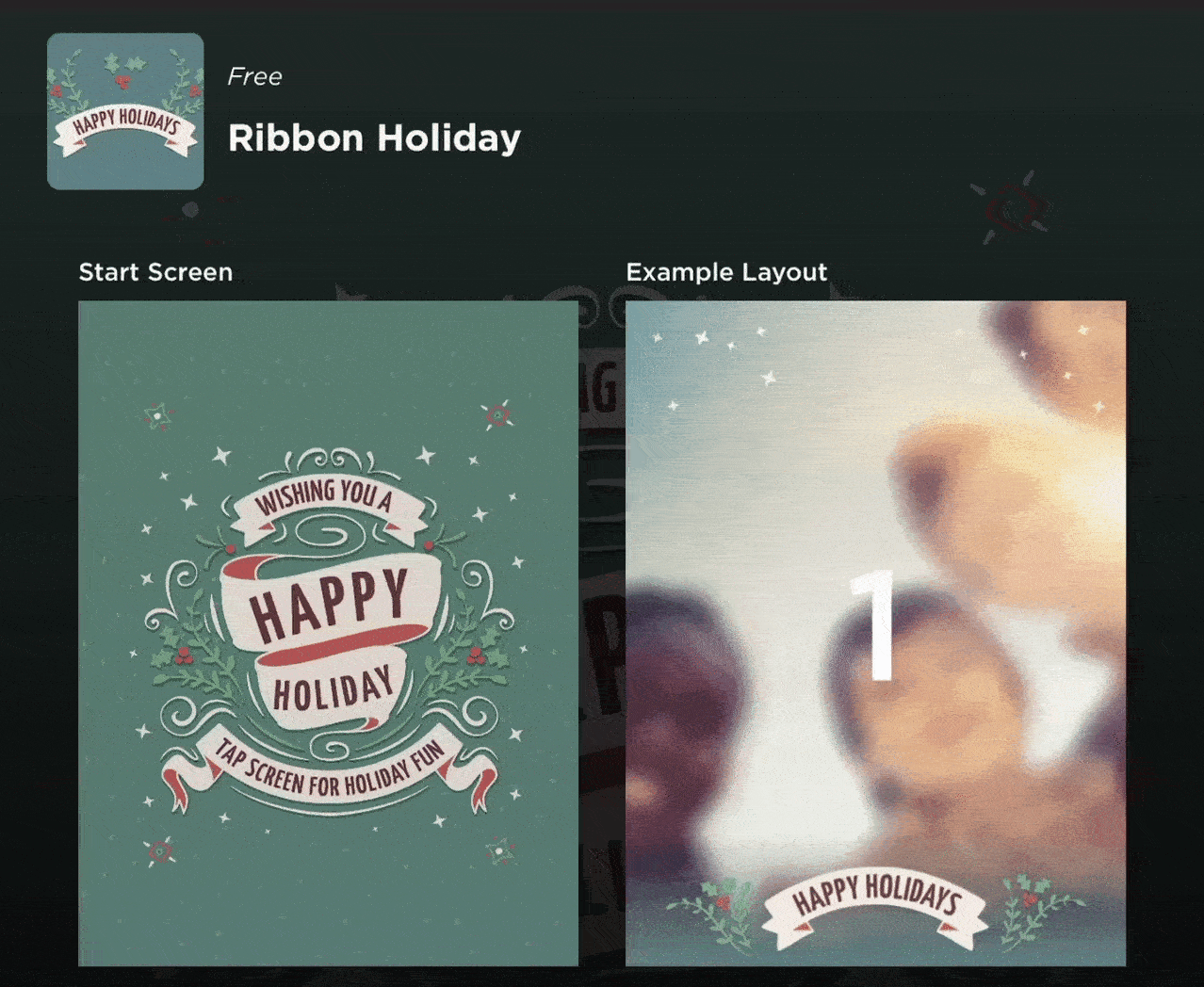 7. Snowstorm
Great for any wintery occasion, including snow days.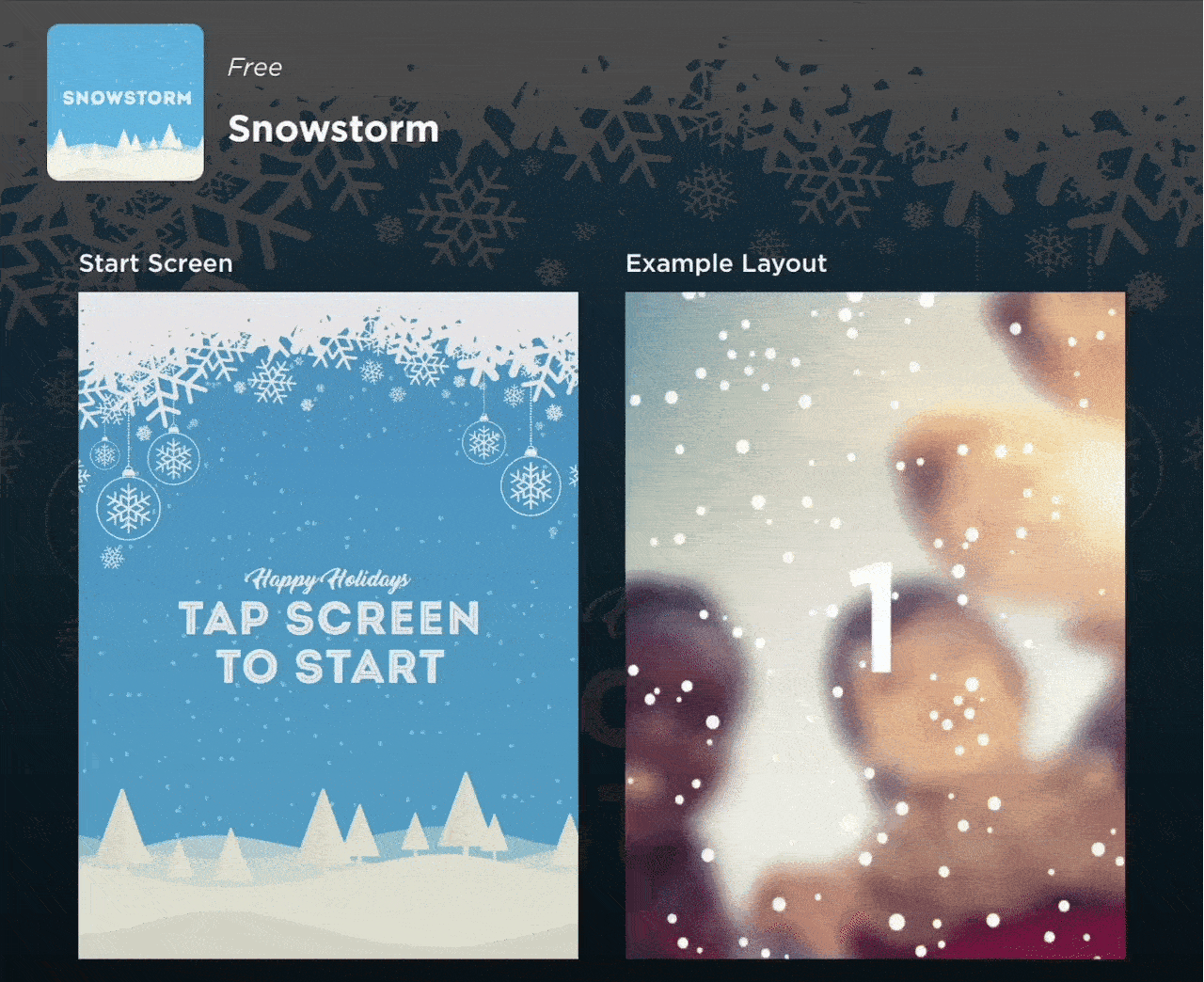 8. Deco-rate
Christmas party decorations hang in an art deco style for the start screen and overlay.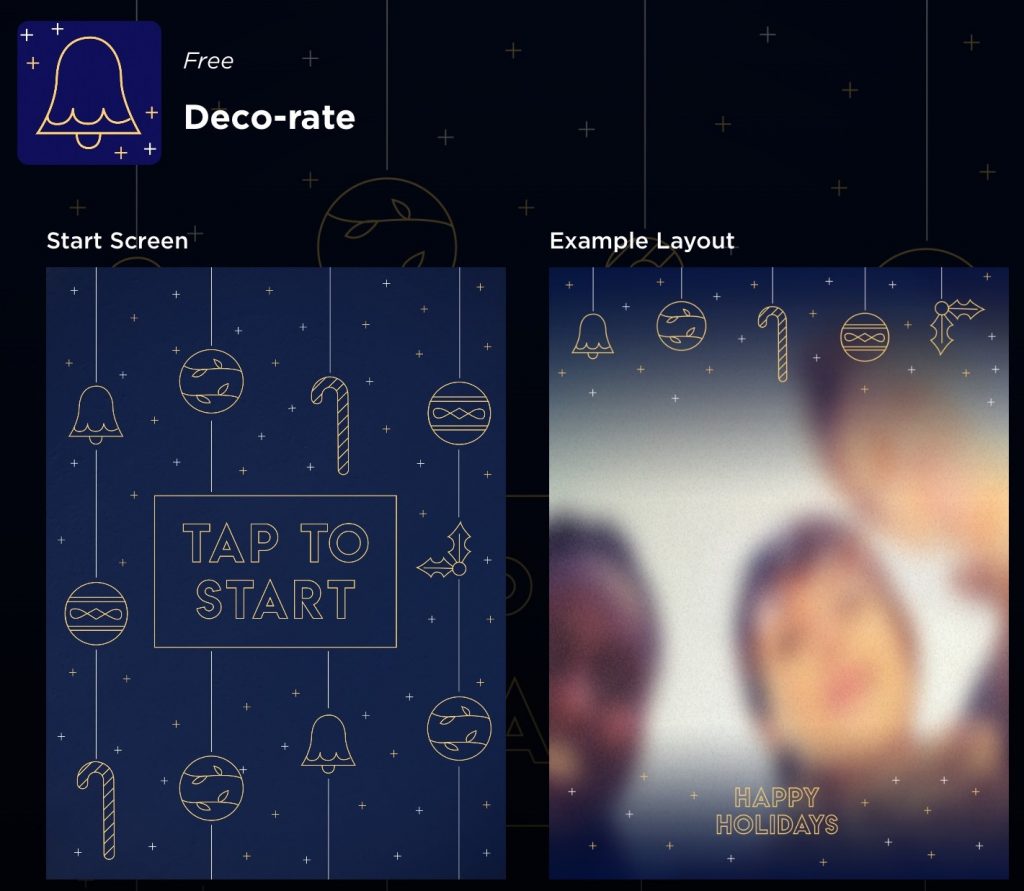 9. Watercolor
Bring out the colors! These watercolor ornaments will bring warm and happy thoughts to all who see.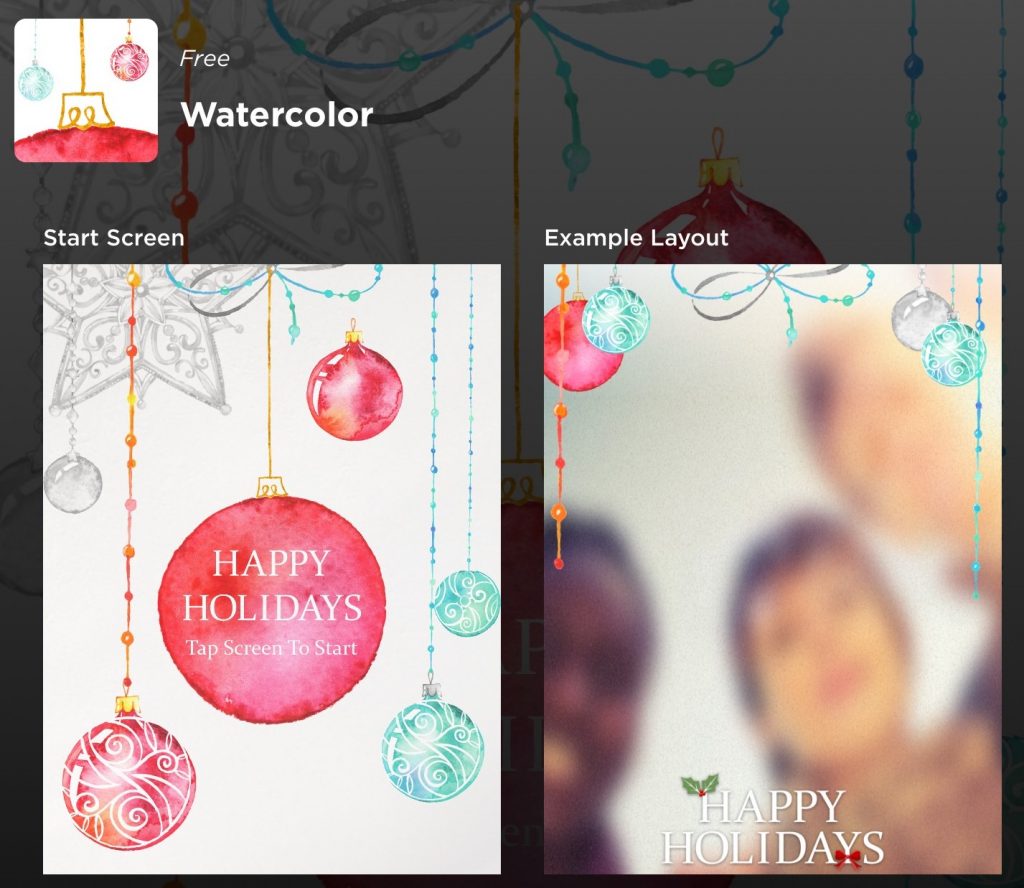 10. Holly
Holla' if you like holly! Tis' the season to take photos in style.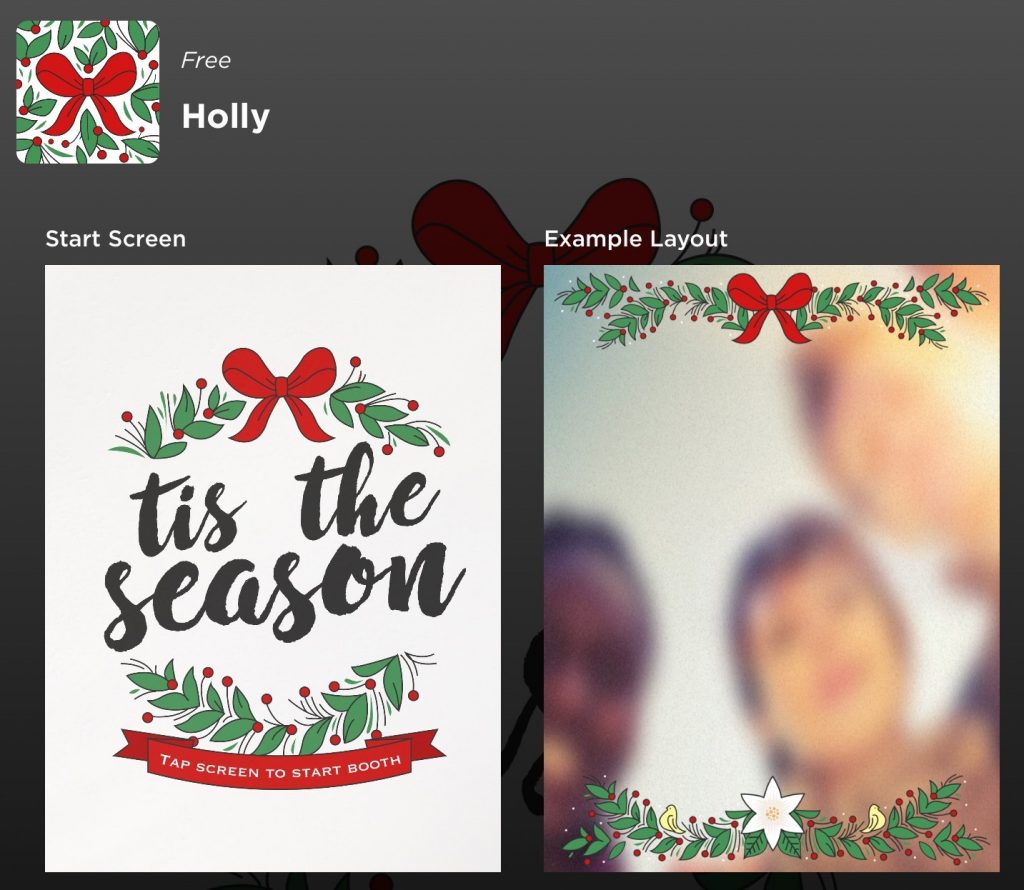 To select a theme, open the Simple Booth app on your iPad, open your Preset or create a new one, and scroll down to the Themes panel. There you will find all of our currently featured themes and a button to explore the whole library.
Tap any of the holiday photo booth themes to see a preview. Then, when you've settled on your favorite, tap Choose at the top right-hand side of the screen to activate it.
We suggest taking a test photo or GIF before your photoshoot to ensure everything looks the way you want it to.
If you choose a theme with an animated overlay for a still layout, it will use the first picture frame and still look great. If you want the animated effect, choose Live GIF for your layout.
FURTHER READING: How To Create Stunning Photo Booth Presets
Complete the experience with digital backdrops
If you want a fully immersive holiday experience, you can set up a green screen and replace your photo booth backdrop entirely with a digital option.
Here are a few digital backdrops we curated. Feel free to use them during your activation, or let them serve as inspiration for what's possible.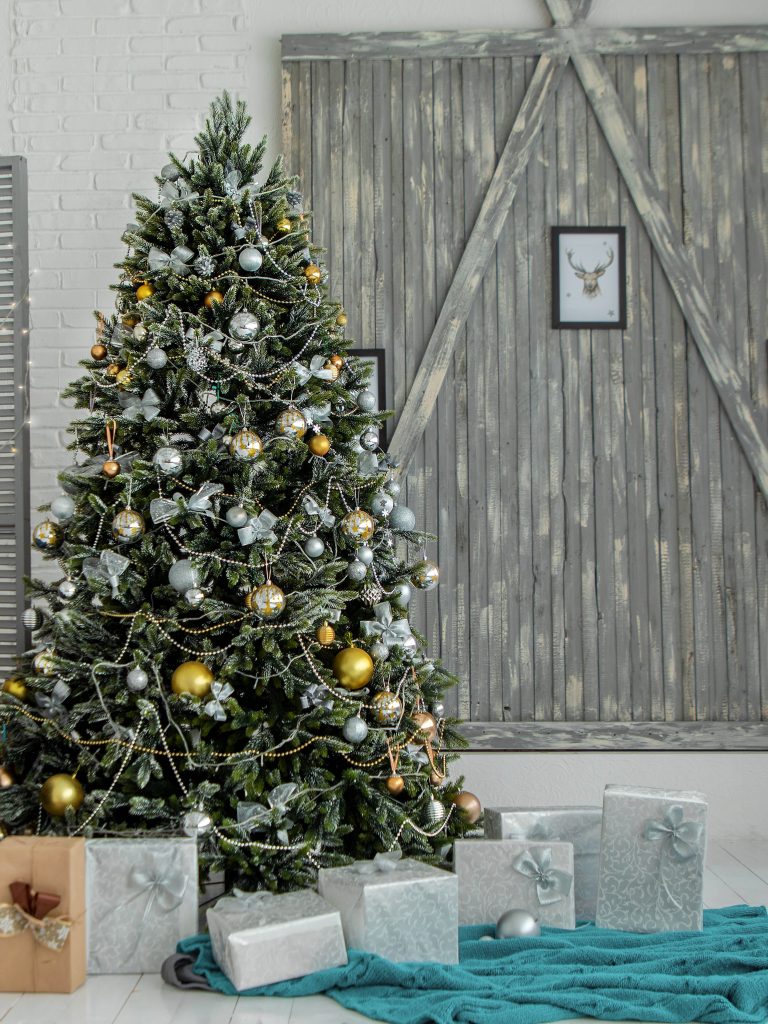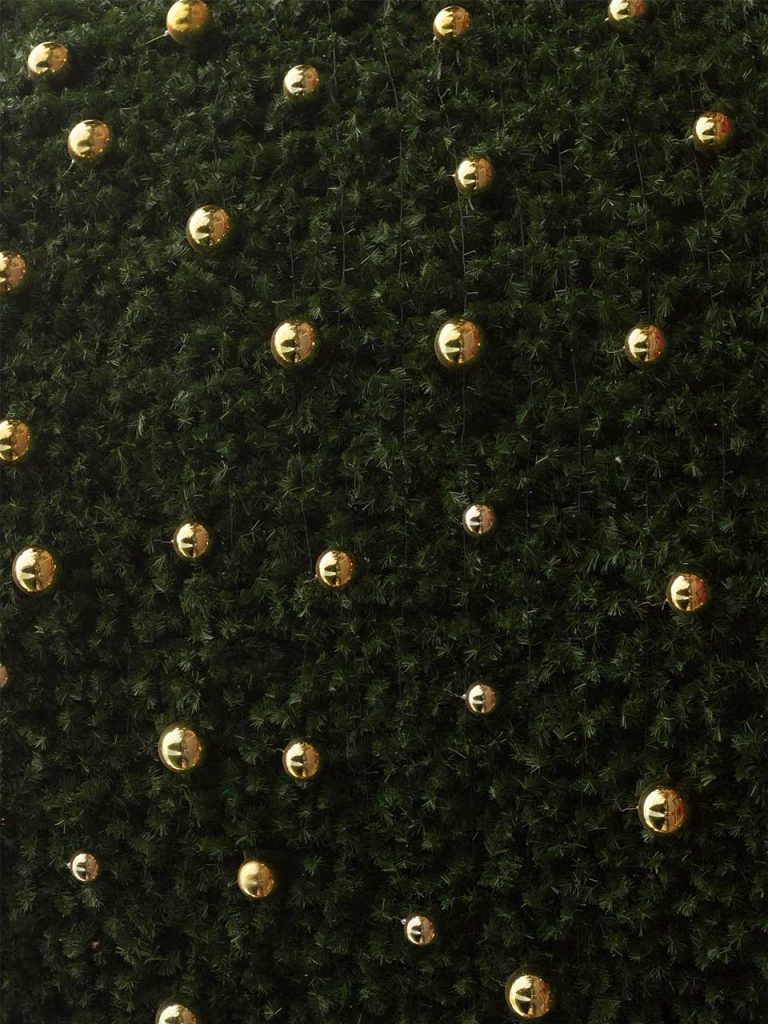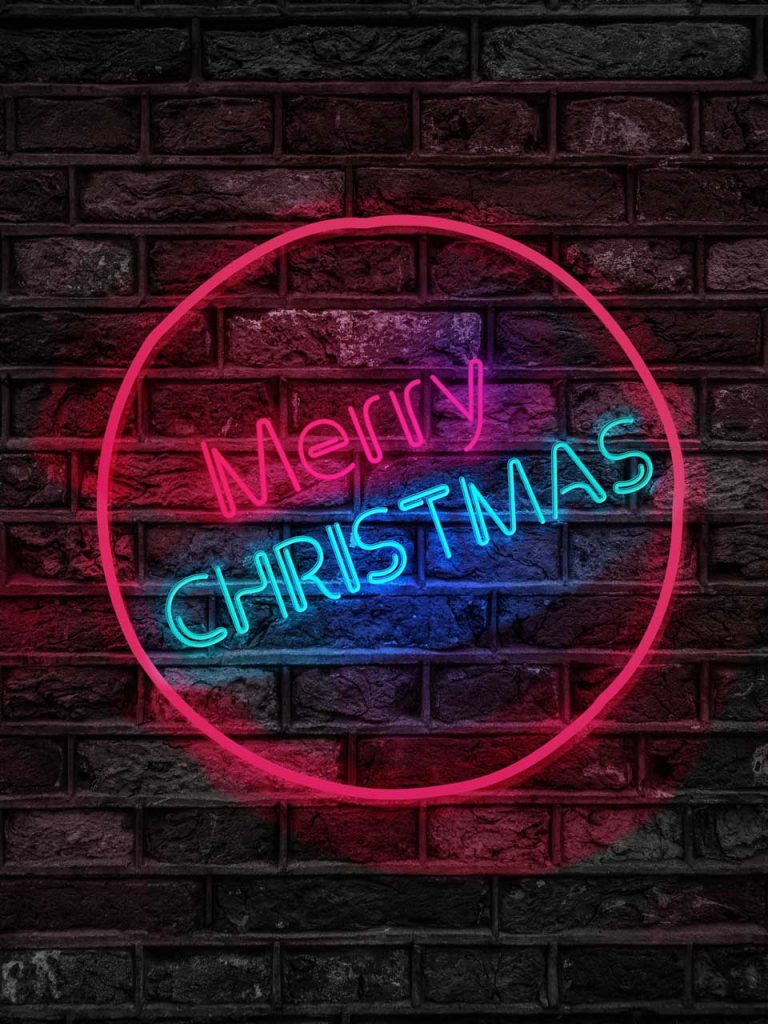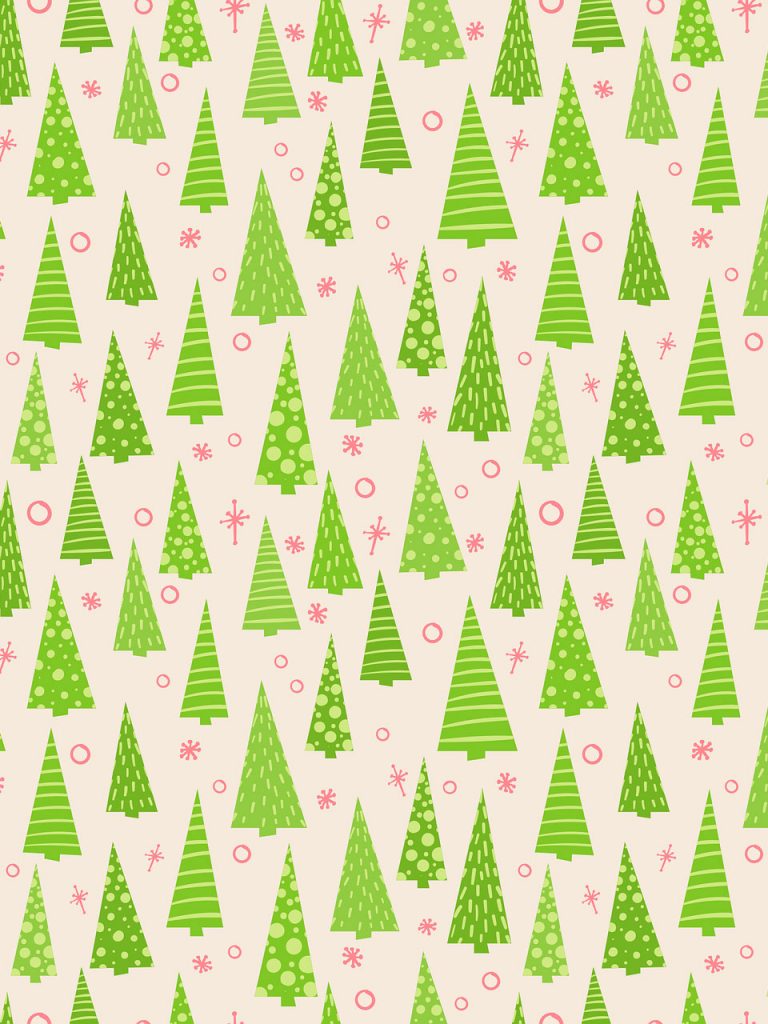 You can also add your own photos to use as digital backdrops or do a quick search to find others. Images from Unsplash, Pexels, and Pixabay have a license that allows the images to be used for commercial purposes without having to credit the photographer, which can be tough to do when you're using it as a digital backdrop.
(Here's a special shoutout to all the photographers who make these image resources possible! 🤲)
If you've never used chroma key with Simple Booth before, you can learn how in this guide.
A mistle-toast to the holiday season 🥂
We hope we made your holiday season a little more fun and relaxed by providing everything you need for your Christmas photo booth, including the app, props, themes, and backdrop!
Also, with new year's eve just around the corner, make sure your photo booth is ready with our New Years Eve photo booth props and themes.
If there's anything we missed, please reach out. We'd love to talk and make your next photo booth a hit! Just email info@simplebooth.com and we'll get back to you shortly.
Happy holidays from the Simple Booth team!
At Simple Booth, we're all about creating memorable, modern photo experiences. With ours apps, it's easy to set up your own do-it-yourself photo booth for the holidays.