There are literally hundreds of photo booth apps available on the App Store, with more popping up all the time. The truth is that it's pretty easy to throw together a countdown, snap a photo, and call it a photo booth app—but the best apps do much, much more than this.
Finding the perfect app for your needs, with the right mix of features and reliability, can feel like looking for a needle in a haystack.
That's why we dedicated two weeks to analyzing dozens of the top professional photo booth apps for iPad and iPhone on the market. Out of these contenders, we carefully selected 6 that we consider the leading options, extensively tested and reviewed them, and categorized them by what they are best at. Then, just for kicks, we picked 3 that made us smile (but wouldn't work for an event).
Our list is split into two sections: the first section is our 6 top picks for photo booth apps that deliver an actual photo booth experience for live events. The second part of our list takes a silly detour, covering the top 3 photo booth apps that are truly & purely just for fun.
For each app, we've covered:
its unique features
how it works
its App Store rating
and pricing
The bottom line: if you're looking for the best photo booth app on the market for your needs, this is where you'll find it 🙂
Please note that App Store ratings are as of this article writing in May 2022 and can change daily, so we've also included a link to each app on the App Store.
6 Best Photo Booth Apps for Professional Users

1. Simple Booth HALO® — Best for Businesses and Not-for-profits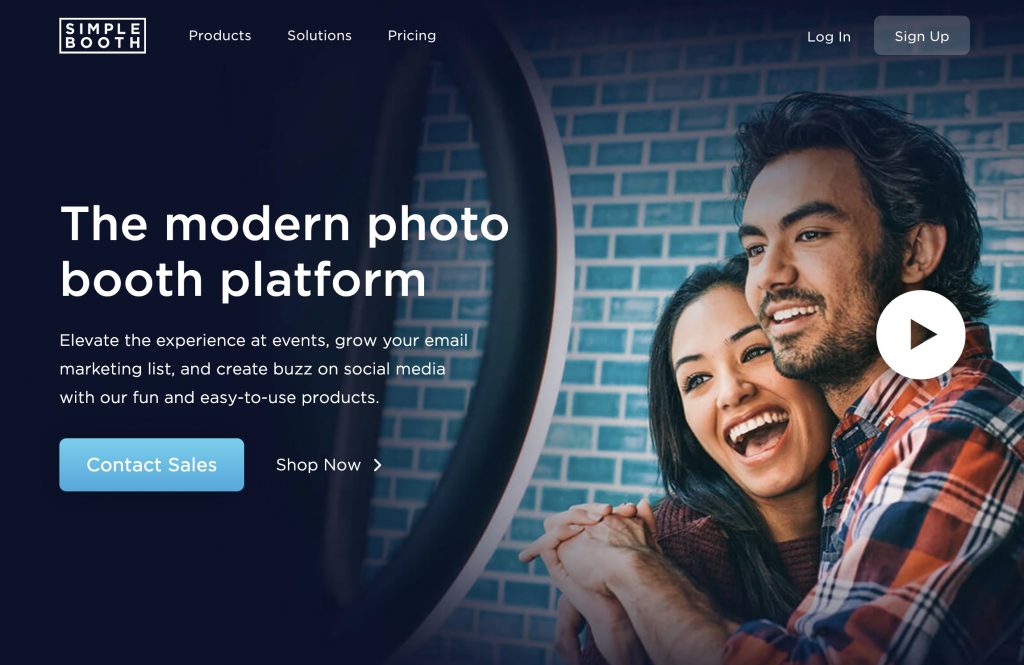 Simple Booth HALO® is our modern photo booth app (created by the writers of this article).
We made it specifically for businesses and not-for-profits that want to amplify in-person experiences, capture contacts, and increase brand awareness. Simple Booth's platform is designed to maximize engagement, deliver photos seamlessly, and drive social sharing through an online gallery and a host of digital marketing features.
For example, it's easy to add your logo or overlay to every photo (or video) that gets shared. The online gallery features your hashtag and HALO offers a robust set of data capture tools to grow your contacts list. No matter what your business goal, Simple Booth HALO® ensures you can achieve it.
As a company, what else could you wish for?
Simple Booth truly stands out in the photo booth industry.
That's a big statement, but we're not asking you to take our word for it. Have a look at these stats:
Tried & true by over 30,000 happy customers 💪
Featured by Apple on iPads across the US in thousands of Apple and Verizon retail stores in 2015 🏅
HALO has the highest rating (4.8 stars from 1400 ratings) out of all the top apps by a long shot 💫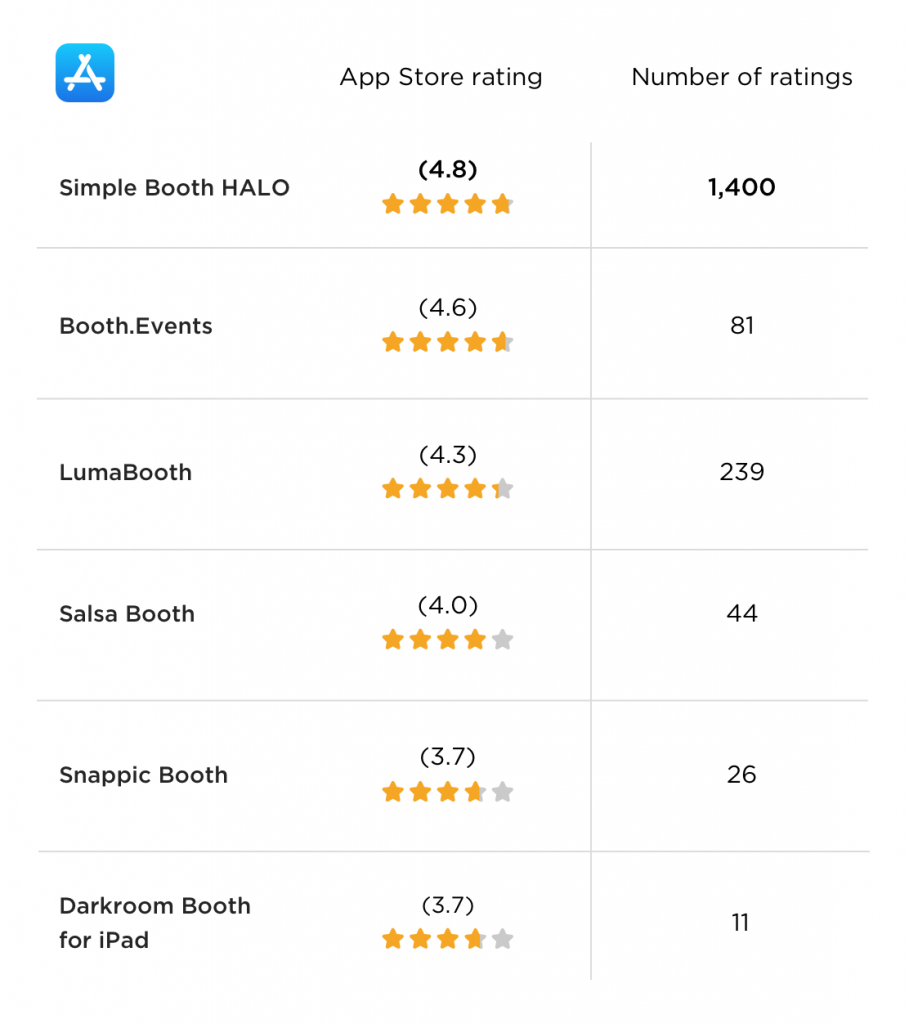 If you're still not convinced, let's walk through some of the key features below.
Simple Booth HALO – Top 3 Unique Features
One of the best things about Simple Booth isn't a feature… it's just the fact that you don't have to be tech-savvy to use it. You guessed it—it makes setting up a photo booth… "simple."
The app has an intuitive interface with easy-to-use settings—both in the iPad app and on the web—so anyone can setup and manage events with confidence. You can customize a "tap to start" screen and photo overlay by choosing from over 80 free high-quality themes, or upload your own.
The software is simple, yet packed with features. HALO offers a little bit of everything for everyone. Three features that especially stand out are:
Create content in the most popular formats like still images, boomerang-style video clips, GIFs, photo strips, or 15–90 second videos with sound
Customizable online gallery (with your hashtag) that looks amazing on any mobile device and can launch a Live Feed™ slideshow with the press of a button
Tons of digital props, filters, and effects to make every experience fun and memorable
There is one clear downside, though: Simple Booth does not support DSLR cameras.
We know this could be a dealbreaker for professional photographers. However, for anyone who wants a turnkey iPad photo booth that is reliable and effective, we think Simple Booth HALO is the perfect fit.
Watch an example of how the platform works:
Simple Booth HALO – App Store rating
4.8 stars on the App Store from 1,400 ratings 💪
Simple Booth HALO — Pricing
Another highlight of our premium photo booth app is its extremely affordable entry-level pricing. Simple Booth starts at just $29 per month for unlimited use and offers additional plans to scale up for the needs of any sized business.
"I loved using Simple Booth – it was easy, super fun to see and send the photos, and the staff at Simple Booth were so helpful for problem solving when I needed it."

-Sandra Tsai
Sign up for a free trial of HALO today to see what it's all about!
You can also purchase the app as part of a hardware/software bundle and get everything you need for your photo booth in one stop.
Plus: The HALO Hardware
If you want to level up this phenomenal app, pair it up with Simple Booth HALO hardware.
The package includes:
Modern iPad Enclosure with Ring Light. The iPad enclosure keeps your gadget fixed safely in an aluminum and satin anodized structure. It looks awesome and won't let the iPad move or shake, allowing you to capture clear images. Most importantly, the soft light will make subjects look beautiful and more likely to have fun and share their photos.

Robust Stand. The HALO stand features a low center of gravity design for balance, so you don't have to worry about people knocking it over. It also has an adjustable riser and different mounting options to achieve the best angle.

Rugged Transportation Case. Carrying any photo booth hardware to an event venue can be a challenge. Our HALO Event Kit includes a robust travel case with wheels that weighs in at just 50 lbs fully-loaded.
Together, the Simple Booth HALO software and hardware let you set up the perfect photo booth for high-quality and clear images—anywhere with zero hassle.
See how fast and easy it is to set up:
Learn more about Simple Booth HALO hardware.
Now, onto the next top apps for photo booths!
2. Snappic — App for Custom Video Photo Booth
There are a few photo booth apps that offer the ability to record full-length videos, but Snappic takes the potential of video booths to a whole new level.
Snappic features a design studio for video templates called VideoFX that allows you to upload your own video clips, choose visual effects, sounds, and adjust timing for highly custom results. It's a very powerful suite of tools that will allow you to render the most creative video results for the most demanding clients. If you wish to set up an advanced video photo booth, look into Snappic!
The app also offers a competition feature to incentivize photos. You can use it to create spin-the-wheel or scratch-off contests for guests to win prizes, adding extra layer of excitement to the photo experience.
Snappic — Top 3 Unique Features
Create premium videos using VideoFX
Interactive contests for participants like spin-to-win
FaceMatch facial recognition for guests to find their photos
Snappic provides several professionally-designed templates, filters, and animated overlays that you can use to create a video photo booth that perfectly aligns with your event's theme.
Additionally, Snappic features green screen and AI background removal to put your guests in front of a custom digital backdrop.
However, keep in mind that you can only access most of these features through the website. It's not possible to create events offline (from the iPad itself). So, in case you reach the venue without pre-loading the event… you might be out of luck.
Additionally, with some of these features come steep learning curves. Plan on spending a healthy number of hours ahead of your event to get familiar with the ins and outs of Snappic's software platform.
Learn more about great Snappic features here:
Snappic – App Store rating
3.7 stars on the App Store from 26 ratings 🤔
Snappic — Pricing
Snappic offers advanced customization tools and filters to its customers, but it comes at a price. The two monthly pricing plans are Basic ($69) and Enterprise ($169) with no in-betweens. Alternatively, you can pay per event for $19 and $69, respectively. Only the enterprise plan offers all the advanced video photo booth features.
Learn more about Snappic on their website!
3. LumaBooth – App for Inexpensive Backup
LumaBooth is developed by the makers of the world-famous DSLR photo booth software dslrBooth. It doesn't have all the bells and whistles of some more powerful photo booth apps that have been on the market longer, but it has a lot of the essentials and is relatively foolproof.
For backup purposes, basic can be a good thing.
Unexpected glitches and connectivity errors can turn everything upside down at an event. It pays to be prepared. If you want to have a basic backup option incase your primary setup runs into issues, check out LumaBooth.
All the settings are in the app instead of on the web, which means if you show up to an event and have no WiFi to download an event from the cloud, you can still make things work on the fly. This app can still sync your event settings and templates to other iPads/iPhones that you run it on, and it will operate and queue any unsent photos until it can connect again to the internet.
LumaBooth — Top 3 Unique Features
Can run on an iPad or iPhone
Uses AI to automatically remove backgrounds (no need for green screen)
Syncs photo booth event settings and templates across all iPads/iPhones that have the app
LumaBooth also features an array of built-in themes for different occasions.
There is also a virtual attendant feature to guide participants through the experience with audio and visual cues, which could be used in interesting ways.
The app also comes with an online gallery feature. It can upload media to fotoShare Cloud and creates an online gallery for your event. Unlike the photo booth settings, you can only access gallery settings through a web browser.
Here's a complete video guide on how to use LumaBooth:
LumaBooth – App Store rating
4.3 stars on the App Store from 239 ratings 🙂
LumaBooth — Pricing
LumaBooth is available for just $20 per month through the App Store, which is about as cheap as you can get. It includes basic gallery features, along with unlimited email and SMS sharing. Advanced gallery features are available with a separate subscription ($19 or $39 per month). Keep in mind, at such a low price point, you might not expect as many updates or new features as other services can afford to provide.
Learn more about LumaBooth on the dslrBooth website.
4. Salsa Booth — App for Starting a Rental Business
Salsa Booth is a good choice for individuals who want to start a photo booth business (or love Mexican food) and would like a little hand-holding to get off the ground.
That's because the app comes with a large collection of resources and educational videos for beginners, plus a solid collection of tap to start screens and overlays. All this can be very helpful for starting a successful photo booth business.
Salsa Booth also comes with many popular photo booth features like custom tap to start screens, animated GIFs, text messaging, a survey collection tool, and an online dashboard with settings, and analytics. Overall, it's intuitive to use and works as expected.
Salsa Booth — Top 3 Unique Features
Access to the Photo Booth Academy includes more than 100 videos on how to run events, market your business, and even do accounting.
Includes a built-in tool to send event proposals to clients to help book gigs
Provides marketing materials to promote your rental business (with hardware purchase only)
The Salsa Booth app also lets you cast a slideshow of the live captured images on any TV or screen, so more people can enjoy the resulting photos at events.
Plus, you can run it in a special hands-free mode and deliver the photos by QR code for a touchless photo booth experience.
One thing to consider before buying into the Salsa Booth ecosystem is whether or not there are already Salsa Booths in your home market, since it can be harder to differentiate your business if everyone else is offering the same style booth.
Here is more about it:
Salsa Booth – App Store rating
4.0 stars on the App Store from 44 ratings 🤔
Salsa Booth — Pricing
Salsa Booth pricing is on point for the value and features they offer. Its Plus plan starts at $49 per month and the Pro plan starts at $99 per month. You can also try out all the features on a free trial (credit card required).
Find out more about Salsa Booth on the Photo Booth Supply Co. website.
5. Booth.Events — Up-and-Coming App
Looking for a fresh take on photo booth apps? Make sure to take a peek at the new Booth.Events app.
This new photo booth app has begun to grow a following for its intuitive interface and innovative features. For example, the SceneSelect mode allows your guests to take pictures in front of a green screen, remove the background, and choose their preferred background after taking their images.
The app also connects with a DSLR, so you can capture images in premium quality as well as impress your guests.
Booth.Events — Top 3 Unique Features
Pairs with Nikon, Sony, and Canon DSLRs
Allows you to replace green screen with realistic backgrounds
Collects real-time guest data like email addresses and numbers
Moreover, the Booth.Events app enables you to build custom templates and tap to start screens from scratch through a drag-and-drop web interface.
You can personalize the dimensions, backgrounds, overlays, and much more. The app stores these templates and screens separately from your events so that you can easily reuse them in the future.
Booth.Events – App Store rating
4.6 stars on the App Store from 81 ratings 🙂
Booth.Events — Pricing
Booth.Events has a free starter plan that comes with 3 events and unlimited emails/texts. However, it only lets you store up to 200 files for three days. So if you want to explore the app fully, it's best to choose between the Pro ($50 per month) or Pro+ ($82 per month) plans.
One concern is that all their plans have some kind of limitation on the number of files and time period, whereas most other photo booth apps don't have these kinds of restrictions.
Check out more Booth.Events details on their website!
6. Darkroom Booth for iPad — Honorable Mention
Darkroom Booth for iPad is not one of the highest-rated apps on the App Store, but it still caught our attention because it's from the makers of the original Darkroom Booth, a popular photo booth app for PC from back in the day.
This photo booth app for iPad has a modest set of features. As expected, it enables you to watermark all the images with your logo and colors. Notably, it lacks creative filters, effects, digital props, and does not have any tools to build surveys or custom forms for participant data.
Darkroom Booth for iPad does offer an interesting feature to accommodate international users. Its translation feature allows you to replace the words and phrases in the user interface with your own, in the language of your choice.
Plus, you can link up to 10 iPads at once to cater to the needs of large audiences.
Darkroom Booth — Top 3 Unique Features
Translate text into different languages or write your own phrases
Run up to 10 devices with one subscription
Advanced iPad camera settings
If you are a photographer who swears by manual camera settings for every shot, you will love the advanced camera options in Darkroom Booth for iPad. You can adjust the ISO, white balance, and other settings to fine-tune your captured imagery. It's also possible to create GIFs, burst images, and boomerangs. Once done, you can print the images instantly via AirPrint.
Here is their quick start guide to see what it's all about:
Darkroom Booth – App Store rating
3.7 stars on the App Store from 11 ratings 🤔
Darkroom Booth — Pricing
Darkroom Booth's monthly subscription plan starts from $29.99. You can also choose the annual plan for $299.99 (basically 2 free months).
Also, note that advanced features like online galleries require a separate subscription. Learn more about Darkroom Booth for iPad on the App Store!
3 Best Free Photo Booth Apps for Fun & Casual Use
1. Mini PhotoBooth — Most Customizable Templates
Who doesn't love snapping creative photo booth pictures with friends and family?
All those funny poses make the experience memorable for a lifetime. Well, Mini PhotoBooth offers you just the right tools to take the fun to a whole new level.
It has a plethora of animated templates for Halloween, Christmas, and other occasions. You can use them to capture images, videos, and GIFs. Once done, a single click lets you print or share the content on social media platforms!
Mini PhotoBooth — Top 3 Unique Features
Instant printing and sharing options
More than 60 photo booth templates
Unlimited custom text using 120+ fonts
Mini PhotoBooth also enables you to customize the templates fully. You can change the layout, backgrounds, colors, text, and stickers.
Try out MiniPhoto Booth on the App Store!
2. FatBooth — Funniest Gag App
In a world of glam filters and photoshopped images, there remain yet enough people who prefer the path-less-traveled to make FatBooth one of the highest-rated free photo booth apps for iPad.
FatBooth does exactly what you'd expect: it makes your face (read: or your friends' faces) look ginormously overweight.
FatBooth — Top 3 Unique Features
Hilarious face-fattening effect
Completely free
Almost guaranteed to make you laugh
The app will automatically detect a face, make it fat, and then lets you save or share the image with others using email, iMessage, Facebook, etc. That's it! Here's a quick video tutorial:
Download the FatBooth app for iOS or Android!
3. PocketBooth — Vintage Photo Booth Fun
Priced at only $0.99, we consider PocketBooth pretty much free for the value it delivers. This photo booth application takes you back to the 1950s using its vintage photo strips, so you can create classic photo collages wherever you go!
The app also adds a location tag on the photo strips to help you remember your travels clearly. In case you don't want it, just go to the settings and disable it. You can also switch different options like auto-save to on or off.
PocketBooth — Top 3 Unique Features
Photo strips that feel authentically vintage
Save GPS location with a photo strip
Print your photo strips or share via Facebook, Twitter, or email
PocketBooth comes with 5 photo effects, 2 paper types, and 2 border styles.
You can use them to get retro-style images that look as if taken in an actual old-school photo booth. Since some users might find the options limited, the app offers in-app purchases to get many more filters and styles.
See the app in action here:
Get PocketBooth on the App Store today!
Wrapping it up
There you have it… a comprehensive list of best photo booth apps that are currently crushing it on the market. We've tried to make this list and the product descriptions as accurate as possible by personally testing out every app on the list.
In the end, the best way to find a solution that fits your needs is to try each app out yourself. Download each app, sign up for a free trial, and see what you think!
If you notice anything that is out of date or could be improved, please let us know by emailing us at info@simplebooth.com.
One last thing. If you work at a business or not-for-profit, then we highly recommend checking out Simple Booth HALO, our premiere photo booth app. And if you're a true power-user and love the software, consider upgrading to the full package: HALO software + hardware 🙂