Most photo booths will come with built-in lights.
The light your photo booth comes with should be bright enough to adapt to most situations. (Like Simple Booth HALO with a built-in LED ring light) But if that's not the case—if you're DIY'ing your own photo booth or photographing larger groups—then adding sidelights is a must if you want to have great photo quality and offer a superior customer experience.
Here's what typically works the best for your main photo booth light, depending on the type of photo booth.
(Click on the left column to jump to the setup guide for specific photo booths, or the upper row to jump to my recommended light choices.)
And here are my recommendations for side lights if your main light is not bright enough.
Ring Light
side light
LED Panel
side light
LED Wand
side light
Softbox
side light
RGB LED
side light
Flash Light
side light
iPad Booth
No
Yes
Best choice
Yes
Yes
Excessive
DSLR Booth
No
Yes
Best choice
Yes
Yes
Excessive
Mirror Booth
No
Yes
Best choice
Yes
Yes
Excessive
360 Booth
No
Yes
Best choice
Yes
Yes
Excessive
Throughout the rest of the article, I'll explain everything you need to know about all the photo booth lighting options.
Let's go.
Want a complete software + hardware photo booth solution that doesn't need additional lights? Try Simple Booth HALO. The app is designed for amplifying in-person experiences; while the shell has a beautiful and powerful LED ring light bright enough for any situation.
Check HALO in action here:
Buying Guide: How To Choose Lights For Your Photo Booth
Photo booth lights have to do three things:
Make the guests stand out
Reduce harsh shadows
Make the skin look healthy
You'll achieve this with a light that has a high enough maximum brightness, light coverage, and color temperature. Always think about these three criteria when buying lights, regardless of whether you have a DSLR, mirror, box, 360, or an iPad photo booth.
Max Brightness
Maximum brightness is the most important factor to think about.
It will determine whether the lighting is effective in different environments and with different cameras. 
As a rule of thumb, you need enough light for the camera to take the photo. That bar is not very high now-a-days. Modern cameras and lenses perform quite well in low-light environments, and can automatically adjust exposure to get just the right amount of light to take clear photos of the guests.
But having a bright light is still important: your light has to outcompete other lights in the environment.
Even though random lights at your event—like ceiling lights or even windows—might make the room feel bright, they are likely to illuminate your subjects in an un-flattering way for photo booth photography. For example, they can create color casts, throw awkward shadows, or light the background more than your subject.
I suggest getting an adjustable light with high maximum brightness that you can use to adapt to any situation.
Challenge: Lighting Setup for Outdoors
Funny to think about it, but the one light you can never outcompete is the Sun.
When setting up your photo booth for an outside event, you're better off blocking the sun. In movies, they do it with giant screens. Photo booth operators do it with tents. If you manage to do it, then you're in for a treat: being in the shadow outdoors is great for photography.
Light Coverage
After max brightness, the next priority is eliminating harsh shadows and illuminating everyone in the photo as evenly as possible.
Harsh shadows are great for dramatic effects. But in photo booth photography—which is essentially portrait photography—they bring out imperfections, wrinkles, and lines in faces. And trust me, everyone I've ever photographed would rather not have them.
Larger light sources have softer shadows and bigger coverage areas.
Single-point lights, like flashes, will create harsh shadows—especially up close. But if you point them into an umbrella, the umbrella becomes the light source, and reflects a wide, soft light that can capture large groups and light them evenly.
At one point, though, bigger stops being better—it just becomes clunkier. 
One square foot of surface emitting light is more than enough. You can easily achieve this with:
Softbox
Ring light
LED wand
Light panel
These are perfect if you want to keep a compact setup without a flash & umbrella combo.
Challenge: Lighting Setup for Indoors & Small Spaces
Big lights, big spaces.
Listen, you could set up two umbrellas and a bunch of auxiliary lights all around your booth, but in small spaces, you just became a hazard. Visitors might trip, fall, and blame it on you. They might knock over and damage your equipment. Or (and this one is the worst) your setup could end up looking like something in the dentist's office, and everyone would become too afraid to take a photo.
Traditional studio lighting equipment wasn't made to look good, but how your set looks is very important.
Keep that in mind when you go shopping.
Color Temperature
People are extremely sensitive to off-color skin tones.
Under bad fluorescent lighting, the skin looks yellowish. In bright daylight, it looks bluish. You'll come across these situations often in your photo booth-ing career, that's why it pays to have a continuous warm/cool LED light at hand. These throw white light in the 5600 – 6700 Kelvin range, which you can adjust to even out colors from the environment.
And don't worry about other colors: a high-quality warm/cool LED light will handle most lights you'll encounter in the wild.
Challenge: Lighting Setup for Multi-Colored Environments like Clubs
Although it's cool to bathe in a neon green atmosphere in the club, having photos where your guests' skin looks sickly greenish doesn't make for good memories or shareable material.
You can try to neutralize it with RGB LEDs, but you'll struggle. Most RGBs aren't that bright, and you'll struggle to find high-quality RGBs in the affordable price range. Plus, you have to be really skilled at photography to pull something like this off.
Your best bet?
Still, warm/cool lighting with high max brightness that will simply outcompete the club lights.
Even with a non-ideal setup, you can still do a lot by just repositioning your lights.
Setup Guide: Where To Place Photo Booth Lights
There are no "hard" rules.
Where you place the lights will depend entirely on the environment.
In short, set up your lighting equipment so that it creates the most flattering light possible: the subject stands out from the environment, there are no harsh shadows, and the skin tone looks natural.
Height of the Light
Either do:
✅ In-line with eyes
✅ Slightly above the head
✅ Circular around the subject's face
Don't:
❌ Shine light only from the ground up (unless at a Halloween party.)
Angle of the Light
Either:
✅ Have only one central light
✅ Have two side lights under the same angle
Don't:
❌ Have one light only on one side
Distance of the Light
Do:
✅ Move closer to make it brighter
Don't:
❌ Move so close guests aren't being lit evenly
Common Photo Booth Lighting Setups
Setup #1: DSLR photo booth with flash and umbrella
Booth: DSLR
Main light: Flash + Umbrella
Side light: LED Wands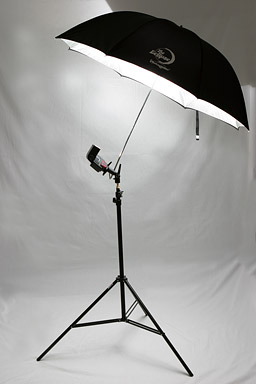 A decent flash will be bright enough for practically all environments.
The only real challenge is making sure it turns on at the right time when taking the photo. You can set up the sync in your photo booth software. It does mean more moving parts to look after. Which means more things can break.
Sometimes, with a bad computer-flash connection or in dark environments, your camera might struggle with autofocus during the flash. If that's happening to you, add some extra LED lights on the sides. Any would do, but I suggest LED wands: the vertical lines will balance out the round appearance of the umbrella and make your booth look more grand.
Setup #2: iPad photo booth with continuous ring light
Booth: iPad or mirror
Main light: continuous ring light
Side light: RGB LEDs or LED wands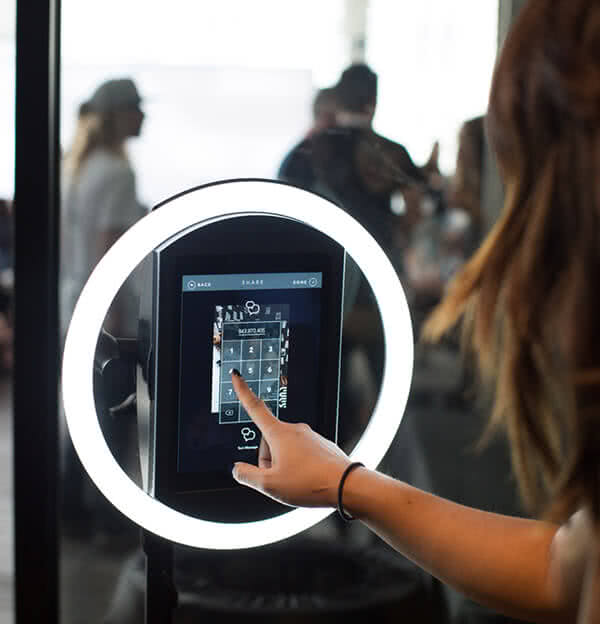 The classic.
If you've bought a standard iPad/iPhone photo booth, there's a big chance it came with an integrated ring light. It's for a good reason — they work really, really well. They're bright, usually warm/cool, and can illuminate the subject from all sides (horizontally and vertically) eliminating shadows.
Their continuous nature also makes sure that the subjects are always in focus.
Usually, the ring light that comes built into the photo booth shell will be enough. Especially if you're buying from trusted, high-quality vendors such as Simple Booth HALO (hey, that's us! 👋). But if you didn't know about HALO before buying one of the competitors, like Salsa Booth, that's okay. I heard some of their customers complaining in Facebook groups that their ring light doesn't always do the job. Lacks power. If that's the case, you can always add more side lights to your set, like LED panels, softboxes, and LED wands.
Setup #3: 360 photo booth with lots of lights
Booth: 360 video booth
Main light: 3-8 LED wands or LED panels
Side light: RGB LEDs
You've got two options with this setup.
Option one would be putting a ring light on the spinning arm. Possible, but I don't recommend it. It adds significant weight to the arm's end, increasing its momentum. Not only can this wear out the motor faster, but it can actually hurt someone.
If you're getting a 360 booth from Amazon with a shady-looking brand, it'll likely have a mounted ring light.
Option two is placing the lights all around the 360 booth. For this one, you'll need at least 3 lights, but I recommend 6 or 8, spread evenly in a circle. If you want the lights to show in the background, you can make do with LED wands. They're tall, vertical, and look epic in the backdrop. If you don't want them in the background, you can go for LED panels on high enough stands not to be seen in the video.
Best Photo Booth Lighting Equipment
Simple Booth HALO Hardware
The Simple Booth HALO® hardware is a modern iPad enclosure integrated with a powerful ring light. If you need great photo booth lighting, it's a turnkey solution.
The enclosure is aluminum anodized with satin: a sturdy structure that will keep your iPad safe and still. The LED ring light fully encompasses the iPad and emits 2,170 lumens of light to ensure that your subjects are well-lit for every photo.
Besides HALO, here are more ring light options to consider.
Best Ring Lights for Photo Booths
Best Quality Ring Light: IVISII 19-inch — $139.99
The IVISII 19 inch Ring Light is an incredibly versatile and high-quality light for photo booths.
With its 5400 lux of max brightness, fully adjustable from 0% to 100%, and a warm/cool range of 3000-5800 Kelvins, it will serve you well in any environment. It also comes with 3 colored diffusers—red, green, and blue—that will have your back in niche situations. The color rendering is top-notch, with a CRI of 97 and TLCI of 99, helping achieve a natural, healthy skin tone. It can be used either by itself, or with DSLR cameras, smartphones, or iPads — whatever your photo booth runs on. Despite its power, it is incredibly lightweight and sturdy and can work either with a long-lasting rechargeable battery or a DC adapter.
With its 4.6 rating on Amazon and 2,225 reviews, you can be sure you're getting a quality product.
Best Budget Ring Light: Herrfilk 13-inch — $49.99
The Herrfilk 13-inch LED Ring Light is an affordable light for photo booths that gets the job done.
With its 1200 lux of adjustable brightness and a color temperature of 3200–6000K, it's a bang for the buck. It has everything you need in a value-oriented product. It's compatible with most smartphones, tablets, and cameras, and even has a dynamic coloring feature for special situations. Although it promises superior stability, customers complain it doesn't quite prove to be as stable as expected.
Despite these drawbacks, it has a 4.3 rating on Amazon with 1,118 reviews.
Best RGB LED Lights for Photo Booths
Although RGBs have more color range, they aren't as bright as standard LEDs. They're good for artistic effects; but not for achieving natural, healthy-looking skin tones. Best used as side lights, if at all.
Best Quality RGB LED Light: GVM Video Light — $254.99
The GVM Video RGB LED Light is a great pair of RGB LEDs for photo booths.
Each light has a bi-color temperature between 3200K and 5600K and a brightness of 40W. The CRI is also very high at 97, providing a natural feel to the colors. The RGB panel can be controlled via an app, and its aerospace aluminum alloy casing helps dissipate the heat. It comes with an AC adapter as well as a Sony F750/970 battery.
It has a 4.5 rating on Amazon with 1,094 reviews.
Best Budget RGB LED Light: Aiknow 2 Pack — $48.99
The Aiknow RGB LED Light is an excellent pair of lights for photo booths.
Each light has a color temperature range of 2500–6500K and a brightness of 900 lumen, which is bright enough to light close sessions. It is also dimmable in the 10%–100% range. The power input is USB 5V/2A, making it great for on-the-go sessions as it attaches straight to phone charger battery packs.
It has a 4.3 rating on Amazon, based on 110 reviews.
Best Warm/cool LED Lights for Photo Booths
Best Quality Warm/cool LED Light: RALENO 2 Packs — $163.99
The RALENO 2 Packs Warm/Cool LED Light is an excellent choice for high-end photo booths.
This two-pack of lights features a color temperature range of 3200K–5600K and a CRI of 95+, ensuring great color accuracy. It's incredibly bright, with adjustable brightness from 0 to 100%, making it great for any situation. It runs only on battery power that's built-in and rechargeable, making it great for a portable photo booth. The only downside is that it does not come with a remote, so you will have to adjust the lights manually.
Despite this, it has a 4.6 rating on Amazon with 1,928 reviews.
Best Budget Warm/cool LED Light: NEEWER Advanced 2.4G — $64.99
The NEEWER Advanced 2.4G Warm/Cool LED Light is a great budget side light for photo booths.
It features a color temperature range of 3200K–5600K and a CRI of 97+, guaranteeing excellent color accuracy. It's incredibly bright, reaching 20W at 100% brightness, and adjustable at any level. It has a built-in battery, and it even supports charging while in use. The wireless remote control makes it easy to adjust the settings from a distance. The only downside is that it does not come with a tripod, so you will need to buy that separately.
It has a 4.5 Amazon rating with only 41 reviews.
Best LED Wands for Photo Booths
Best Quality LED Wands: GIJUANRING Bi-Color LED Wand — $99.90
The GIJUANRING Dimmable Bi-Color LED Wand is one of the best side lights for any photo booth.
It has a color temperature range of 3200K–5600K and a CRI of 96+. The brightness is adjustable from 10–100%, reaching 24W of output power at its maximum. It is super bright and will serve you well in any environment. The added bonus is that it also comes with a light stand, so you won't need to buy one separately.
It has a 4.6 rating on Amazon with 496 reviews.
Best Budget LED Wands: Hagibis RGB — $64.99
The Hagibis RGB LED Wand is a special side light for photo booths.
Although it has an adjustable warm/cool temperature range of 3200K–5600K, what makes it special is its 9 color selections. It also has a built-in rechargeable battery via USB, making it extremely flexible. The brightness is 1000 lumens, which is not the highest, but it is to be expected for RGB light.
It has a 4.6 rating on Amazon with 1,320 reviews.
Note: Hagibi RGB Wand doesn't come with a stand. I recommend the Amazon Basics 6.7-foot Tripod Stand, 2 pack for $40.41.
Best Softbox Lighting Kits for Photo Booths
Best Quality Softbox: Switti LED Softbox Video Panel — $244.95
The Switti LED Video Light Panel Lighting Kit professional-grade softbox for photo booths.
It features an ultra-wide temperature range of 3000K–8000K and an incredible brightness of 19000 lumens on 0.5m. The color rendering is also excellent, with a CRI of 96+, and the brightness is adjustable from 1–100%. It can be powered with an AC adapter (included) or a SONY NP-F battery series (not included), and it is even remote-controlled.
It has a 4.6 Amazon rating with 166 reviews.
Best Budget Softbox: YICOE Lighting Kit — $81.90
The YICOE Photography Lighting Kit is a softbox for photo booths that's a true bang-for-the-buck.
It features a color temperature range of 2700K–6400K and an adjustable brightness of 85W. The softbox is made with high-quality reflective fabric that will not leak light, and the head is 210° rotatable. It is also remote-controlled, making it easy to adjust the settings from a distance.
At its price point, it is no wonder it has a 4.6 rating on Amazon with 2,074 reviews.
Best Flashes for Photo Booths
Best Quality Flash: AlienBees B400 Flash Unit — $244.95
The AlienBees B400 Flash Unit is a high-quality product by Paul C. Buff, infamous for its excellence.
It has a power output of 150W and is internally fan-cooled for heavy duty use. The recovery time is incredibly fast, at 0.5 seconds to full power. It also has a wide range of colored exteriors to choose from to match your booth. I'd recommend using it with a softbox, in case you don't have an umbrella. One downside is that it does not come with a tripod.
You can't get better than AlienBees. It's an excellent flash that has rightfully earned its reputation.
Best Budget Flash: LimoStudio 160W Monolight — $81.90
If you don't have a lot of experience, LimoStudio 160W Monolight is a great first flash.
It has a power output of 160W, and a cooling vent to avoid overheating. The recovery time is rather slow at 1.5 seconds, and it doesn't come with a tripod.
Despite this, it is a great option for those who are on a budget and just need a reliable flash.
Effects Guide: How To Replicate Popular Photo Booth Lighting Effects
There's a lot you can do on the field to turn your photo booth enclosure into a party photo booth.
Apart from the basic photo booth equipment such as
photo booth props,
photo booth backdrop,
and the lighting,
you can emulate the high-end feel with some post-production special effects.
If your clients request a specialty set, here's how to do it.
The GLAM Effect
GLAM (aka. glamour) effect is used to emphasize a person's natural beauty; highlighting their facial features, clothing, and hairstyle. It's typically used to create a dreamy, romantic vibe. You can do it using a:
Soft focus lens
Very soft light (wide softbox is best)
Shallow depth of field to blur the background
Then tweaking the contrast and saturation post-processing for the finishing touches.
The Vintage Effect
Vintage effect, or "sepia," gives an aged, nostalgic look. Besides warm tones and lower contrast, it often features special effects like crumpled texture, wear & tear, and vignette. This is all done after the image capture, so all you need is a photo booth software that offers it as a digital image filter.
Black & White Effect
Black and white effect is made entirely in post-processing. But to prepare the image for the best outcome, you may want to try:
Lower ISO to reduce noise
Overexpose to create contrast
Use a wide camera setting to keep the background out of focus
When your image is ready you can use one of many black & white effects in your photo booth software.
Black and white filters are also perfect whenever colored light from the environment is messing with the skin tones.
Photo Booth Lighting FAQ
Which light bulbs make you look younger?
To appear younger, use bright, warm LEDs dispersed with a softbox.
Softboxes are great for diffusing light and creating an even, soft illumination that is flattering to the skin. The warm light will give the skin a youthful, radiant look. While the bright light will flatten out the appearance of wrinkles, shadows, and blemishes.
Ughhh, lighting equipment… there are SO many options on the market. If you're not careful, you can get equipment that's incompatible with your setup or make it feel cluttered. Forget all that hassle and invest in a fully integrated solution like Simple Booth HALO, with a powerful, versatile, and large enough ring light to serve you well in any situation.