51. Start a Photography Project
Starting a photography project is super easy!.
You can keep it as simple as you want by handing your phone over and letting your kid click away at whatever strikes their fancy. Or, check out some of the suggestions here for easy ways to boost creativity.
52. Build a Diorama
Dioramas look really cool and complex, but they're actually quite simple to make. All you really need is a sturdy box and some arts and crafts supplies.
Check out this guide that walks you through everything from painting the scene to adding decorations and final touches.
53. Make Macrame Plant Hangers for Your Herb Garden
Remember that herb garden you started in #4, above? Well, now it's time to create some macrame planters to show them off.
You'll need:
Yarn
Small ceramic bowls
Your plants!
Soil
Hooks for hanging
For a super easy pattern that even a 5-year old can master, check out this post from hello, Wonderful. For less of a mess, try these faux succulents.
Be sure to get some photos of the work in progress and more photos once everything's done and hung up!
54. Make a Popsicle Stick "Flower Garden"
This is a great activity to bring a bit of spring into your home. You only need a few supplies that are pretty easy to find:
Use green popsicle sticks as stems and leaves and create flowers using the other colors. This post shows you how to easily make tulips and a big yellow flower.
Once your kids have the flowers ready, put the green craft beads into the clear egg carton and stick the flower stems right in!
You can get really creative and add some bugs to your garden with these patterns. We love the egg carton ladybugs.
55. Learn How to Dance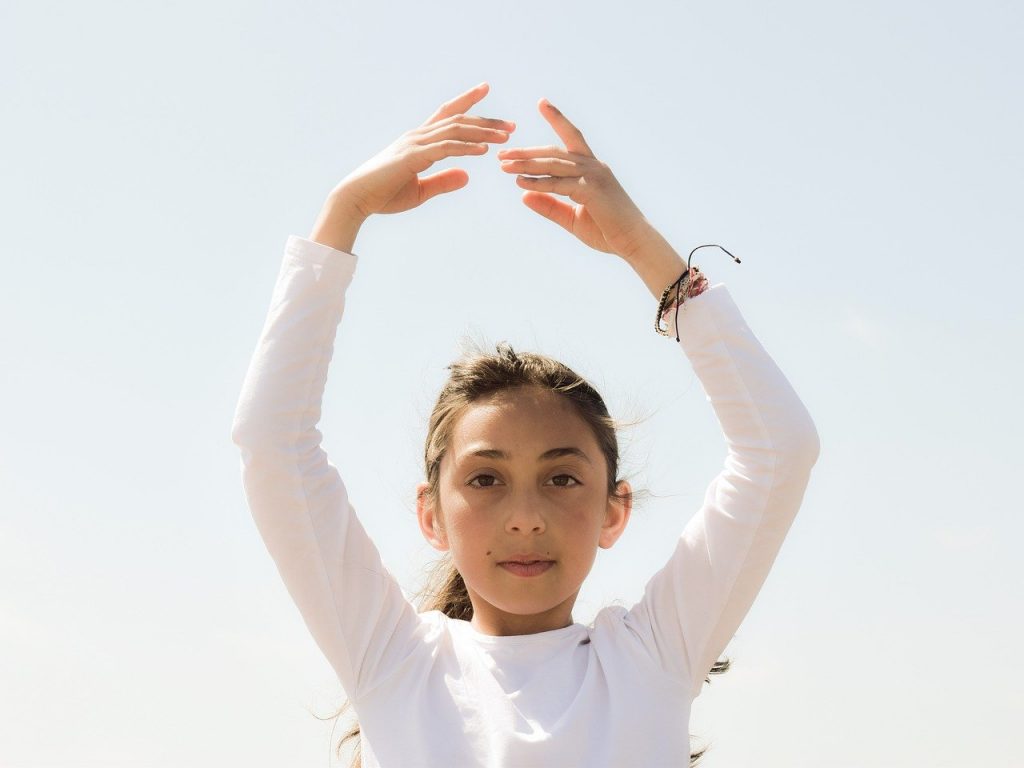 Dancing should be fun and easy. But, sometimes you want to bust out some killer moves.
Your kids will love learning how to dance with KIDZ BOP dance along videos.
56. Build a Terrarium
Terrariums are like little self-contained gardens and can be made in just about any glass container.
You'll need:
A clear glass container (anything from an aquarium to a glass bowl turned upside-down over a shallow dish will work)
Pebbles that fit the size of your container (so, larger containers need larger pebbles)
Activated charcoal (filters the water and prevents fungi)
Small plants of different colors, shapes, and textures that all thrive in the same environment
Your kids may also want decorative items to include, like terrarium moss, decorative stones, shells, pine cones, small toys, etc.
NASA has a great guide showing how to put it all together, but here are the basics:
Start with a layer of rocks
Add a layer of activated charcoal
Add potting soil
Put in your plants and decorative features
Terrariums are a lot of fun to make and look super cute when they're completed (very photogenic).
57. Make Picture Frames
Why buy frames for your photos when your kids will have so much fun making them?
You can make picture frames out of just about anything—even toilet paper rolls!
58. Build an Escape Room for Kids
Escape rooms give your kid a chance to use their brain to figure out solutions to puzzles and have fun doing it!
This site has an awesome guide to creating an escape room for kids at home, but here are the basics:
Buy a lock. One with a key is great because you don't need to reset the combination after every escape room challenge.
Set a goal. Brainstorm some setting and story ideas with your kids. Then, incorporate those stories and settings into different escape rooms.
Create clues and hide them around the room. If you have both young and older children, make sure to include some harder clues to keep the older ones engaged (and throw in some clues that aren't actually needed to solve the escape room).
Have fun!
59. Create Art From Empty Toilet Paper Rolls
If you were lucky enough to get your hands on toilet paper before it disappeared from the shelves, your kids will love transforming the cardboard tubes into a number of craft projects.
But be sure to check out Homelvr too—they have a great collection of ideas to use up empty toilet paper rolls.
60. Host a Family Trivia Night With the Kids
"This. is. JEOPARDY. I'm your host, Mom."
Trivia is fun, there's no doubt about it. With Jeopardy Labs, it's easier than ever to host your own family trivia night. There are some boards just for kids already created, or you can create your own.
Looking for something you can play with your kids? Trivial Pursuit has a family edition with separate kids cards and parents cards.
Of course, you can also just check out this awesome post from Parade with 101 trivia questions and answers.
61. Create Your Own Random Acts of Kindness Game
Teach kids responsibility by creating a Random Acts of Kindness game they can play in the safety of your house. Some ideas to try are:
Help their sibling clean their room
Give your parents a compliment
Help out with a chore that wasn't assigned to them
Put together a box of donations to donate
62. Make and Decorate a Fabergé Egg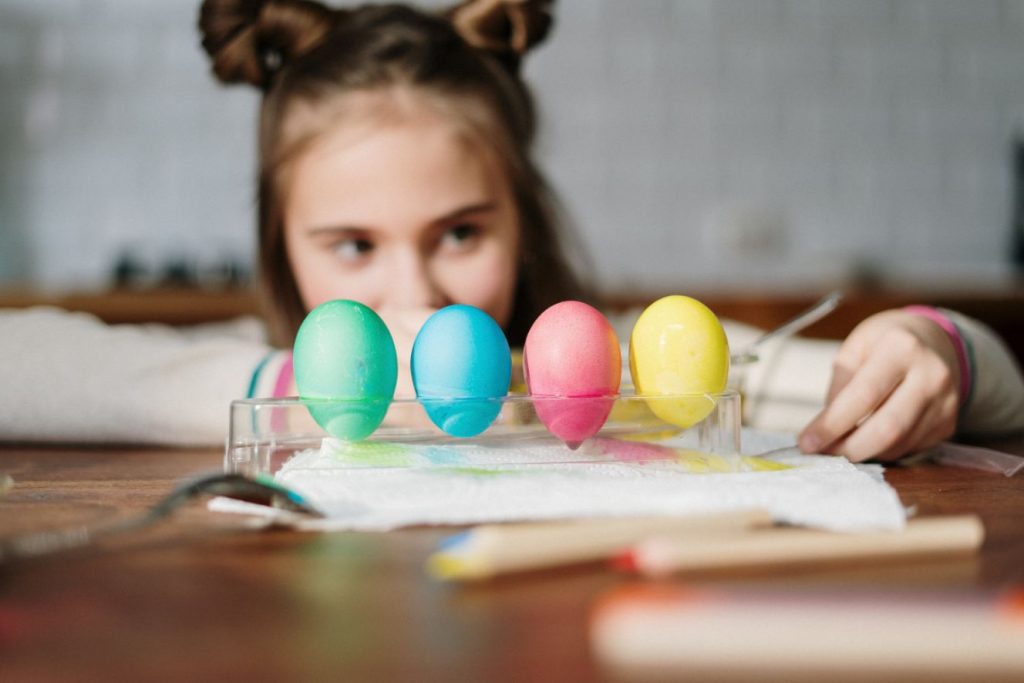 Fabergé eggs, or Imperial eggs, are basically really fancy Easter eggs created by artist Peter Carl Fabergé for the Russian Imperial family in the late 1800s.
These very special Easter eggs are a lot of fun to make! You can follow this guide for all the details, but here's what you need:
Eggs (or use fake craft eggs)
Large safety pins (if using real eggs)
Bamboo cooking skewers
Any water-based opaque paint suitable for kids
Paintbrushes
Craft glue
Glitter
Beads
Ribbon
Scissors
Glitter glue
Empty toilet paper or paper towel roll (to decorate and use as a stand)
A quick Google image search for "Fabergé eggs" will bring tons of examples you can use for inspiration.
Your kids will have a great time creating these beautiful crafts.
63. Take a Virtual Tour of the National Museum of Natural History
If you've never been to the Smithsonian, you're in for a treat. You could spend days there and still not see everything there is to see.
But even when the museum is technically closed, you can still take a virtual tour without having to travel to D.C.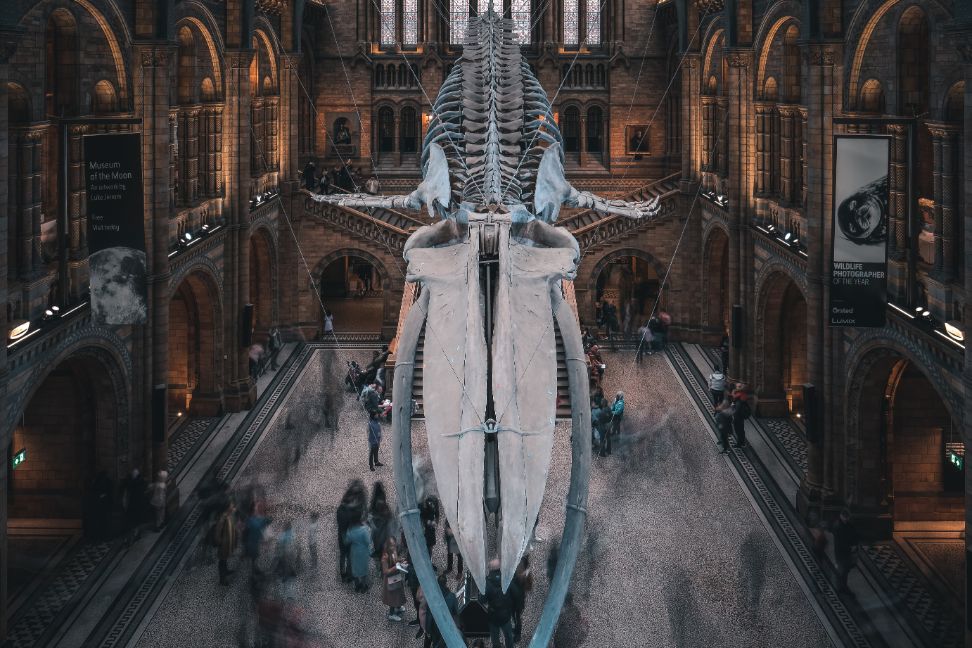 They currently have five different tours you can take online to learn about everything from dinosaurs to indigenous culture.
64. Play The Escape Game at Home
The Escape Game is a live, 60-minute "choose your own adventure" game where you follow clues and solve puzzles to complete a mission before the time runs out.
Fortunately for you and your little ones, they also have ways to play if you're stuck at home—either online or with their board game!
65. Go on a Virtual Road Trip
A virtual road trip is a great way to see some of the beauty of our world, even as things seem uncertain and scary.
Here are 10 virtual road trips you can take on Google Street View—from Alaska to Romania (there's even a zipline through the Amazon Rainforest; not a drive, but we're not complaining)!
Don't forget to take a break for family photos!
66. Take a Doodle Break
Doodling can be very therapeutic, for you and your kids. Take a quick doodle break with Lunch Doodles with Mo Willems on YouTube.
Mo Willems is a writer, animator, voice actor, and creator of children's books and is currently the artist-in-residence at the Kennedy Center.
He's quite a character and really engaging. Plus, the show is educational without being stuffy.
67. Have a Night at the Opera or Ballet
Looking for a bit of high culture while you're waiting to go back into the world? Have a night at the opera or enjoy a ballet with your kids from the comfort and safety of your home.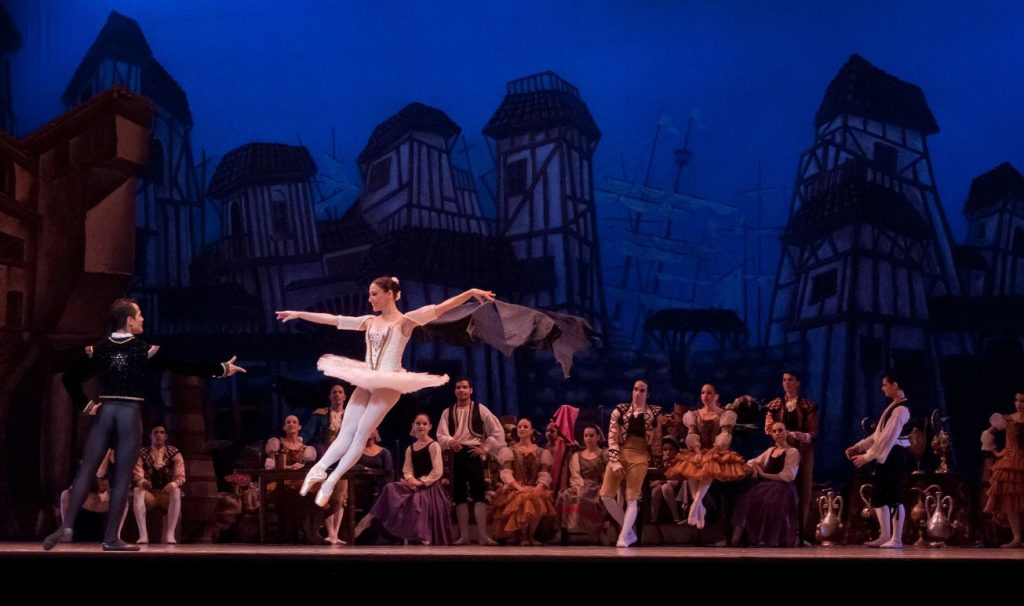 The Metropolitan Opera has closed its doors, but will be streaming an opera each night on its website.
And, Royal Opera House will be streaming both opera and ballet from its Facebook and YouTube pages.
Dress up in your best, take some family photos, and enjoy some of the best performers in the world.
68. Make Your Own Mancala Counting Game
Mancala is a counting game (or strategy game for older kids). It's been around forever… There's even evidence that the game was played in ancient Egypt!
While you could always buy mancala, we think it's a lot more fun to make your own. All you need is an empty egg carton, tape, and 48 pieces of anything—jelly beans, pebbles, beads, whatever you have handy!
Once you've got your mancala board created, it's time to play. You can find basic rules to the game right here.
69. Make Ice Cream in a Bag
Be careful with this one… Once your kids know how easy it is to make their own ice cream, there's no turning back!
Especially since it only takes about 5 minutes.
You can get a basic recipe here, but let your kids have fun with it.
And be sure to take lots of pictures before the sugar wears off and naptime sets in.
70. Set up an In-Home Nail Salon
An in-home nail salon is a perfect addition to a spa day with your kids.
You could go the single, solid color route, sure, but why not explore these nail art hacks to send your kids' creativity soaring?
Capture these tiny works of art with the Simple Booth app. Then, maybe just take the polish off and try another one for lasting fun!
71. Make a Piñata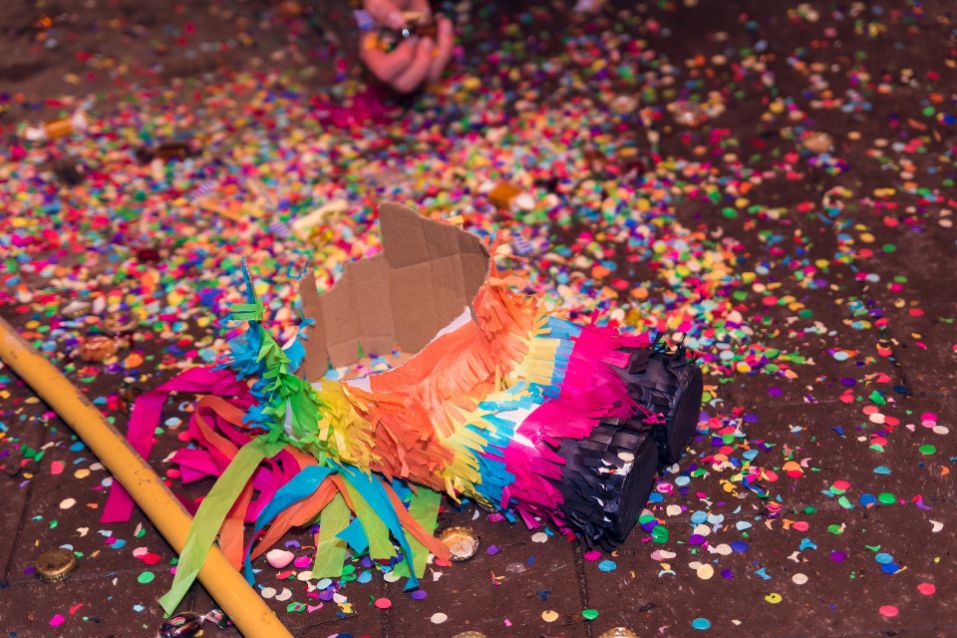 Piñatas are just so much fun to make (and destroy)! And, you really don't need much to create one.
It boils down to flour, water, salt, newspaper, a balloon (for a simple shape), and whatever you want to put inside.
Check out these ridiculously simple instructions to create your own!
72. Make Friendship Bracelets
Friendship bracelets are a great craft for kids of all ages since you can make them as simple or as complicated as you want.
Here are some easy friendship bracelet patterns for younger kids. Your older kids may want to check out this site with tons of more complex patterns to try.
Be sure to get pictures of their handiwork before these disappear to friends and family.
73. Have an Indoor Picnic
Having a picnic inside is unexpected and fun.
Get your kids involved in making food for the picnic (mini-pizzas and fruit kebabs are always good choices), spread out a blanket on the floor, and enjoy!
You could decorate with the popsicle stick flower garden (#54) for a quirky outdoor feel.
74. Make a Paper Fidget Spinner
Making a fidget spinner out of paper is surprisingly simple (it's basically origami with a bit of cardboard and a toothpick to finish). Plus, they look really neat.
Check out this YouTube video for instructions.
75. Host a Family Bingo Tournament
Bingo is fun for the whole family. You can print off bingo cards here and here.
From there, create the bingo numbers, cut them out, and use a simple shoebox to store the numbers.
Be sure to have prizes ready for the winners!
76. Play Volleyball or Soccer With Balloons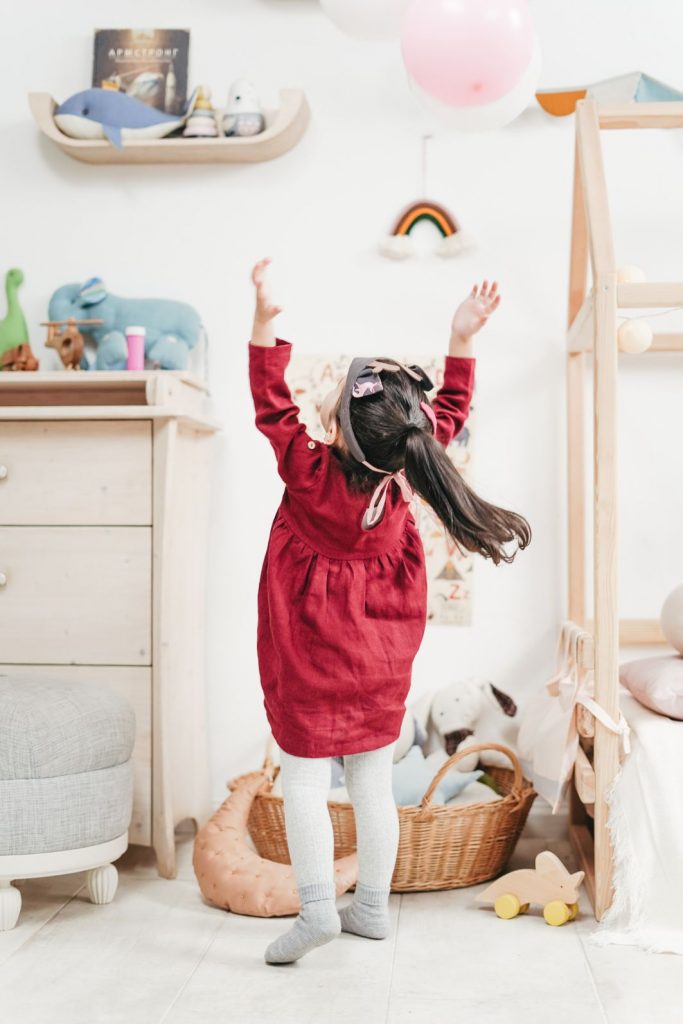 You've probably played balloon volleyball before. It's essentially all about keeping the balloon from hitting the ground.
Balloon soccer is similar, but, well, it's soccer, so no hands.
Both of these are a great way to get your kids active and having fun—even if they can't go outside and play.
77. Have a Pillow Fight
Pillow fights are good, clean fun… just use soft pillows!
Or, you can take a page out of Japan's book and think of this more as dodgeball with pillows.
Yes, pillow fighting is huge in Japan. There's even an All Japan Pillow Fighting Association.
78. Put on a Puppet Show
Puppet shows are another thing that can be as simple or as complex as you want.
You can help your kids build their own puppet theatre and make fancy puppets.
Or, use the back of your sofa as a stage and make puppets out of old socks.
Either way, your kids are sure to have fun and let their imaginations run wild.
79. Make Your Own Jellyfish
Jellyfish are so mysterious and cool. But, they also sting.
Fortunately, your kids can make their own jellyfish (that glow in the dark!) using just a few simple tools:
Paper bowls (heavy-weight)
White yarn
Painting supplies
Scissors
Zipper sandwich bags
Sharp pencil
You can find complete instructions here.
Don't forget to get pictures of the jellyfish in the dark!
80. Make Tissue Box Monsters
Tissue box monsters are a great way to use up empty tissue boxes.
All you need is:
Empty tissue boxes of any size
Googly eyes and other craft supplies (pom poms, popsicle sticks, etc.)
White cardstock
Black marker
Craft knife (optional and ADULTS ONLY)
Here are the complete instructions. You could even turn these tissue box monsters into puppets for your puppet show (#78)!
81. Build a Mini Banjo
Building a mini banjo is easier than you think. Here's what you need:
A jar lid (like from a jelly jar)
Washi tape and sequins (or other decorative supplies)
Duct tape
Craft glue
You can find the instructions here. Why not add these cardboard tube shakers and start a band?
82. Make Paper Jewelry
Paper jewelry is actually quite pretty. It's a far cry from the macaroni necklaces we used to make!
Here's how to make folded paper bracelets and paper bead necklaces. And all you need is:
83. Capture a Fairy
Fairy jars are absolutely beautiful and can work as night lights until the glow wears off.
They're also really easy to make. You'll need:
You'll want to get photos of these gorgeous fairy jars in a dark room to really appreciate them.
You can also watch this video for alternative method using glow in the dark paint:
84. Make Your Own Foam Paint
Foam paint adds a fun, 3D element to your kids' art. You can make foam paint with just three ingredients:
To make foam paint, just mix together equal parts shaving cream and glue in a ziplock bag. Add food coloring, seal the bag, and mix.
You can just snip off a corner of each paint bag and let your kids squeeze out the foam paint like icing.
Once they're done painting, set the art aside so the foam can solidify and dry overnight.
85. Create Your Own Temporary Tattoos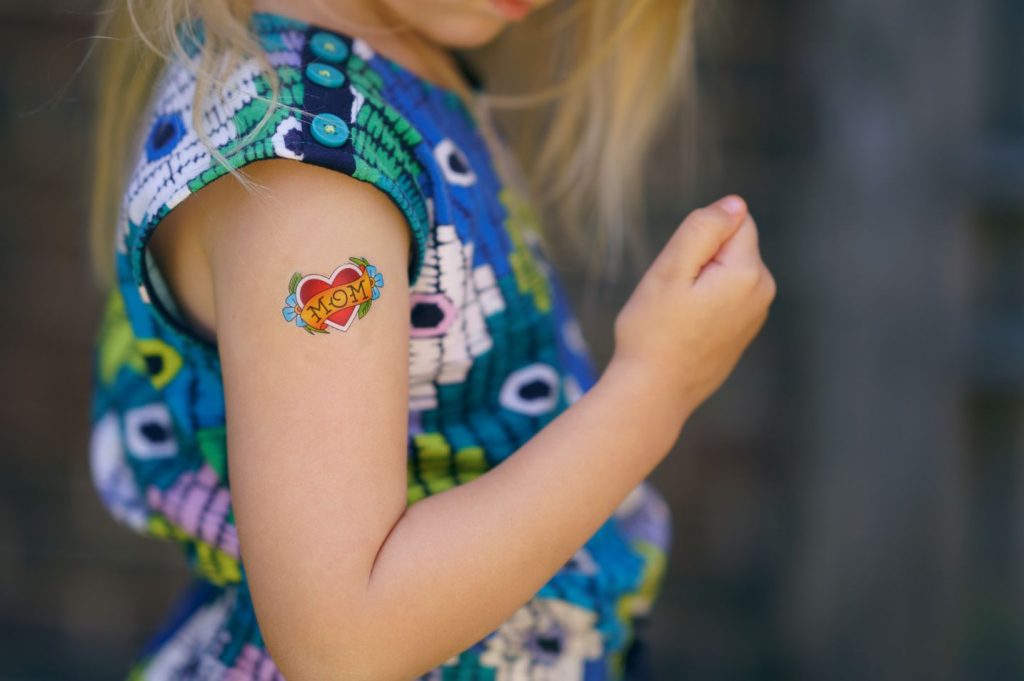 Kids are fascinated by temporary tattoos. Why not let them create their own using their own artwork?
You'll need:
Your child's artwork
Printer/scanner
You can print off some clip art and let your kid color it in, as well as add some art of their own.
Then, when they're done, either scan the artwork or take a picture of it so you can print it off onto tattoo paper.
86. Make Your Own Glow Bubbles
Your kids can make super cool glow bubbles with just a few things:
Before you get started, make sure that the highlighters are black-light responsive (the actual highlighter ink, not the barrel).
To make glow bubbles that don't need a black light, use glow sticks instead of highlighter ink!
87. Grow Your Own Crystals
Part science experiment, part craft, growing your own crystals is fun for any age.
With these instructions, your kids can create their own crystal decorations using pipe cleaners.
88. Create Story Stones
Story stones are a fun and interesting way to cultivate your children's creativity. Help your kids gather up stones and then paint or draw characters and objects on each one.
These rocks will become characters and props in a story your family can tell together.
89. Make Your Own Spiky Sponges for a Fun Water Fight
With just sponges, rubber bands, and scissors your kids can create sponge water bombs that are a lot easier (and less wasteful) than water balloons.
90. Have a Frog Jumping Contest
Help your kids create origami frogs that jump. Then, you can have contests to see which frog jumps the highest, have a frog race, or play one of these cool games.
91. Create Your Own Fairy Garden
Create a mini magic garden with just a few items:
To make it a true fairy garden, we recommend sprinkling glitter over everything when you're done!
92. Make Square and Triangle Bubbles With a Magic Wand
Did you know you can actually make square and triangle bubbles?
It's true!
You can find a complete walk-through here.
Your kids will love playing with these bubbles. And, maybe you can throw in a science lesson about tensile structures.
93. Build a Water Balloon Batting Station
Your kids will have so much fun with a water balloon batting station!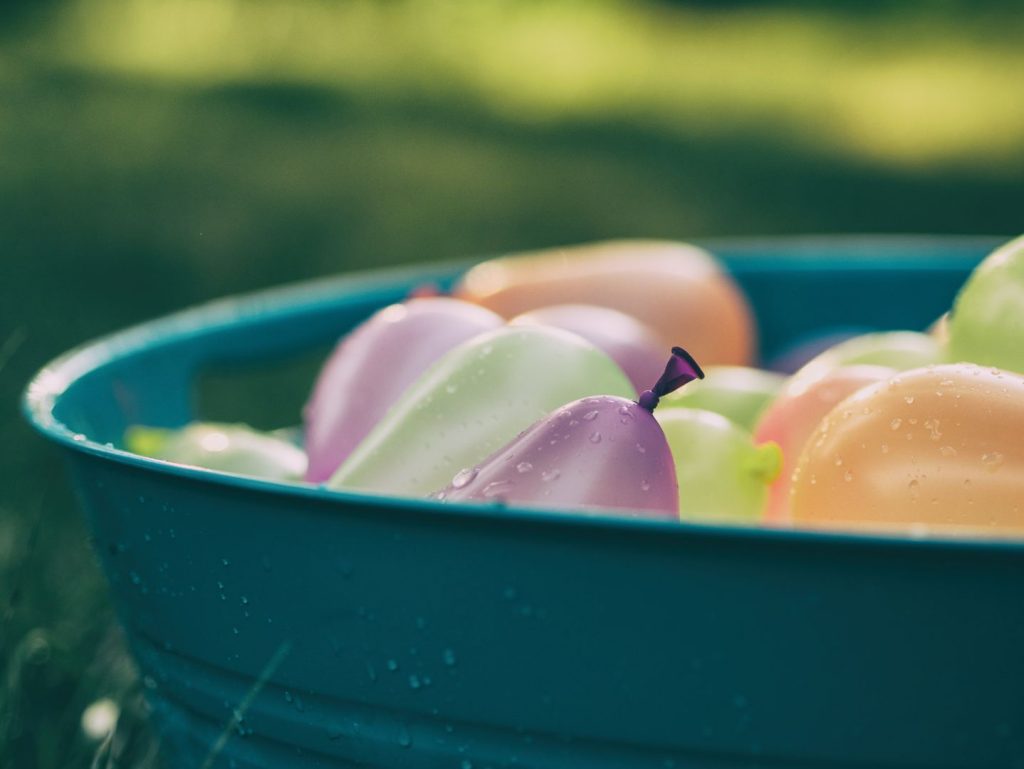 Enlist your kids to fill up several water balloons, grab some plastic baseball bats, and get to swinging.
94. Create Art With Bubble Wrap
You can create art with just about anything—including bubble wrap.
Your kids can create unique prints for wrapping paper, or use fabric paints to create a one-of-a-kind t-shirt!
95. Shoot Off Fireworks in a Glass (Don't Worry—It's Safe)
Fireworks in a glass?
This is a fun and educational experiment that your kids will come back to again and again.
You just need 3 things:
Here's how you do it:
Mix a few tablespoons of oil with different colors of food coloring and use a fork to mix it up.
Pour the oil and food coloring mixture into a glass of warm water.
Watch the colors swirl around like fireworks!
The science behind it:
Food coloring dissolves in water, but not in oil. So, stirring the food coloring in the oil breaks up the color droplets and drops that come into contact with one another will merge (yellow + blue = green).
Since oil is less dense than water, the oil floats at the top of the glass and as the color drops sink to the bottom of the oil, they mix in with the water, diffusing the color.
96. Build Your Own Skee Ball Game
Your kids can build their own skee ball game at home with some laundry baskets, balls (we like ball pit balls), and a cardboard box.
You can find the instructions here.
Make it even more fun by buying or creating prizes that your kids can win based on their scores!
97. Paint With Bubbles
There are pretty much endless ways to paint, but bubble painting is one of the most fun!
You'll need:
To create the bubble paint, mix 1 tablespoon of paint, 2 tablespoons dish detergent, and 2 tablespoons of water in each cup (with a different color per cup).
Now, use the straw to start blowing bubbles in the cups. The bubbles will eventually make their way over the top of the cup and you can put your paper over the bubbles to paint.
98. Create Nail Polish Marble Art
Put all those old nail polishes to work letting your kids create nail polish marble art.
Here's what you'll need:
A pan deep enough to hold enough water to submerge the item you're painting
Something to marble (start simple with paper)
Disposable gloves or nail polish remover (your kids are going to get messy)
From there, it's just a matter of pouring nail polish onto the water in your pan and swirling it around before dipping the item you're marbling.
99. Create Rainbow Bubble Snakes
Rainbow bubble snakes are fun and make for many a photo opp.
Grab an empty water bottle from your recycling and help your child cut the bottom off. Then, put an old sock over the end you just cut off and fasten it with tape or a rubber band.
Pour dish soap into a shallow container with a little water and mix it up. Add food coloring to the sock-covered end and dip the sock into the soapy water.
Blow into the mouth end of the water bottle and voilà—rainbow bubble snakes!
100. Make—and Fly!—a Kite
Did you know you can make your own kite with a garbage bag? Or, you can get a little fancy and make a kite using contact and tissue paper.
Whatever materials they use, your kids will love flying a kite that they made!
Stay Safe and Have Fun
As you can see, there's no shortage of things you can do to keep you and your kids occupied while you're staying safe and healthy.
And, with the Simple Booth app, you'll be able to share these awesome moments with the friends and family you can't see right now.
Which of these ideas are you going to try? Show us by using the hashtag #AtHomePhotoBooth when you share them on social media.
Above all, stay safe, have fun, and capture memories!