USA for UNHCR is the only US-based nonprofit dedicated to raising funds and awareness for the UN Refugee Agency (UNHCR) and plays a vital role in helping and protecting the 65.6 million refugees and people displaced worldwide by violence, conflict and persecution. Supporting UNHCR and its partners, it helps to provide refugees around the world with life saving essentials including shelter, water, food, safety and protection.
As a primary way to help refugees, USA for UNHCR raises awareness about crises that cause refugees and connects Americans to the work of UNHCR. One way it does this is through promoting UNHCR's global #WithRefugees Petition which advocates for refugees rights and sends a clear message to governments that that they must act with solidarity and shared responsibility.
In past years, UNHCR used a variety of methods to gather petition signatures, including iPads and collecting handwritten signatures – efforts later deemed unsuccessful by the team for many reasons, but largely due to the fact that manual transcription of email addresses is hugely time consuming and often impossible due to illegible writing. iPads also took too long for people on the go to enter in all their info, some of which included fake email addresses.
When the USA for UNHCR team heard about HALO photo booths and the data capture capabilities they provide, they immediately started thinking about how leveraging a HALO could significantly boost their outreach and engagement strategy. After speaking with the Simple Booth team, USA for UNHCR realized the photo booth would be a perfect fit for its involvement at the Meadows Music & Arts Festival in New York City, which will attract roughly 150,000 people across three days.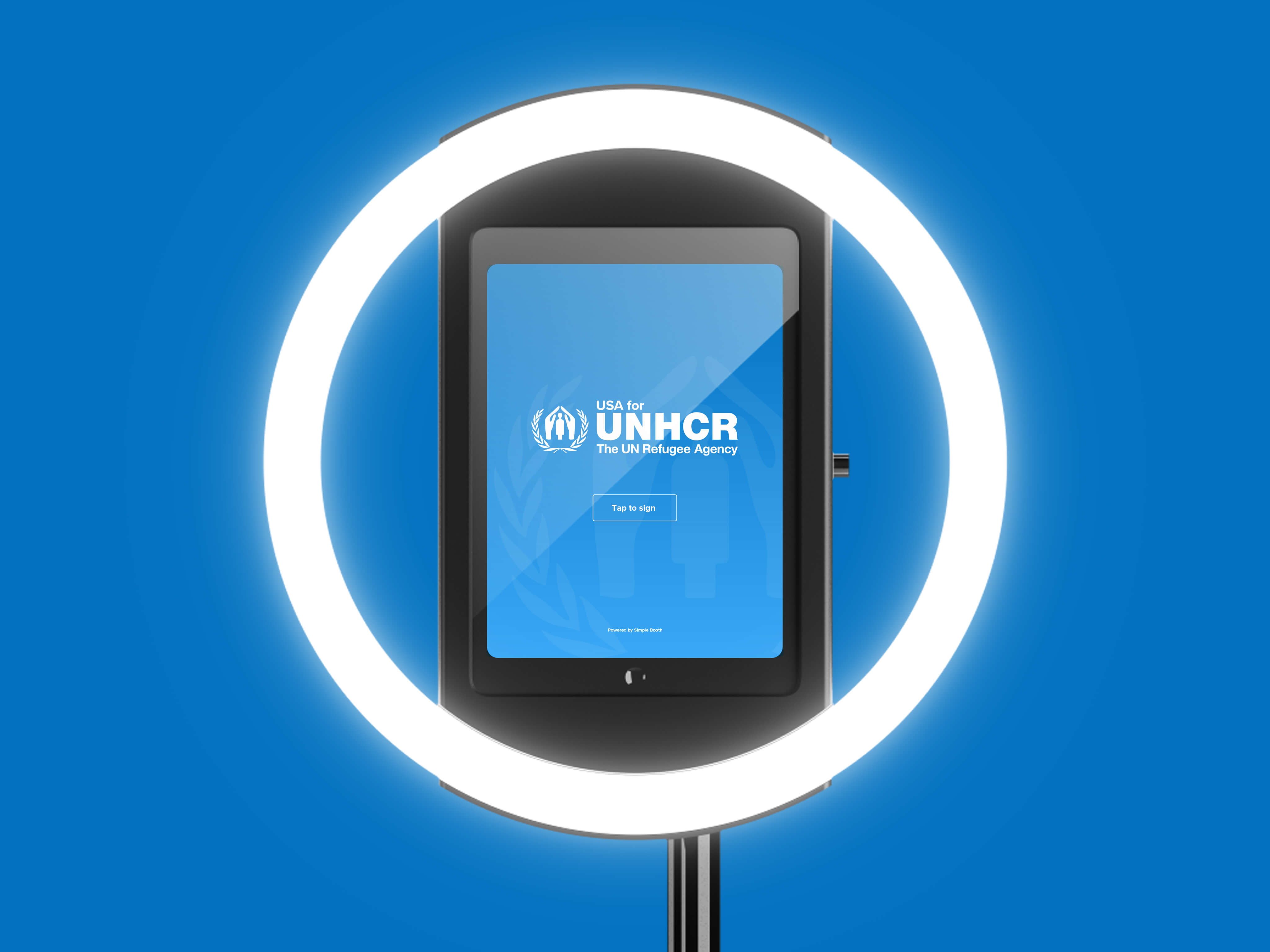 USA for UNHCR will be using two HALO photo booths at the arts and music festival to help provide a unique experience while adding fun and engagement to an important global cause.
The Simple Booth team is looking forward to helping an important cause with the social media outreach HALO provides and instant sharing with #WithRefugees. Petition signers will be able to take a photo and instantly share to their social media platforms to make it known they stand with refugees, in hopes that their social media followers will become aware of the petition and sign from their computer or mobile device as well.
USA for UNHCR will also be using the Simple Booth platform's messaging feature to send supporters a thank you email for their signature and also provide more detail on what the impact of their signature means. The signee will be able to educate themselves further on the petition and find out more about the current state of the global refugee crisis from links provided in the autoresponder. USA for UNHCR believes this method is more than just a photo; it's a way to authentically connect, engage and educate more people.
USA for UNHCR work is nonpartisan and in support of UNHCR and its partners. Supporters help provide the lifesaving aid, protection and shelter that refugees and internally displaced people worldwide need to survive now, as well as help with long-term solutions such as education and job training so that one day, they may return home or find home in a new country.
To find out more, you can visit the USA for UNCHR How You Can Help page. And if you're attending the Meadows Music & Arts Festival in NYC this weekend, make sure to find their booth and enjoy the experience!