How a modern photo booth gets new students to attend campus events
Do you find yourself wondering how to increase student engagement at your college campus and events?
Walla Walla Community College (WWCC) discovered they could use social photo booths to engage students at campus events—even students that wouldn't otherwise participate.
The college event idea that took off
WWCC rented a photo booth for their leadership convention and it was a huge hit. Everyone loved it! They wanted to recreate the same level of fun and excitement at student activities, but found it would be too expensive to rent for every event.
That's when they discovered Simple Booth HALO®, a mobile solution they could own that was easy to set up.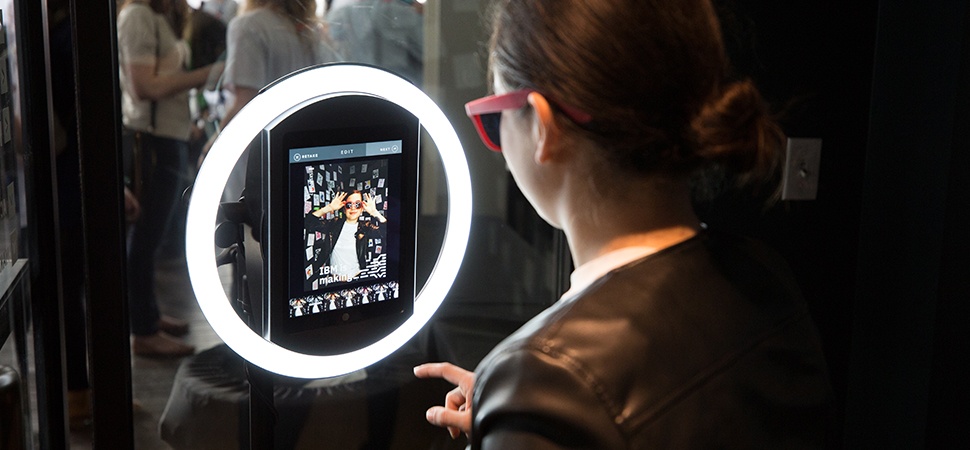 The Student Life team purchased their very own HALO, allowing them to scale the benefits of student engagement to more university events.
Current students all over campus started making meaningful connections and new friends just by taking photos together! It quickly became an essential ice-breaker that worked to get fellow students involved.
Participants would also share their photos online, meaning the student body didn't need to invite students as much to achieve the same turnout due to social media word-of-mouth.
If you want to bring more awareness to your college campus events and increase student engagement, then Simple Booth HALO is the perfect solution for you. Plug & play by nature – set it up in 5 minutes and watch as students promote your event by themselves.
Here's what the school had to say
We asked Vince, WWCC's Assistant Director of Campus Life, a few questions about how they use HALO around campus.
What problem were you trying to solve?
"At the time, we were hoping to make the events we were putting on more memorable. We had used a different style photo booth at a leadership convention and LOVED it. It was the focal point that night and everyone enjoyed using it.
HALO provided an easier way to advertise which brought more students to events.

-Vince, Assistant Director of Campus Life
So we wanted to incorporate that feeling at our events. HALO provided an easier way to advertise which brought more students to events. It made a fun and easy way to capture memorable activities or events on campus."
How did HALO impact student engagement?
"Because HALO is something new that you don't see very often unless you are at a larger event usually, people are really excited to use it. You are only at WWCC for two school years and for most, it goes by too fast. HALO increased our excitement around events.
We are able to engage students, no matter the age, who wouldn't normally engage with most of our activities or networking events.
We are able to engage students, no matter the age.

-Vince, Assistant Director of Campus Life
It also acts as an easy icebreaker for those who don't want to get involved or may not know how to get involved."
What is your favorite feature and why?
"Our favorite feature of the photo booth is that it instantly either prints or sends to the people in the picture via email, social media or text message. Also, how quick the process seems to be.
These factors are helpful for when we have large events and many people in line waiting for their picture. But also everyone seemed to enjoy the instant memory-making and how everyone could take a souvenir home from the event.
We also like the variety of layouts and displays you can use."
What are three benefits you've found using HALO?
"We have more than three…
Never gets old. You can participate when you want.
Effortless publication, the photo booth does the job of taking pictures of the students or people at an event and how happy they are to be there. Students and staff are excited to take a quick picture. The concept seems so different when the app is taking the picture instead of a person forcing you to say cheese.
It's age-friendly, so it doesn't limit itself to only being the "18-25 year old student."
Helps advertise our events and student government within the school and community.
Helps connect students to each other.
More convenient than a larger scale photo booth."
Why would you recommend HALO for campus events?
"It's a great investment and not challenging to use (user friendly). If you plan to have multiple events, and are having a difficult time engaging an audience, this is a great place to start and a good investment.
HALO is a simplified, more updated version of the old school photo booths that allow students to connect to each other and enhance the college experience.WWCC made a difference in their student activities and we believe you can too. Simple Booth is the tool to make it possible. Ready to increase student engagement campus-wide?"
And now, what about your college?
This fall your college campus will be buzzing with excitement as students return. You need a campus event idea that's beyond the ordinary. Any back-to-school event is a perfect selfie opportunity…why not capture that magic with the highest quality portable photo booth in existence?
With Simple Booth HALO®, your students get an interactive photo experience they'll love and you get ultra-sharable photos branded with your college name and logo. It's next-gen visual endorsement, and it's the Next Big Thing in college marketing and recruiting.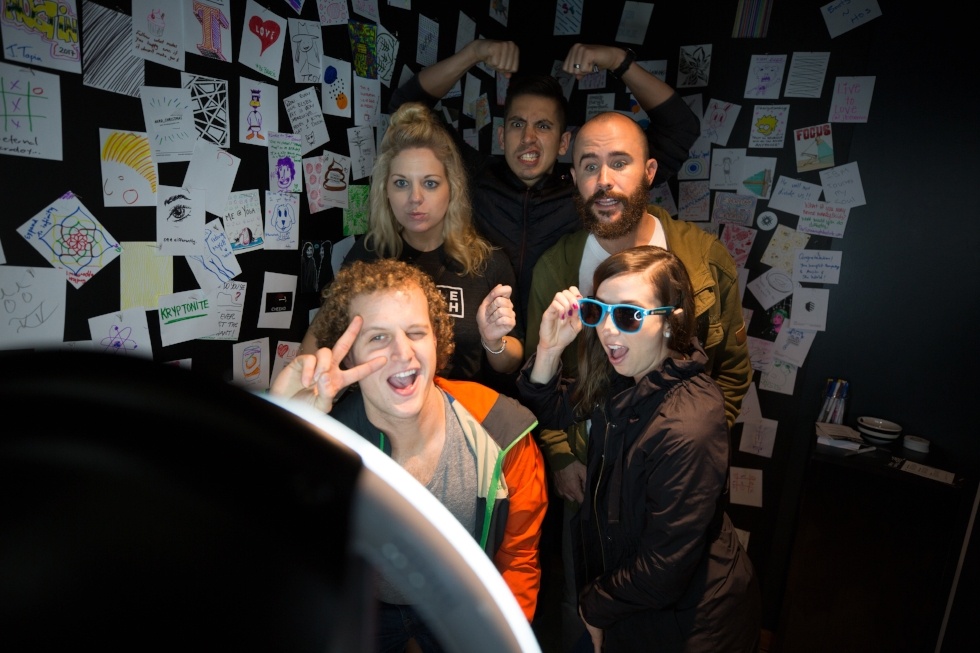 The sleek and simple HALO has such soft and beautiful lighting that it makes everyone look great. People are naturally drawn to the fun, and enthusiastic about bonding with classmates old and new. It turns an event full of strangers from dull or intimidating into an engaging, party-like-a-rock-star celebration.
Instagrammable & beyond
With Simple Booth, you get more than a selfie stand. In fact, you get a whole suite of digital tools to amplify your college events online:
The Simple Booth app for iPhone links your students' photos into their own personal feed from your events, to preserve those precious college memories forever.
The Live Feed app creates a cycle of engagement at campus events that spurs people on to take more photos, and create more shares. This leads to re-engagement and sharing long after the event is over. Your college stays top-of-mind with current—and future—students.
Virtual Booth even lets you design your own photo booth mobile app to put directly in the hands of students, faculty, and alumni!
Features that students & staff love
HALO has features that up the coolness factor by, like, triple:
Green screen background: Avoid messy backgrounds by providing your choice of digital creative backdrops.
Overlays: Add a unique frame that tells the story of your college.
Digital props: No need to buy actual props, you can simply choose from our digital library of props or create your own by uploading your themed graphics!
Photo moderation: Approve photos before they appear in your gallery (embarrassment avoided!).
Analytics: Track participant counts, number of shares, photo views, and demographic data. When your campus event was a hit you'll have the stats to prove it.
It's the ultimate word-of-mouth marketing tool
OK so HALO is fun, intuitive and shareable: the ultimate campus event idea.
But is it worth it?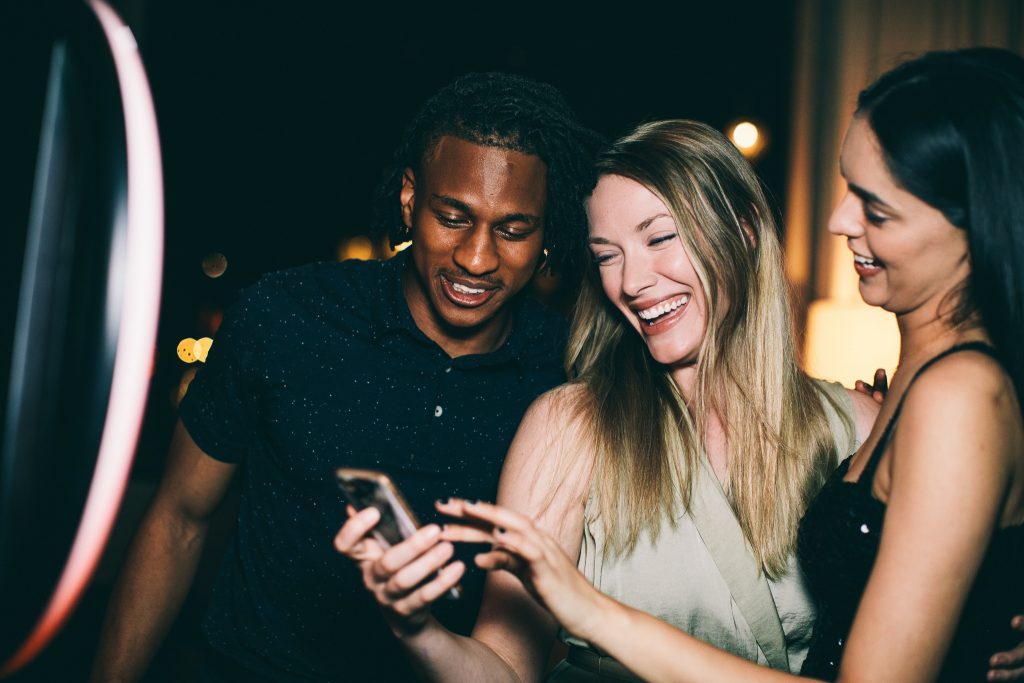 Think of your initial investment paying back 10-fold, due to the amount of organic social impressions your college will receive. A branded HALO photo is a new type of marketing and recruitment tool, with "word-of-mouth" endorsements from a prospective student's trusted social circle.
If even one prospective student is swayed to choose your college due to the visual endorsement of a friend, your return-on-investment is already there.
Priceless.
If you plan to have multiple events, and are having a difficult time engaging an audience, this is a great place to start and a good investment.

-Vince, Assistant Director of Campus Life | Walla Walla Community College
Read On: How Walla Wall Community College leverages Simple Booth for on-campus engagement
Bring your campus events into the digital age
There was a time when college event marketing could be done with flyers and brochures. Those days are over.
Contact us today about your own, dedicated HALO selfie booth, and put the campus on notice that the future has arrived.