Experiential marketing is a field of marketing that seeks to engage consumers with a brand by gaining their attention through interactive, creative, or unexpected elements to forge emotional connections and make memories. Experiential marketing campaigns are called "brand activations" when put into practice.
They may forget what you said, but they will never forget how you made them feel.

Carl W. Buehner
Surprising and delighting consumers in the context of your brand can make them more likely to recognize it in the future, become more loyal customers, and take specific action.
Why is it important?
Experiential marketing has many advantages that traditional advertising can't compete with. It's a win for both brands and consumers alike, here's why:
1. It's refreshing
Consumers are fatigued with traditional advertising and finding ways to avoid or block it altogether. A 2019 survey that found that 40 percent of the U.S. internet users surveyed use ad blockers on their laptops, and 47 percent said they'd "prefer to block all ads completely" on mobile devices.
Experiential marketing provides a much-needed alternative approach. It gives consumers what they want while allowing brands to make a lasting impression that strengthens customer loyalty and brand recognition.
A Cornell University study revealed this intriguing information in the Journal of Consumer Psychology in 2014. According to lead researcher Dr. Thomas Gilovich, experiences bring more enduring happiness partly because they enhance long-lasting social connectedness.
We feel more compelled to talk about our experiences and we get more out of doing so. Talking about experiences, furthermore, tends to be more socially rewarding as well.

Dr. Thomas Gilovich in Journal of Consumer Psychology
According to a 2018 EventTrack survey, 91 percent of consumers say they have more positive feelings about a brand after attending a live event or experience. It also found that 85 percent of consumers are more likely to purchase a product or service after a live event.
2. It's viral
The resulting word-of-mouth from experiential marketing isn't guaranteed, but it can be massive. You don't have to participate directly for experiential marketing for it to make a lasting impression.
For example, do you remember the Ice Bucket Challenge? It was an experiential marketing stunt that reached millions of people, from your average Joe to former President Obama. People who accepted the challenge dumped a bucket of ice-cold water themselves (or someone did it for them) on video in order to bring attention to the disease Amyotrophic Lateral Sclerosis (ALS). Over 2.4 million videos of the challenge circulated Facebook, leading to hundreds of millions of videos, and over $220 million in funds raised.
3. It turns customers into promoters
Experiential marketing drives word-of-mouth marketing and content generation. You may have many great customers who, when equipped with a compelling story to share, will happily promote your brand to all their friends, colleagues, and social media followers. According to a 2016 EventTrack report, 98% of consumers create digital and social content at events and experiences… and 100% go on to share these experiences.
Given that 92% of consumers trust user-generated content more than traditional advertising, marketers can't afford to ignore opportunities that generate organic, shareable content.
4. It can be a data gold-mine
Experiential marketing is a powerful way to collect first-party data from your audience, which is becoming more important for advertisers as privacy laws tighten and cookies get blocked. Consumers are more inclined to provide their contact information in the context of an experience, when they feel they are getting something valuable in return.
Quick Statistics
77% of marketers use experiential marketing as a key part of a brand's advertising strategy. Event Track
Companies that earn $1 billion annually can expect to earn an average of an additional $700 million within three years of investing in customer experience. Temkin
CMOs spent 21 to 50 percent of their budget on experiential campaigns in 2017. Freeman
Types of Experiential Marketing
Experiential marketing comes in in many sizes, shapes, and formats. That's great because it can be applied to almost every business and budget. On the downside, so many choices can be overwhelming at first. To help you decide the right experiential approach for your brand, we're going to take a look at 7 of the most common types of experiential marketing.
1. Event Marketing
People often use the terms "event marketing" and "experiential marketing" interchangeably, but there are subtle differences. Experiential marketing is frequently conducted through events—but not all event marketing activities are experiential.
Event marketing can involve sponsoring events, displaying signage, distributing SWAG, running an exhibit at a trade show, or otherwise presenting at events. None of these things inherently create a memorable experience for participants, but they can often be elevated to do so, especially when it comes to exhibits.
To make an event experiential, follow our five keys to planning a successful brand activation.
Experiential Spotlight
Honda provided an example of experiential event marketing at the 2013 Los Angeles Auto Show. Rather than simply put their vehicles on display, they created a digital scavenger hunt that awarded guests Honda SWAG as they participated.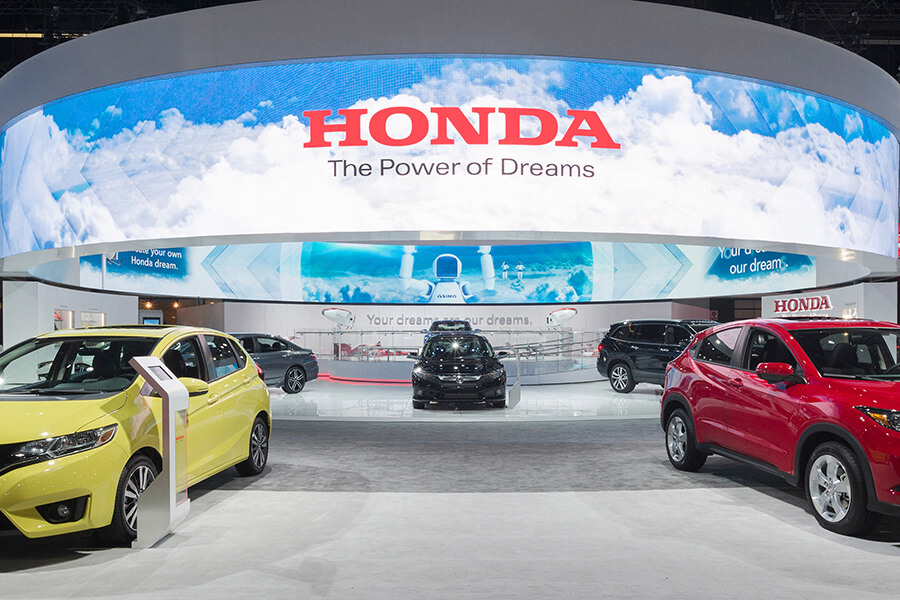 They also built a "Dream Machine" cannon would take selfies of participants with Honda products, representing their dreams, and shoot it onto a 100-foot digital wall in the showroom with the slogan "Your dreams are our dreams." Honda reported a 50 percent increase in dwell time and a 40 percent increase in dealership contacts over the year prior.
2. Pop-Up Activations
The concept of a pop-up shop began to gain worldwide traction in 2004 when the Japanese brand Comme des Garçons surprised consumers in Berlin with a temporary store. Since then, the idea has spread like wildfire with many different brands staging pop-ups—everywhere from airports, to farmers' markets, to inside other stores.
Pop-ups generate buzz because they are only available for a limited time. Brands can test new products on a small scale, or attract the attention of a new demographic by springing up in a different location. Thanks to its temporary nature, the overhead cost is minimal, and there's no long-term commitment, reducing risk.
Because pop-ups are becoming more commonplace, doubling down with a more unique and immersive component can help you get you noticed.
Experiential Spotlight
The e-commerce brand Bark & Co, a retailer of dog-related products, dazzled New Yorkers with their 2016 pop-up experience called BarkShop Live. The brand popped up in Manhattan for one week, inviting dogs (and their humans) to try out their dog toys in person.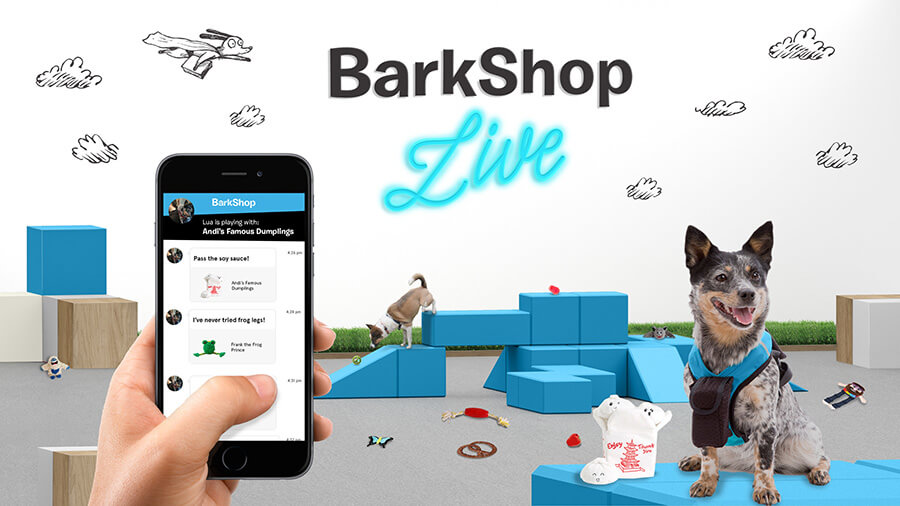 The brand elevated the experience by fitting participating dogs with RFID-enabled vests that tracked the toys each dog played with most. Dog owners were given proof of exactly which toys their dogs loved—how could they say no to purchasing them at that point?
3. Stunt Marketing
Watching a stunt unfold can be quite the experience. Stunt marketing involves staging a bold or newsworthy activation in public. From April Fool's Day product launches to trolling competitors with ads, it's a classic way for brands to grab quick media attention. There is always the risk of a flop, but the upside can be sky-high.
Experiential Spotlight
Virgin Cola had become wildly successful in the UK and to launch it in the US, Richard Branson wanted to make a big statement. He set up a publicity stunt where he drove down Times Square in a tank, smashing tons of Coca-cola cans as he went. But that wasn't all he had planned.
The night before, their team had secretly rigged pyrotechnics on the Coca-cola billboard. When his tank arrived in front of the sign, it appeared to fire and blow up the Coca-cola sign. Nobody was expecting such a show—it left everyone was surprised and talking about it. Ultimately, Virgin Cola lost to Coke. But they had a strong start.
4. Guerrilla Marketing
Brands use guerrilla marketing to reach the consumer through unconventional, unexpected, and often low-cost means.
Common forms of guerrilla marketing include brand ambassadors on the ground, art installations, flyers or posters, and street art, such as chalk drawings, paintings, and stencils of logos or mascots.
This isn't a form just for smaller brands. McDonald's famously turned a crosswalk's yellow stripes into a container of fries. The Casino of Venice in Italy painted a baggage claim conveyor belt to resemble a giant roulette wheel. According to reports, visits to the casino increased by 60 percent after this installation.
Experiential Spotlight
As both a brewery and pub, Greene King was concerned about the growth of corporate-owned drinking spots in the UK and launched an experiential guerrilla campaign to reveal the importance of the local pub. Brand ambassadors went to 50 pubs around the country, gave pub owners, patrons, and bartenders handheld cameras, asking them to talk about why pubs are special.
The brand transformed these videos, made by their own consumers, into a touching YouTube video called "To The Pub." The ad won "Best Advertising Campaign" in 2016 at the Beer Marketing Awards. They were able to engage consumers in an experience (filming your own pub experience) and mesh it with guerrilla marketing (low-cost, ground-level effort) to create an incredibly authentic and relatable marketing piece.
5. Photo Marketing
Our brains are hardwired to comprehend images quicker than text. According to a study by the Massachusetts Institute of Technology, it takes a mere 13 milliseconds to process an image, and 100 milliseconds to grasp its meaning. People process visuals a mind-blowing 600,000 times faster than text.
Instagram alone has over 450 million photos with the hashtag #selfie. If people love to take selfies, that means it's an opportunity for businesses to be part of the user-generated content in ways like:
Signage with your hashtag to help tag posts
Selfie walls with bright colors and catchy slogans
Lighting that makes for better photos
Making group pictures more convenient with a touch-screen selfie station
Apply branding to the photos (such as a logo or photo overlay)
But taking pictures is not just about the social shares. It's about the experience, too. Selfie stations and photo booths provide an excuse to let loose and be goofy—especially when prompted with multiple poses or with technology that can capture unique media like GIFs or looped video.
Experiential Spotlight
SPiN is a bar, restaurant, and ping pong social club with locations across the US. Their marketing team wanted to heighten the customer experience by helping them capture their fun with photos. They installed Simple Booth HALO, allowing guests to take selfies quickly and easily with SPiN branding.
To make the experience more unique and shareable, they filled a bathtub with branded, bright orange ping pong balls. Customers can literally immerse themselves in the symbol of the SPiN brand, making for a consistently popular installation.
6. Digital Experiences
Brands can create memorable experiences by associating themselves with new technology and helping consumers try it for perhaps the first time. Two popular examples of this are virtual reality and augmented reality.
Virtual Reality
Virtual Reality uses headsets to simulate a 360-degree view that completely immerses the user in a digital world. Countless brands are using VR to bring consumers into the heart of their brand and give
VR Experiential Spotlight
To launch their new hiking shoe, Merrell designed a virtual reality world in which consumers could experience extreme virtual hikes. Using motion-capture technology, the users could explore treacherous terrain, creaky wooden bridges, and even "mini-crises" such a landslides and rock falls.
The experience included tactile elements, including real-life rope walkways and shaking wooden planks underfoot to make it feel real. With this experience, Merrell allowed their outdoorsy consumers to enjoy an adventurous hike while showing the kinds of terrains their rugged footwear could endure.
AUGMENTED REALITY
In contrast, augmented reality (AR) is software that superimposes a computer-generated image on the user's view of the real world, resulting in a composite view.
Pokémon Go, is a classic example of an augmented reality where players could catch virtual Pokémon characters that were hidden in real locations. The app was downloaded over 650 million times and generated over a billion dollars in revenue.
Brands who harness the potential of AR for a marketing experience can leave a lasting impression on consumers.
AR Experiential Spotlight
Ben & Jerry's leveraged AR to deepen the customer experience on their annual Free Cone Day in Australia. Using the Shazam app, customers waiting in the inevitable long lines for their free cone could scan audio-, visual- or location-enabled points to receive interactive, educational, and entertaining content about the brand.
For example, customers learned that the brownies in their Chocolate Fudge Brownie ice cream are made by a New York City bakery that hired and trains low-income and homeless members of the community. By doing this, Ben & Jerry's was able to turn a boring moment in an exciting event into a fun and emotionally-evocative experience.
7. Experiential Installations
Installations allow for multi-sensory experiences that can be interactive, artful, and highly effective in engaging consumers. They can draw a crowd of onlookers or be exclusive and require reservations.
Oftentimes, they can be packed up and moved to different cities so that they can be promoted as "limited time" and also draw a larger audience throughout the whole campaign.
Experiential Spotlight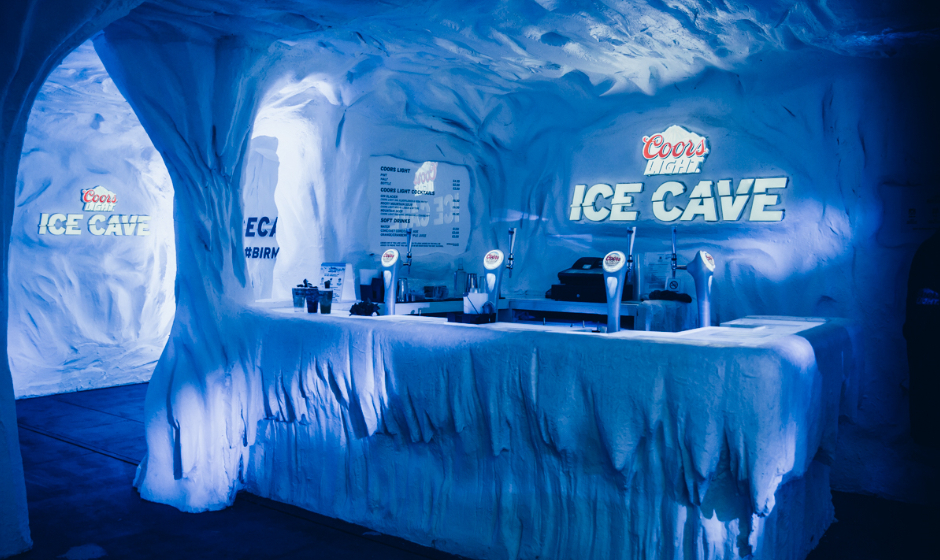 Coors Light brought their "The World's Most Refreshing Beer" slogan to life when they created the Ice Cave Rave. Dance music, arctic coats to keep party-goers warm, a bar made of ice, and plenty of Coors Light kept the vibe flowing. A Simple Booth HALO® selfie station installed in the space allowed participants to capture it all on camera and share it instantly. The Ice Cave appeared in various cities throughout the UK in 2016 and was so popular Coors did a reprisal tour the following year.
Experiential installations should be set up in areas with high foot traffic. Don't forget to add a branded hashtag for the installation so that when people take pictures (as they will), they'll have a good reason to share these photos on social media, and you can keep track of them.
Conclusion
We hope that you've gained fresh insights into what experiential marketing is, why it's important, and that your mind is now churning with exciting new experience ideas to thrill your customers and differentiate your brand.
Read On: 17 of the Best Experiential Marketing Examples
Discover how the Simple Booth selfie platform can elevate your events, smash your performance goals, and boost your marketing strategy.