Five years after they launched in 2010, Deep Eddy Vodka became one of the fastest-growing spirits brands in the US. What does an ambitious startup do when they have great products, a compelling brand, and a growing customer base? They double down—which is exactly what their field marketing team did.
They outfitted a spectacular setup for events and festivals, including a fully-equipped Airstream mobile bar, cocktail tables, a lounge to hangout, and eye-catching LED signage. The crowds loved it and lined up to sample the products.
People would come and drinks were served… but something was missing.
How could they transform the experience to make it more engaging, memorable, and increase the chances of earning online shares and social engagement?
Finding a photo booth platform
Deep Eddy Vodka had already built a national presence at festivals and events when they contacted Simple Booth in 2016 to add digital photo booths that could deliver high-impact, interactive experiences for consumers.
According to the National Marketing Manager, Jason Merz, "We needed to integrate a turnkey activation element into our existing field marketing efforts."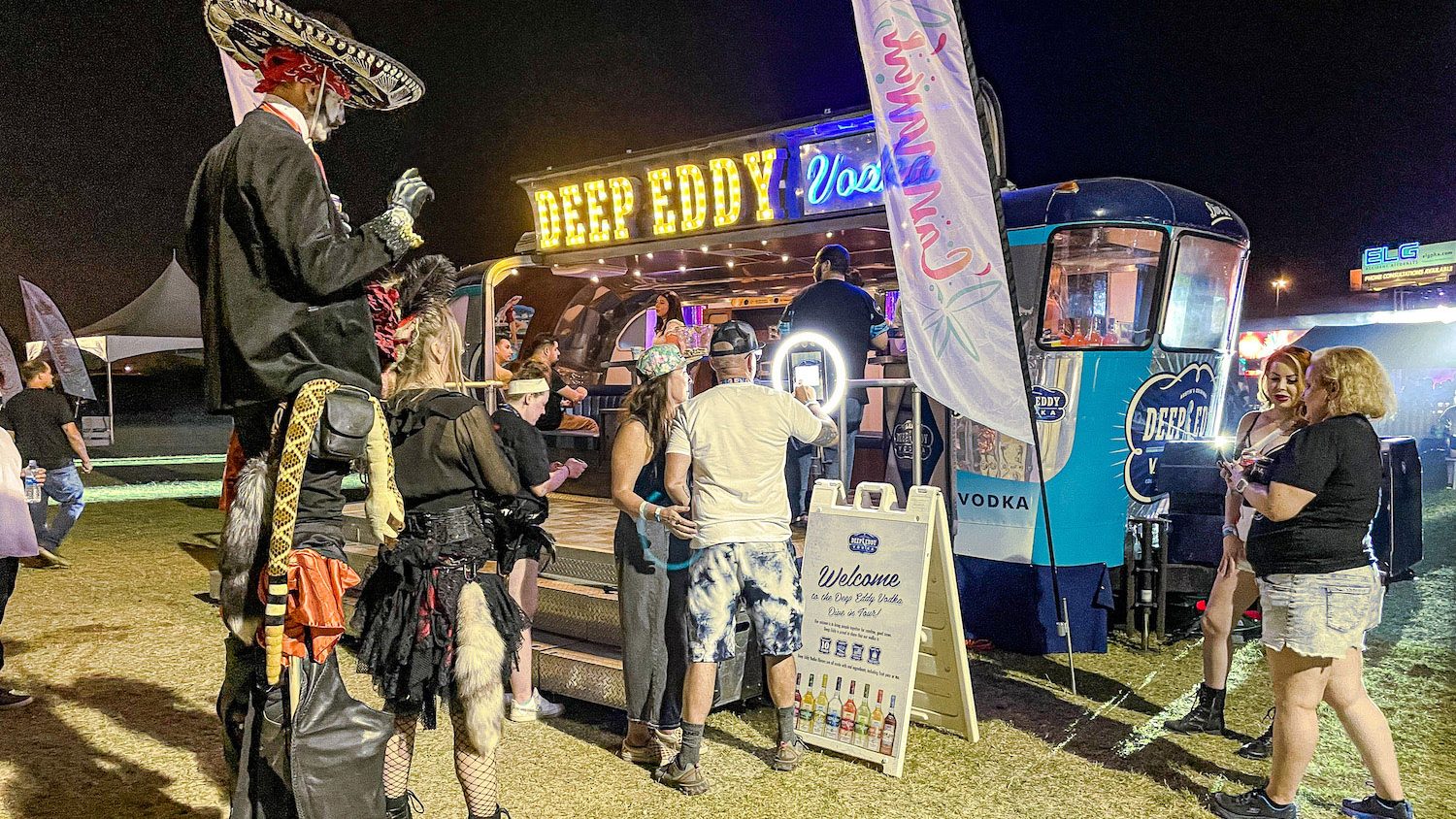 Adding Simple Booth HALO® to their event lineup was a no-brainer. People could walk up, take a picture, share it, and the best part: it didn't require any additional staff for Deep Eddy to offer it. It became an instant game-changer. To this day, their initial investment in photo booths continues to work hard for them at every field marketing event.
"HALO is simple to set up and dynamic enough that we're able to apply it in a multitude of different environments. We don't have to staff this with an onsite ambassador to ensure an easy, approachable, and intuitive customer experience."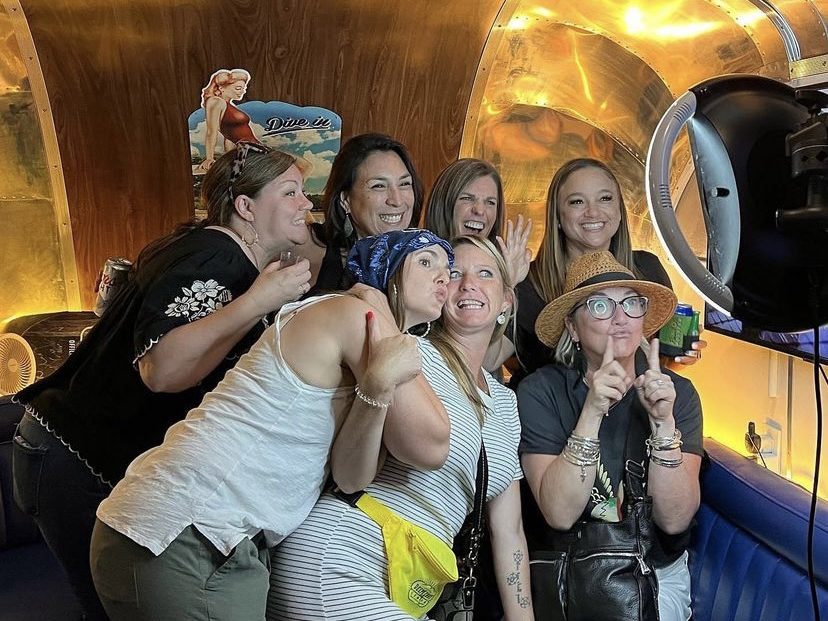 Expanding the reach of events
Suddenly, hashtags like #DeepEddyVodkaRocks and #DayDrinkResponsibly sprang to life on social media. All their field marketing efforts were amplified through photos, GIFs, and boomerang-style videos of people having the time of their lives—framed flawlessly by Deep Eddy Vodka branding.
Instead of being limited to a transactional in-person experience, the reach of field marketing activations blew up to include the social networks of every participant that shared a photo. These photos work as the ultimate social proof, continuing to generate branded impressions, views, and comments in the days following an event. They can even pop up years later, resurfacing as memories on Facebook and other apps.
In terms of the cost, Simple Booth is less expensive than outfitting a mobile bar, buying a trailer, and other inputs. At the same time, it has an outsize impact on the marketing results.

The Simple Booth platform tracks all the key metrics and serves them up for easy reporting. Below is a snapshot of the earned social shares for Deep Eddy Vodka, which includes almost 10,000 Facebook shares (verified link posts through the Facebook API) and 4,000 share button clicks for Instagram. Altogether, that's over 14,000 social shares. Amazingly, this undercounts the true ROI, since people can also download their photos and share them separately.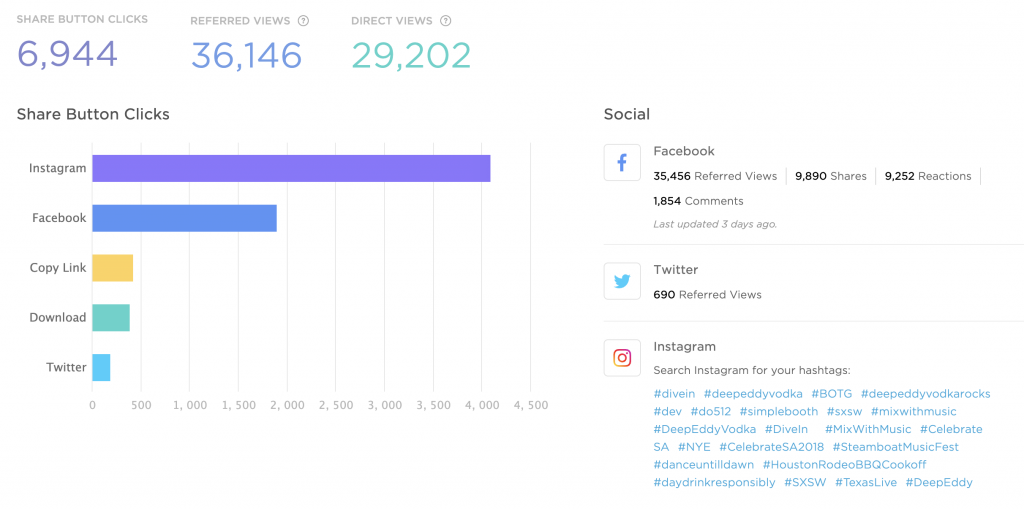 And the smiles on faces when they see their photos? Priceless.
Helpful tools for field marketers
Whenever they book a new field marketing event, a Deep Eddy Vodka manager hops on to the Simple Booth web dashboard to set everything up in advance with ease. Their design team creates a fresh photo overlay for each event to ensure a relevant and memorable keepsake—all uploaded remotely in the dashboard and synced to onsite devices from the cloud.
Simple Booth apps and hardware are the top choice for field marketing teams because of our comprehensive suite of tools to engage customers, grow an online presence, and capture and manage data for marketing purposes. Powerful features like Age Gate equip brands in regulated industries to stay compliant by only offering photo experiences to consumers of legal age.
Deep Eddy Vodka is not alone–businesses like Pernod Ricard, Constellation Brands, T-Mobile, and thousands more trust Simple Booth to power their marketing activations.
We offer everything businesses need to level up your next event in the field, including modern photo booth hardware, enterprise-grade software, and incredible customer service to help you hit the ground running.
Ready to see how Simple Booth can engage your customers, promote your brand, and even grow your marketing list?