We are excited to announce that a new update is available on the App Store for the Simple Booth Event Edition app! Version 4.0.0 comes with a vast set of improvements to existing features, as well as a brand new feature we can't wait to reveal.
Settings are now easier than ever to configure, sharing was simplified to be even faster, and just wait until you hear about the new Galleries. We know you'll love the new Event Edition just as much as we do, so let's dig into the details!
Note: Since this article was written in 2016, Simple Booth Event Edition has been renamed Simple Booth Classic.
Share Effortlessly
Our first set of updates affects sharing. Facebook and Twitter have been moved from the share screen to your online Gallery. You can leverage the powerful new improvements we made to Text Message and Email sending for guests to share faster and easier.
In the olden days, a guest would have to stand at the booth and try to remember their username and password. Now it's truly simple. They get a text or email to their phone and can share to their favorite social media instantly because they are logged in on their device with single sign-on.
Email and Text Messaging can both be queued offline in case you don't have internet access or your connection is slow.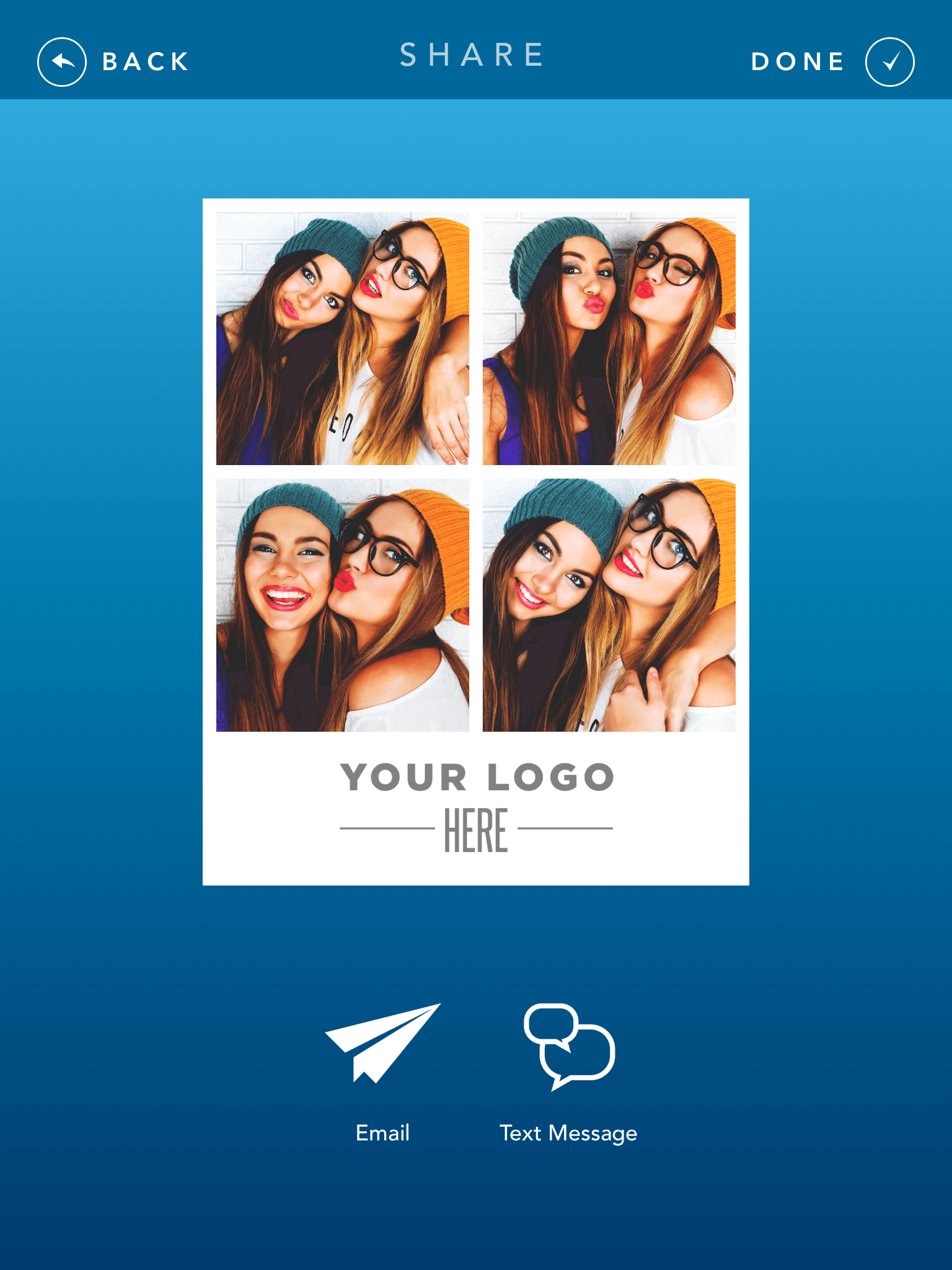 Moving the sharing experience from social media directly to the guest overcomes the challenges of internet access and connectivity as well as remembering login info. Email and Text Messaging are reliable ways to guarantee that your photo booth guests will always get their photos during your event. They are also by far the easiest and fastest way to get photos straight to your phone.
In addition, your guests will have access to your event-specific Gallery to enjoy photos in real-time!
Easier, Better Email
Because Text Messaging and Email are now the primary ways to get your photo at the booth, we decided to make some broad enhancements to the way Email works.
Previously, we relied on your regular email provider to send emails. However, email providers like Gmail, Yahoo, Hotmail and others often limit the amount of email that can be sent in a single night. We didn't want to take any chances with this restriction impacting our customer's events, and so we developed a better solution.
We built our own email server for scale that lets you and your participants send unlimited emails!
Old Email vs. New Email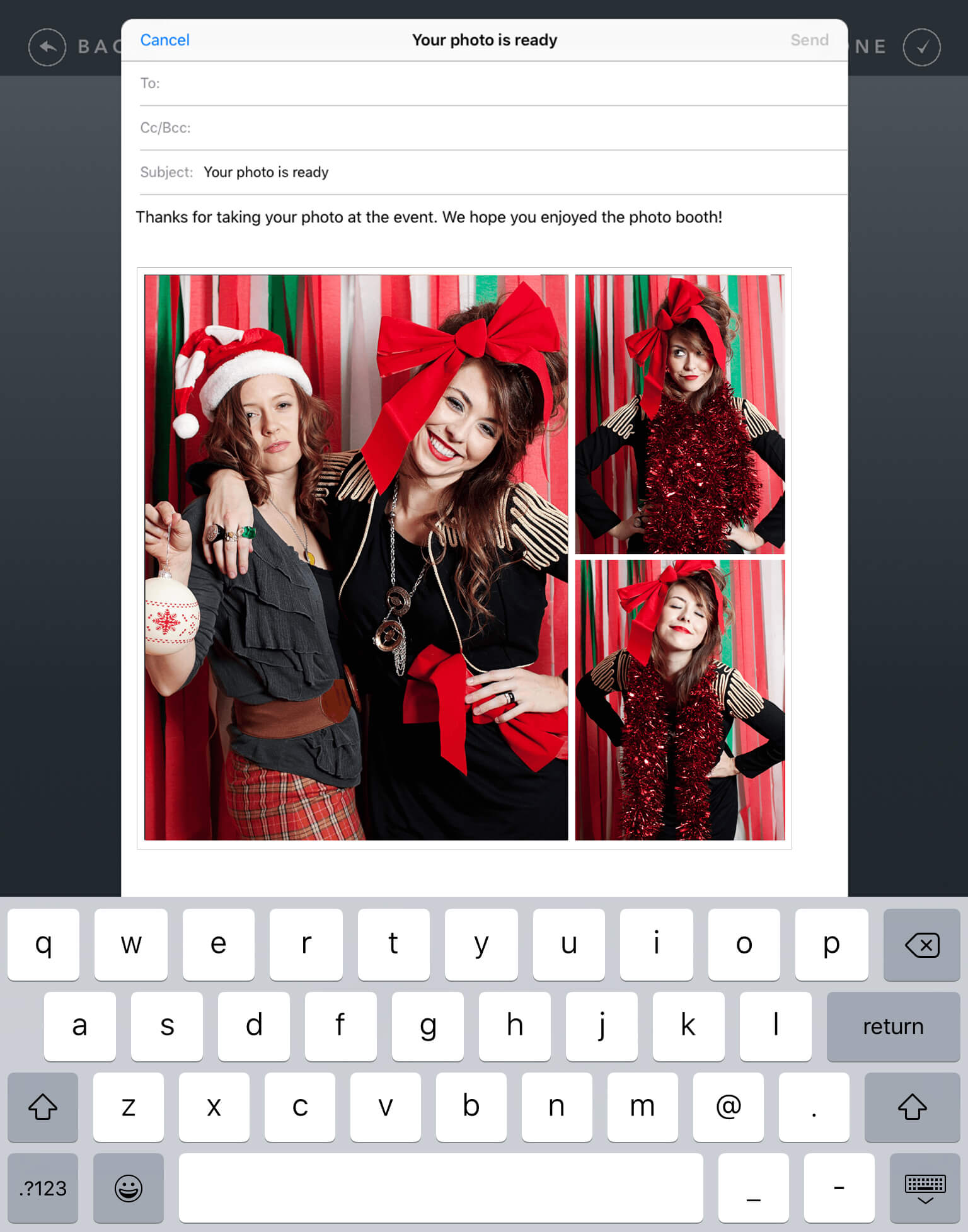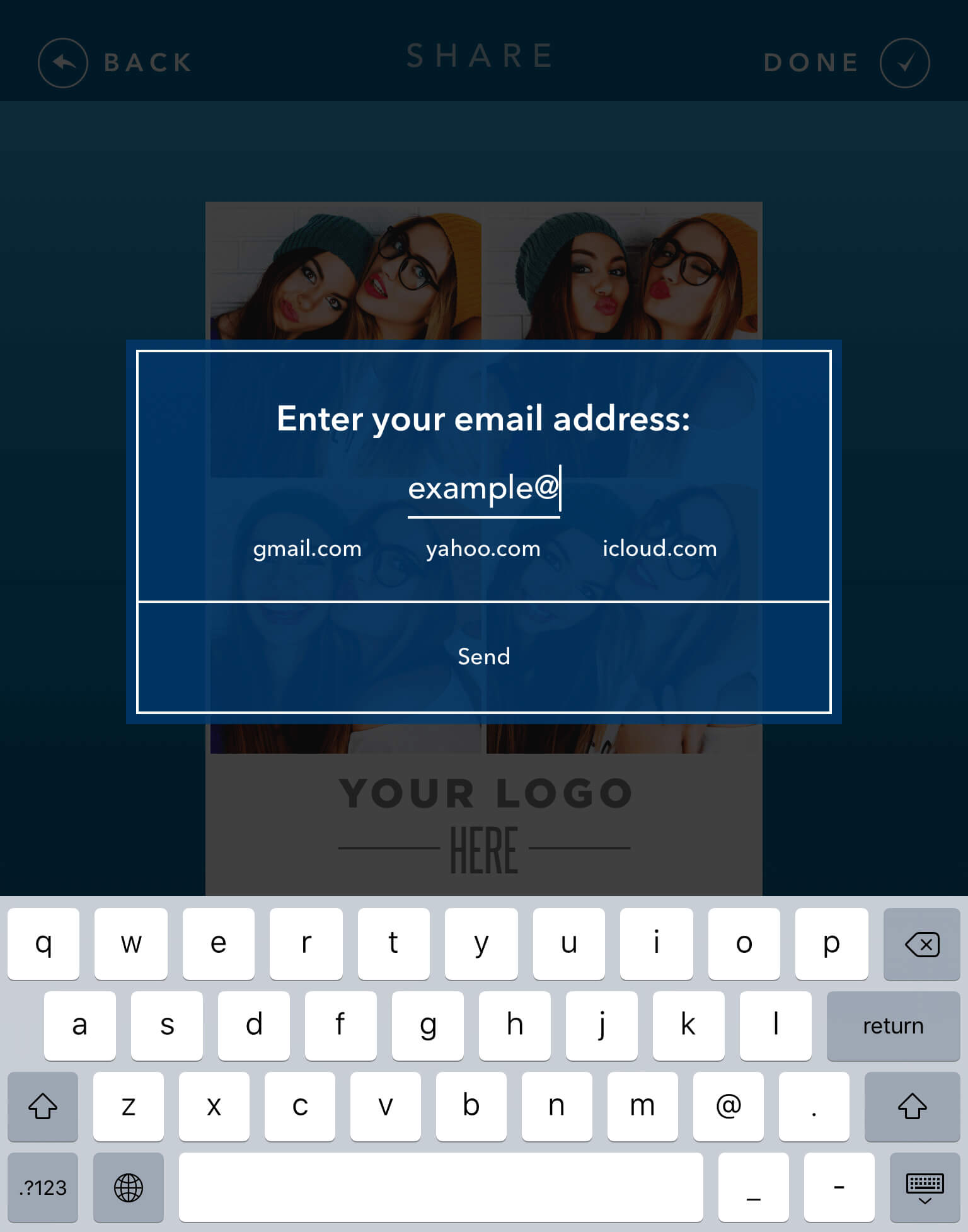 Along with unlimited emails (no volume restrictions), you no longer need your own email address to set it up. So go ahead, take your events into the wee hours of the night—we've got your sharing needs covered!
On top of that, we improved the interface of the email screen to be much simpler. Now it will show a prompt for common email domains that make sharing faster, allowing more guests to use your photo booth.
Interactive Online Galleries
Online Galleries are a cool new way to show off your event while it's happening and to enjoy it long after it's over. Every photo or GIF taken from your photo booth will show up in the online Galleries in real time, allowing you and your guests to relive those memories again and again.
When the event is over, you can share an entire Gallery to your event guests, or any individual photo or GIF you want to share. Not only can you share from Galleries, but your guests can too.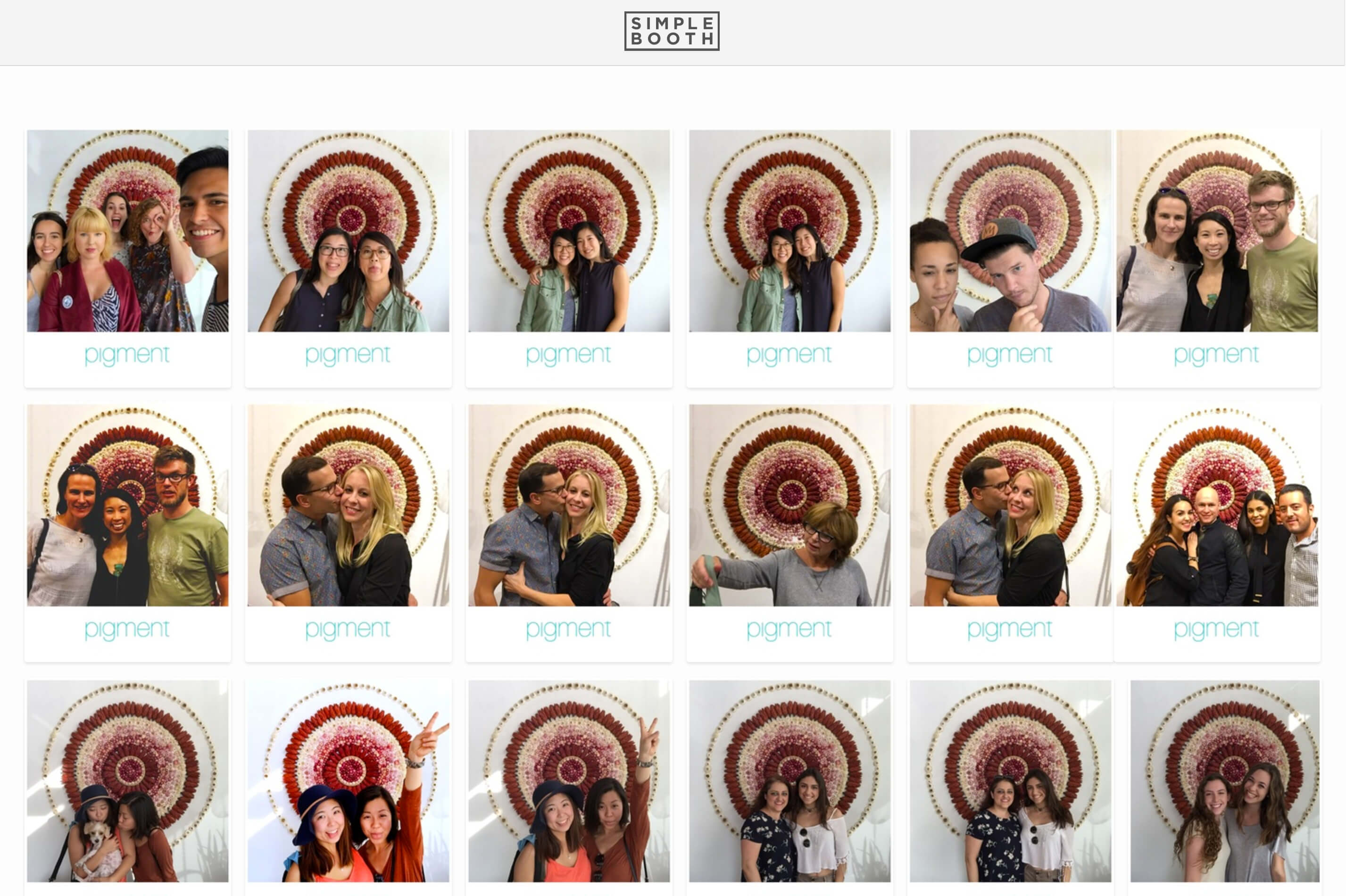 Setting up a custom hashtag for your gallery can help you earn more visibility as participants share their photos or GIFs across personal social media channels. This creates more opportunities to earn more views and extend your event experience beyond those who attended.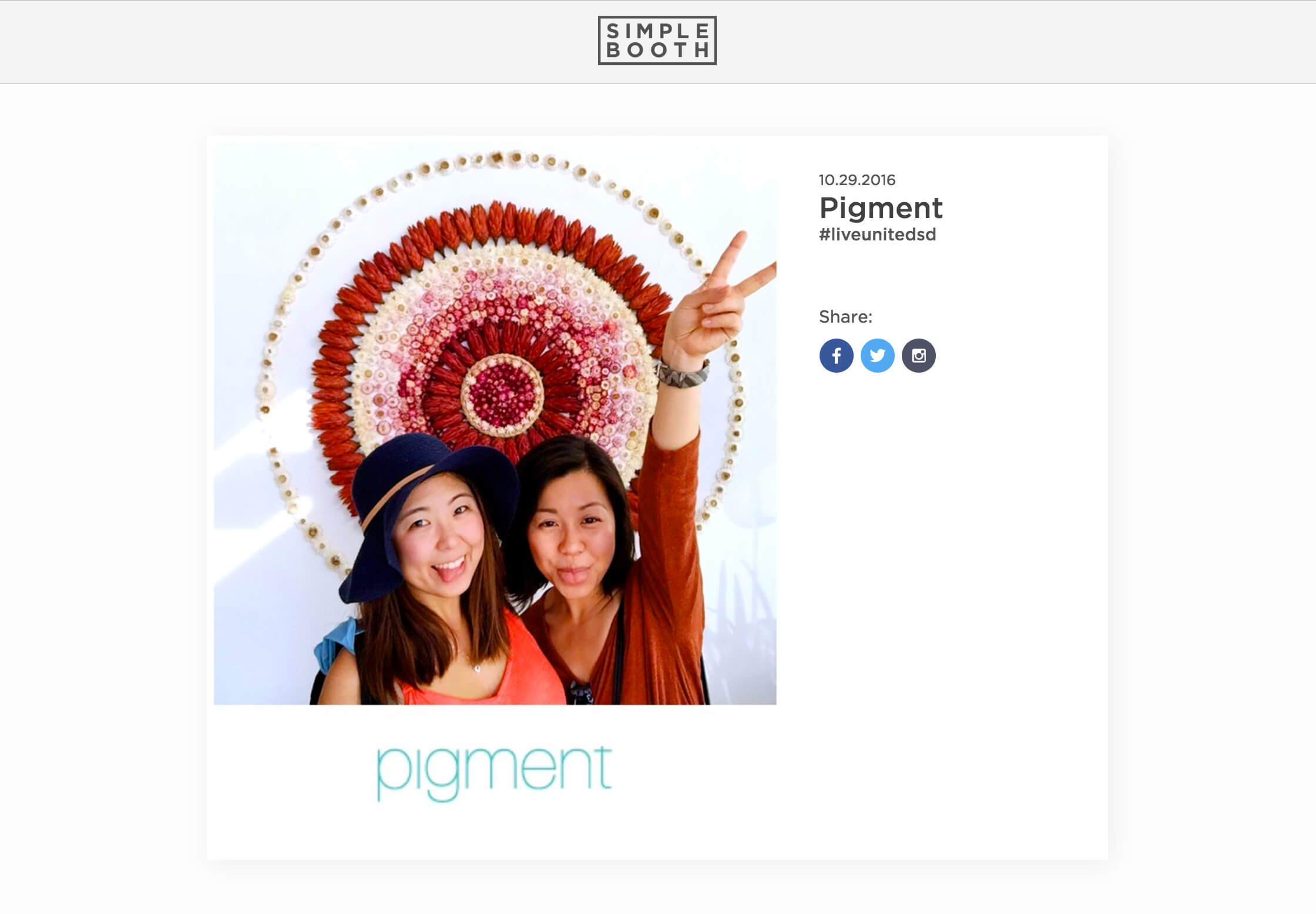 In the HALO app, Galleries come with more customizable options like individual photo privacy, logo uploads, colors and more.
Event Edition Enhances Your Live Event Experience
We worked hard on this release to make Event Edition more useful, easier to use, faster, and more exciting. Ever since Online Galleries were added to HALO earlier this year, they have been a very popular feature. Now anyone from your event will be able to savor memories of the night once it is over, and share photos with friends and family. Galleries bring even more visibility to your event, and allow you to relive them time and again.
We hope you enjoy the new Event Edition. We're very proud of these updates, and can't wait to see how you like them! Whether you love them or hate them, let us know. Feel free to leave a comment below after you've downloaded or updated from the App Store!
To learn more about how businesses are using HALO, click the button below: