Gibson Brands is one of the most iconic guitar brands in the world. Known for manufacturing classic, American-made guitars, the company has been at the forefront of the music industry for over a century.
So when Gibson wanted to find a photo booth solution for their activations, it was important to find one that resonated with their brand.
Searching for a photo booth solution
Gibson was looking for a photo booth solution to engage fans at events. They hoped to capture user-generated content (UGC) for marketing purposes, and to provide an engaging experience for their participants.
Gibson searched the internet and found Simple Booth as a potential solution. As they continued their researched, they discovered that our complete HALO solution lined up perfectly with Gibson's brand and personality: sleek, modern, and user-friendly.
HALO's user-friendly interface
One of the main reasons Gibson chose Simple Booth was because HALO is so easy to use. They wanted a solution that was self-serve, so participants could walk up and initiate the photo booth experience without needing an attendant to get started. HALO allowed them to offer exactly that. Participants can simply tap the screen to begin and follow the prompts to capture their photo or GIF.
For Gibson, it was also important to capture first-party data from participants and have them consent to their Terms of Service and Privacy Policy at the same time. Simple Booth's software made this possible and also provided powerful analytics and reporting on the backend, so that Gibson's marketing team could measure the reach of their events.
Gibson was excited to find that Simple Booth offered a complete solution that met their needs. They ordered a HALO and got to work creating a unique, interactive event experience for Gibson fans.
Gibson's Mobile Garage
Gibson outfitted a mobile trailer with iconic Gibson guitars, calling it the "Infinite Guitar Tunnel," as the perfect backdrop for the HALO photo booth. Participants could sit on a stool and pose with a custom guitar for each event.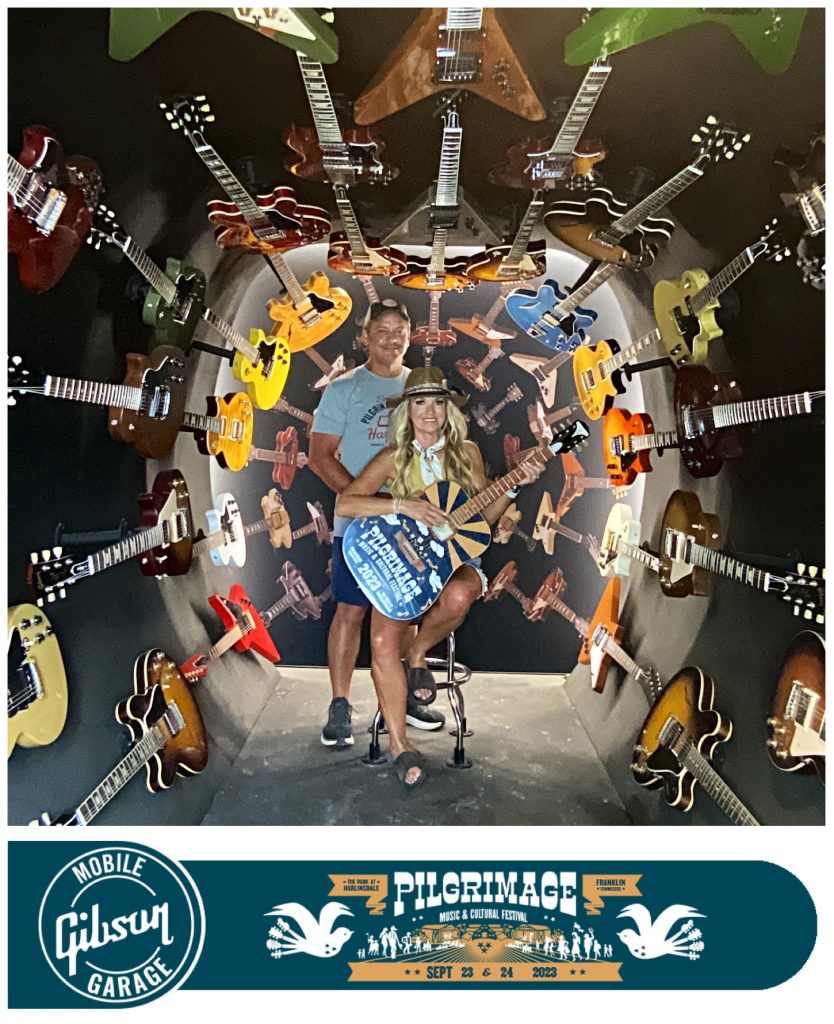 The entire experience was designed to be fun, interactive, and visually appealing. Naturally, Gibson wanted to capture and share the experience with a photo booth. Simple Booth made it easy to bring the experience to life and capture the photos to share online.
The event went smoothly, and participants loved it. They had a blast taking photos and Gibson was able to capture valuable UGC content that they could use for their marketing efforts.
Results
Because of HALO, Gibson was able to capture email addresses, get traction on social media, check all the boxes for their legal and compliance teams, and create an exciting experience for fans.
Since Gibson included their Terms of Service and Privacy Policy in the activation itself, they can use the user-generated content for marketing purposes, sharing on social media, and promote future events.
Here are a few of the key metrics:
Photos Snapped: 1,589
Total Participants: 3,528 (~2 per photo)
Emails Captured: 1,647
Estimated Social Shares: 498
And the best part? They can continue to replicate these at future events.
Simple Booth is proud to be a trusted solution for one of the most iconic brands in the music industry, and to help make the Gibson Mobile Garage a unique, engaging experience for participants.
Want to crank the volume of your next experiential marketing campaign to 11? Pick up a HALO today.