The demand for virtual event software is exploding and is expected to continue through 2021–and beyond! Huge companies and event organizers across the world are moving massive events online every day.
But how do you make virtual events fun and engaging for attendees? There is a clear need for new software and technology to deliver a compelling attendee experience. We created our new virtual photo booth software for that very reason.
Virtual Booth can make your upcoming virtual event fun and super shareable. This amazing new product allows participants to join in, create, and personalize fun photos using themed graphics, branded overlays and more.
What is a virtual photo booth?
A virtual photo booth is an app that can capture photos right from your web browser and upload them to an online photo collection. Any participant can visit your unique capture link on their phone or computer, snap a photo, choose from creative options, and share it!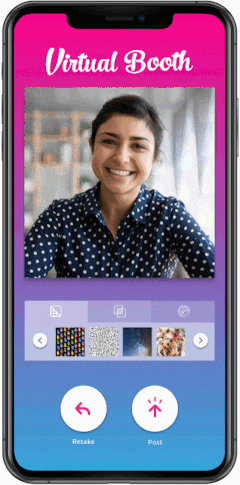 Virtual Booth includes powerful creative tools available for you to make your photos special including AI background replacement, multiple overlays, and even custom stickers.
How do I set up a virtual photo booth?
Launching your own virtual photo booth is as simple as logging into your Simple Booth dashboard, customizing your branding, uploading creative imagery, and sharing a unique web link or QR code with your participants. Then, watch as the photos come in!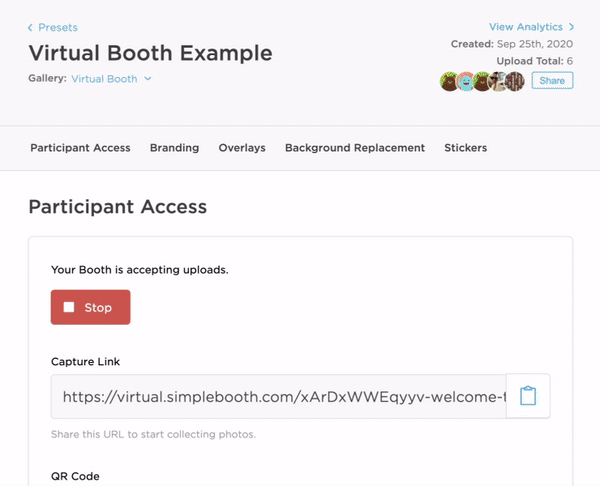 Creative features make it fun
Curating a memorable digital experience is more critical than ever. We've elevated the branding ability and features of Virtual Booth to help you make it special and unique every time:
Branding: Customize the images, colors and copy to match your brand or event theme.
QR code: Your virtual photo booth preset comes with a capture link and QR code ready-to-go so you can easily invite participants.
Magic backgrounds: We use AI to remove messy backgrounds and replace them with your custom creative backdrops. It's super cool!
Overlays: Add unique frames for participants to choose from.
Stickers: Upload your own stickers! These can be placed anywhere and positioned just right by the participant. The possibilities are endless.
Gallery: Make your gallery public or private, choose sharing options, and set a hashtag to encourage sharing.
Plus, we've developed premium features for the users who need more:
Analytics: Track participant counts, number of shares, photo views, and demographic data.
Photo moderation: Approve photos before they appear in your gallery.
Email capture: Coming soon!
Works for any number of people
Virtual Booth scales effortlessly to serve any number of attendees. Here's how it works: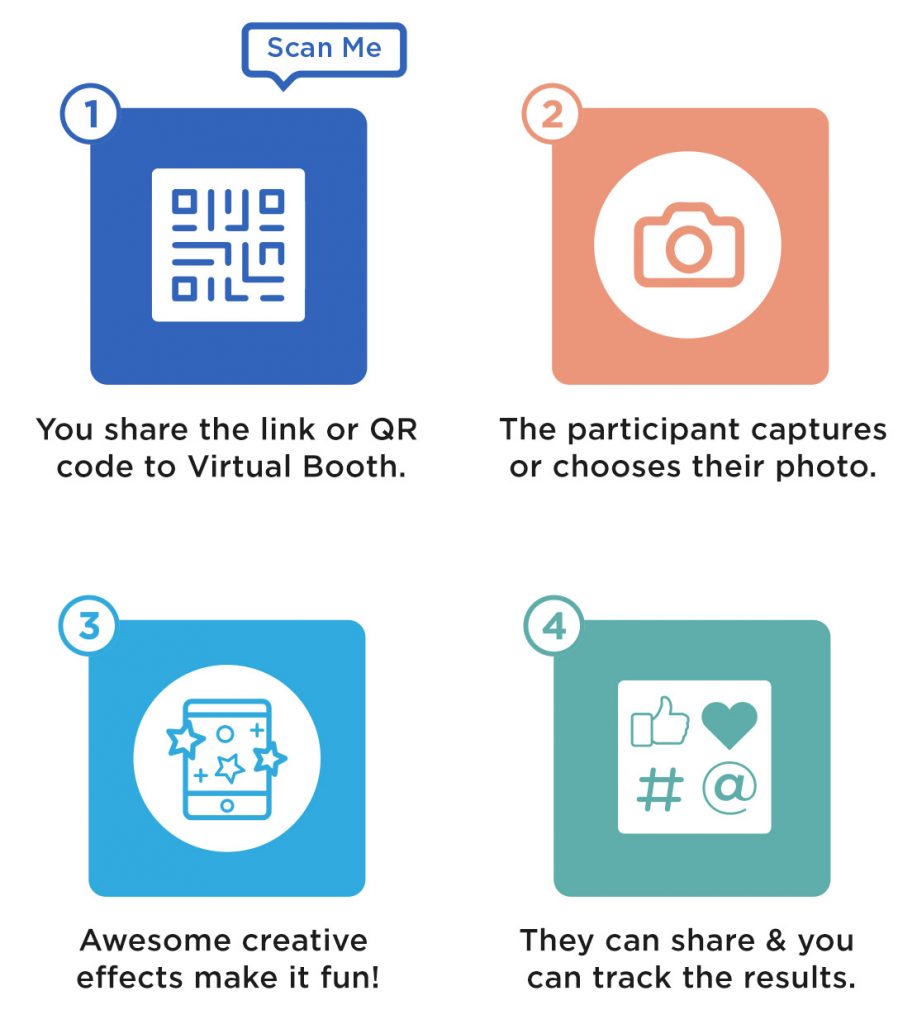 If you're planning a series of small meetings or events, you can prepare a different link and experience for each. Each link can capture an unlimited number of photos!
Virtual Booth works seamlessly with the existing Simple Booth platform including HALO. You can have all your photos come together in the same online gallery for remote and in-person attendees, making it an ideal choice for hybrid events.
Virtually unlimited potential
Virtual Booth works for more than just virtual events, it's also an incredible way to engage customers to take photos with your brand. You can use the QR code feature to add a whole new interactive dynamic to almost anything!
For example, a business might want to put a QR code on their storefront windows, a printed brochure, menu, or mailer, or even on product packaging! You can empower customers to snap mobile selfies in a new an exciting way.
It's never been simpler or more intuitive to inspire user-generated content for marketing.
How do I get Virtual Booth?