Virtual Booth is a solution for event planners and marketers struggling to make virtual events fun and engaging.
It can be sent to virtual event attendees as a link, button, or QR code. Participants can take a photo, customize it by choosing a background or overlay, and add stickers.
Virtual Booth is a product of Simple Booth, a leader in modern photo experiences for businesses and brands.
Austin, TX
The event industry has experienced a massive shift to virtual events because of COVID-19 this year. Even though event planners have moved many events online, they often struggle to make them fun and engaging.
If you move your event online, attendees still have high expectations for the experience. Event planners need a way to make their events memorable and fun, both offline and online, because virtual and "hybrid" events are expected to stay part of the event mix for years to come.
Simple Booth, a leader in modern photo experiences for events and businesses, has released a new digital photography tool called Virtual Booth. Virtual Booth helps attendees take creative, branded photos for virtual events and marketing campaigns.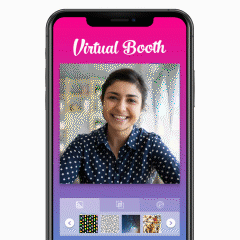 If you're hosting an online event, how will you commemorate the event with photos to show it was a success or encourage attendees to share their experience on social media? This is where Virtual Booth can help.
You can easily set up Virtual Booth from your Simple Booth dashboard. Then, you can send virtual event attendees a link, button, or QR code to start the photo experience. They can take a photo, customize it by choosing a background or overlay, and add stickers pre-selected by the host.
For example, if you're hosting a virtual company holiday party this year, employees can add festive holiday stickers and props to their photos. In another situation like a live-streamed sporting event, you could include props for the team mascot, foam fingers, emojis, and more.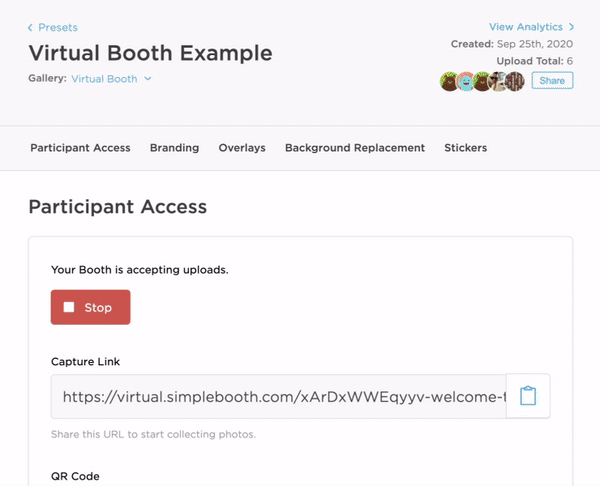 Virtual Booth has an exciting AI-backed feature that "magically" removes the background from a participant's picture and allows them to pick a custom digital backdrop.
Virtual Booth works on any device with a web browser such as iOS, Android, and laptop computers. It's like having your own virtual photo app that you can also share with others.
Until now, there was no way for an event planner to capture such creative and fun photos from a large number of virtual attendees. As a result, businesses had to ask people to use a certain hashtag on platforms like Instagram and hope they can track down those photos.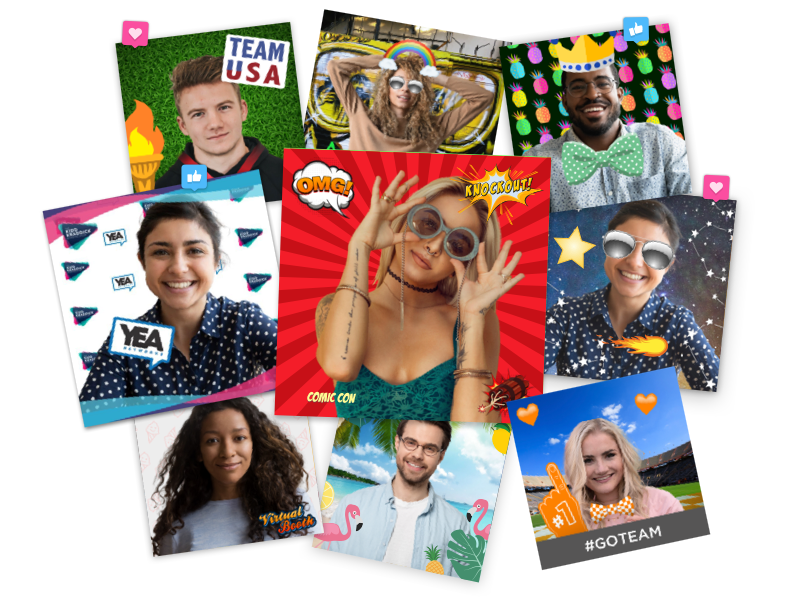 Virtual Booth puts event planners in the driver's seat to capture thousands of branded photos with confidence that attendees will share them on on social media.
"Virtual Booth is a brand new way to take pictures. Imagine if you could customize your own photo app like Snapchat and share it with your customers, fans, or event attendees. It's an incredible new tool for businesses, influencers, and event planners to connect with audiences virtually," says Mark Hennings, CEO & Co-founder, Simple Booth.
Simple Booth® is the leading platform for social and interactive photo experiences. More than 17 million photos, GIFs, and videos have been captured on Simple Booth.